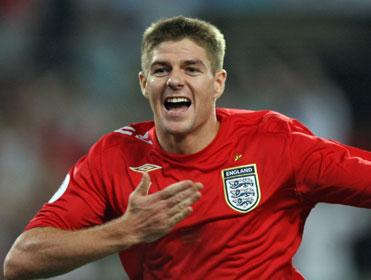 Steven Gerrard amassed 114 caps for England in a 14 year career
After 14 years and 114 caps, Steven Gerrard has announced that he will no longer play for England. Luke Moore takes a look back at one of England's most capped players...
"Regardless of who Hodgson picks as captain for England's game against Switzerland in September though, we should take this moment to remember Gerrard and his contribution to the national team."
The international career of Steven Gerrard is a curious case. At first glance, 114 caps (38 as captain), 21 goals and six international tournaments in the white shirt of England is an absolutely tremendous record, rivalled in terms of numbers only by David Beckham and Peter Shilton.
But when one delves a little deeper into his performances and record as an England player, it becomes clear that Gerrard's career for his country is more than likely to be defined, over time, by failure at key moments. As captain, he failed to spur England on to qualify for Euro 2008. Before that he was one half of a midfield duo with Frank Lampard which promised much and delivered little, and his stint for a second time as captain saw his and Roy Hodgson's side deliver their worst showing at a World Cup for over 50 years. What's more, he leaves the side at their worst FIFA ranking for 18 years and in a pretty grim position for the future.
Of course, it would be absolutely ridiculous to blame all these things squarely on the shoulders of Gerrard alone, and there are and were many factors involved in this constant stream of failure. But nonetheless, there will always be a feeling that the Liverpool man was never quite able to replicate his club form at international level, either through a lack of tactical discipline or simply not having a team around him that suited his style of play.
There were great moments - his first international goal in the stunning 5-1 victory over Germany in Munich, his two goals at World Cup 2006 as England reached the quarter-final, and more recently the goal against Poland last year which ensured England qualified for the 2014 World Cup. In many ways, that last goal he scored in an England shirt was typical Gerrard - a driving, lung-busting run from midfield, culminating in a last-gasp finish and the passionate
celebration of a man proud to have fired his team to a World Cup. 
But sadly, great moments were only punctuation in the memoir of this man's England journey, and it's clear that he himself will look back on his time with a twinge of regret that he didn't appear in a single semi-final in a major tournament. In the end it was an international sojourn that promised much yet failed to deliver anything tangible.
In truth, it's an opportune moment for him to step down - Liverpool have an arduous season ahead of them back in the Champions League and with added expectation domestically after last season's exploits. It makes sense for a younger midfield player to come through and help England qualify from a fairly easy Euro 2016 group.
And so attention turns to who the armband will pass to next. And if there is anything to hit home just what a state our national game is in, it is the lack of serious candidates to lead England into the next major tournament.
The Betfair Sportsbook has a market based on who will be captain against Switzerland on September 8. Wayne Rooney is strong favourite at 4/11, Gary Cahill next at 7/2 with Joe Hart at 5/1.
It is debatable whether Rooney is captain material, and not only that, but whether he represents the previous generation (one that has all but died with Gerrard's retirement) and would be a backwards move. Hart is an obvious leader in terms of personality but has struggled for form as recently as last season where he was dropped for a period. 
Cahill appears the most sensible and viable option. Not hugely experienced at international level, he is nonetheless a Champions League winner, a certain starter, and clearly demands the respect of his teammates. He is also unlikely to find trouble off the pitch, vital for an ambassadorial role such as this, especially in light of the farce that surrounded John Terry's tenure as skipper.
Regardless of who Hodgson picks as captain for England's game against Switzerland in September though, we should take this moment to remember Gerrard and his contribution to the national team. It may not have started, continued or ended with honours as he'd have surely hoped, but 114 caps is a magnificent return for a player who, on his day, was up there with the very best.