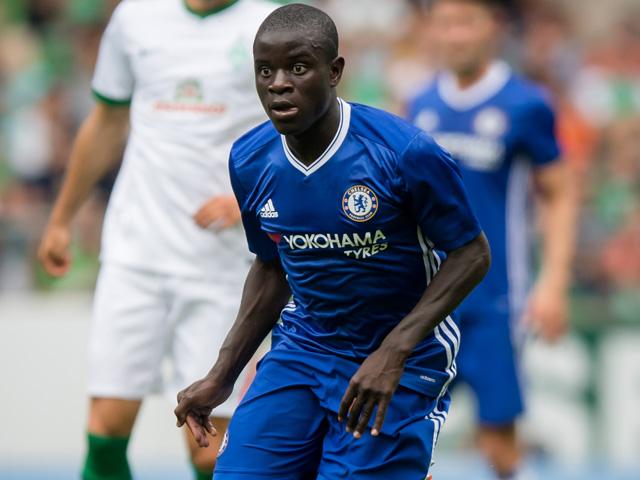 Graeme found it impossible to leave N'Golo Kante out of his team of the year
With the season at an end, we asked Betfair Ambassador Graeme Le Saux for his Premier League team of the year. Check out his selection, lining up in a 3-4-3 formation...
"Perhaps a controversial choice, but Ander Herrera is among the most underrated players in the league. He will perform absolutely any role for the team and excel himself in the process, and deserves credit for his performance."

Formation: 3-4-3

Goalkeeper: Thibaut Courtois - Chelsea
Thibaut Courtois has matured into one of the top two best goalkeepers in the league - along with Hugo Lloris - and does absolutely everything well. Gets the nod over the Frenchman purely because he lifted the title this season.

Right Centre Back: Cesar Azpilicueta - Chelsea
The unsung hero of this league-winning side. Cesar Azpilicueta gets on with his job and doesn't look for praise. He's played about three different positions this season, all with distinction and deserves every accolade he gets.

Centre Back: Toby Alderweireld - Tottenham
I've selected Toby Alderweireld for a number of reasons, but mostly because he is just magnificent to watch. He's picked up just two bookings this season, and that's due to the fact that he almost never dives in and is able to read and anticipate the play so well.

Left Centre Back: Jan Vertonghen - Tottenham
Jan Vertonghen works brilliantly alongside Alderweireld in what is undoubtedly the best defensive partnership in the top flight. He is also excellent with the ball at his feet and is such a classy operator. A big part of the most miserly defence in the division.

***

Right Wingback: Victor Moses - Chelsea
I'm including Victor Moses ahead of Kyle Walker because he's been the find of the season. He's gone from serial loanee to one of the most important players for Antonio Conte in a role that he's had to learn almost from scratch. Hugely impressive.

Left Wingback: Marcos Alonso - Chelsea
In his first season at Chelsea, Marcos Alonso has made the left wingback position his own. His discipline is fantastic and he does absolutely everything well - defending, attacking, set pieces, positioning - and plays a difficult position with great balance.
I reserve an honourable mention here for Danny Rose who may well have got the nod had he not missed the end of the season with injury.

Centre Midfield: N'Golo Kante - Chelsea
What more is there to say about this man? PFA Player of the Year, FWA Player of the Year and the first outfield player to win back-to-back league titles with different clubs. Kante always seems like he is absolutely everywhere and must be a joy to play with and a nightmare to play against. He goes about his business simply and always makes the right decision.

Centre Midfield: Ander Herrera - Manchester United
Perhaps a controversial choice, but Ander Herrera is among the most underrated players in the league. He will perform absolutely any role for the team and excel himself in the process, and deserves credit for his performances in what was a difficult season for Manchester United. His man-marking of Eden Hazard against Chelsea was one of the best individual displays of the season.

***

Attacking Midfield: Kevin De Bruyne - Manchester City
Kevin De Bruyne is the most graceful player in the Premier League and always impresses with his range of passing, his goals, his assists and his all-round work. His delivery with both feet is arguably the best around and has had a great campaign.

Attacking Midfield: Dele Alli - Tottenham
Dele Alli just gets better and better and it's easy to forget he has only just turned 21; this is a player with such maturity for his age. He's also added goals to his game - 17 in the league is a brilliant return and, for comparison, something Steven Gerrard didn't manage across his entire career.
Deservedly picked up the PFA Young Player of Year award for the second season in succession.

Striker: Harry Kane - Tottenham
Has led the line wonderfully for Spurs this season in what has been a great campaign for them. Yet another season in which he's scored 20+ league goals, a stat that puts him in pretty impressive company. The four goals he netted against Leicester in what was essentially a dead rubber typifies his ambition, drive and willingness to improve. Deservedly considered one of the best forwards in Europe.

***
Check out football columnist Andy Brassell's awards for the Best of the Premier League 2016/17