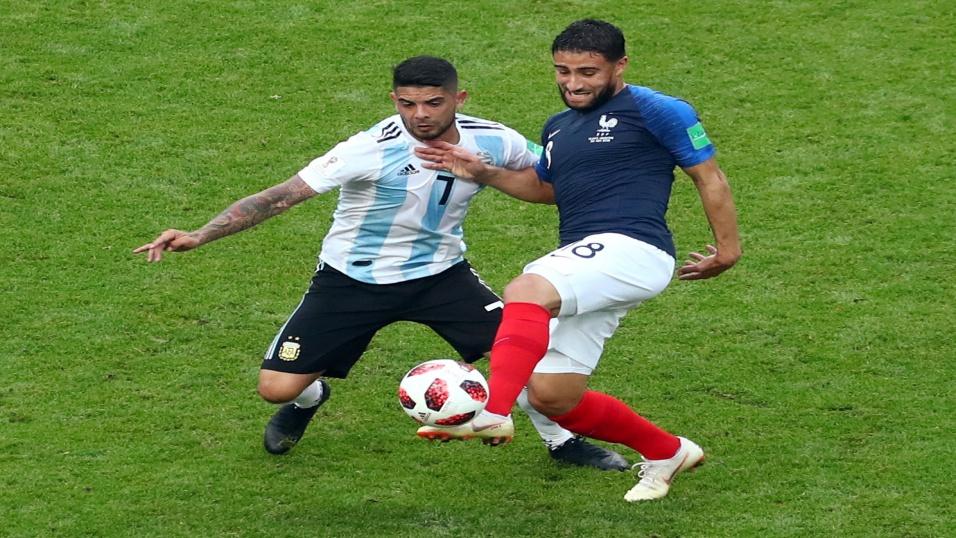 Lyon's Nabil Fekir battles with Ever Banega of Argentina during the World Cup
Our European football columnist Andy Brassell returns for the new season reflecting on the collapse of Nabil Fekir's move from Lyon to Liverpool and what it means for all concerned...
"Fekir's ability to take part in quick transitions is what attracted Jürgen Klopp and company, as well as his goalscoring. He is equally accomplished as an orthodox number 10 or as a second striker."
The restart of club football has crept up on us suddenly, seemingly mere minutes after the conclusion of the World Cup, and for Premier League fans that feeling is accentuated by the abrupt closure of the transfer window this week.
For now, the overwhelming sentiment on the continent is one of relief, as clubs know that their key stars are no longer prone to an irresistible offer from one of England's elite. Nowhere is this feeling stronger than in the corridors of Olympique Lyonnais, who are now assured of beginning their new campaign with captain Nabil Fekir in situ.
Captain Fekir's surprise return
When Fekir strides onto the pitch against Amiens on Sunday to show off the World Cup (most likely in his civvies, having only resumed training this week), it will be as hometown hero, rather than bidding a fond farewell.
It wasn't meant to be like this, of course. A deal to take the forward to Liverpool was so far down the line pre-World Cup that Fekir did a photoshoot in the Reds' kit and an introductory interview with LFCTV - before the Champions League finalists, unconvinced that there were no lingering doubts from a pair of surgical interventions to Fekir's knee, tried to renegotiate the estimated £53m fee.
France forward's versatility attracted Klopp
Lyon pulled the plug and despite suggestions the deal might be revived ahead of Thursday's deadline, the player is still in Ligue 1. This is a shame for Liverpool. Despite suggestions Fekir would have been a Philippe Coutinho replacement, the 25-year-old is neither that nor the tricky winger that has been presented in some quarters.
Yes, Fekir is an excellent dribbler but he makes most of his inroads in central areas of the pitch. Lyon's philosophy, bred from academy level, of largely one and two-touch football means that he has rarely held onto the ball too long. He is always searching for the last pass, or the shot. This ability to take part in quick transitions is what attracted Jürgen Klopp and company, as well as his goalscoring. Fekir is equally accomplished as an orthodox number 10 or as a second striker.
Reds still looking good
This is, however, an inconvenience rather than a body blow to Liverpool's hopes this season. They've still had a stellar summer. It's not just that they've spent more than anyone else. I's that they've succeeded in getting their top targets, players like Alisson, Fabinho and Naby Keita who present clear upgrades in areas of weakness. They are also players that other elite clubs would have happily taken. The window justifies Liverpool's status as clear favourites at [5.1] to challenge champions Manchester City [1.69] for the Premier League.
One might also assume that Lyon and Fekir are left with an awkward situation after the deal fell through. That's unlikely to be the case, though. Even if he wanted the move, he's by no means devastated to be leading an exciting young team at his boyhood club - surrounded by friends, family and confidantes - into the Champions League, and he won't be sulking.
No sulks for young Lyon's leader
Fekir was never going to go on strike to get a deal done this week, and he is more likely to sign an extended deal this autumn to protect Lyon's bargaining position ahead of an exit next summer. In the meantime, they are the joint second favourites [22.0] behind the inevitable Paris Saint-Germain's [1.12] in Ligue 1, ready for any teething troubles in Thomas Tuchel's new reign.
It's never easy starting again after a failed transfer, but this is one of the more comfortable crash landings in this kind of scenario - as well as a deal which probably has legs again in the future.