World Cup 2018: Key tactical battles from the first round of fixtures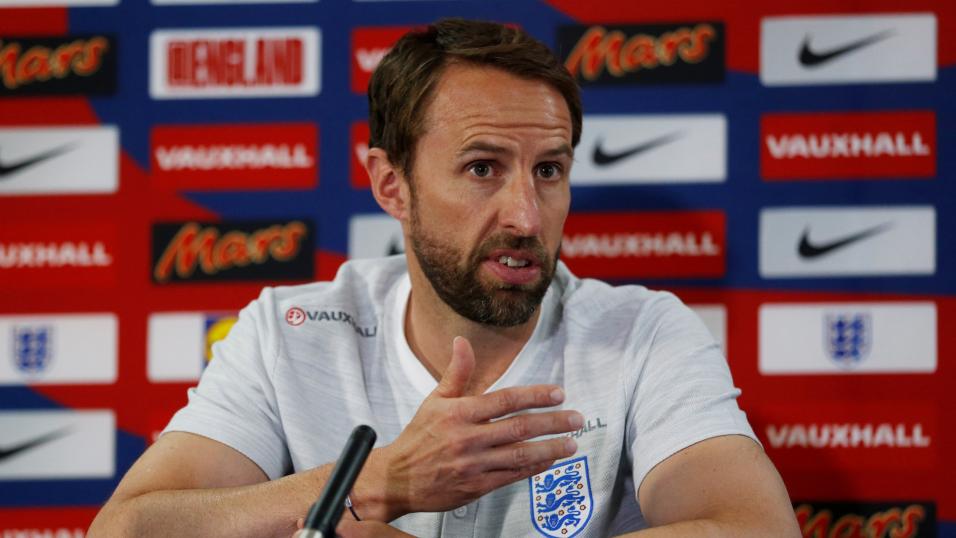 Southgate's England face a tough tactical challenge against Tunisia
Alex Keble picks out four key battles from the opening round of World Cup fixtures and predicts victories for Uruguay, Spain, England, and Croatia...
"This is a potential banana-skin match for England. A dull 0-0 draw, evoking memories of that infamous Algeria match and consequently sapping all the good will out of the camp, is certainly possible."
Bentancur could struggle to pick the lock against ultra-defensive Egypt
Egypt v Uruguay
Friday June 15, 13:00, Live on BBC One
Mohamed Salah scored 71% of Egypt's goals in qualifying. The Liverpool forward will, of course, be badly missed for their opener against Uruguay, and it almost certainly means Hector Cuper will double down on their cautious, stand-off defensive football. Egypt are very difficult to break down.
By contrast, Uruguay have developed into a more technical and expansive side over the last two years, thanks largely to the introduction of 20-year-old Rodrigo Bentancur. He is the architect in central midfield, tasked with feeding Luis Suarez and Edinson Cavani as the sole central creator in Cuper's 4-4-2 formation.
Mohamed Elneny's performance is crucial. He will organise the defensive midfield shield to intercept Bentancur's threaded passes, and although Premier League fans might balk at such a thought it is worth nothing that Elneny is considerably more commanding in an Egypt shirt. In Salah's absence, their fate rests with the Arsenal midfielder.
Odriozola could struggle against Ronaldo - but Ramos knows how to stop him
Portugal v Spain
Friday June 15, 19:00, Live on BBC One
Spain boast a nearly flawless squad, although Dani Carvajal's injury has left a small chink in their armer. Alvaro Odriozola, a 22-year-old right-back who plays for Real Sociedad, has been deputising admirably for the Real Madrid defender, bubt his lack of experience could be costly against Portugal. Odriozola has just four Spain caps to date.
Cristian Ronaldo will hover to the left in order to take on the young full-back, making this the most important head-to-head on Friday. Sergio Ramos will need to come across to help Odriozola, and as Ronaldo's Real Madrid team-mate the centre-back will know exactly what to do. Expect some underhand tactics once again from Ramos as he looks to push Ronaldo's buttons.
Spain should be able to come out on top. Portugal's use of a 4-4-2 formation gives Julen Lopetegui's side the opportunity to dominate centrally, using their spare man to confidently play the fluid possession football that has landed Lopetegui the Real job. If Odriozola keeps Ronaldo quiet, the Spanish should win comfortably.
Peresic to get the better of Shehu as Croatia look to move around Nigeria
Croatia v Nigeria
Saturday June 16, 20:00, Live on ITV
The final match on Saturday night is arguably the most exciting of the opening weekend; Croatia versus Nigeria is the first game in which two nations vying for a second-place finish go head-to-head. Nigeria's deep-lying, counter-attacking system ensures Luka Modric and Ivan Rakitic will dominate the ball, although the compactness of the African nation's shape means the Real and Barcelona stars probably won't be the match winners.
Croatia's tactical strategy is relatively simple. All too often they rely on shifting the ball out to the left for Ivan Perisic, who puts crosses into the box for Juventus's Mario Mandzukic. This approach could work well against Nigeria, not only because John Obi Mikel and Wilfried Ndidi will block central routes but because Nigeria's right-back isn't particularly effective.
Shehu Abdullahi has looked shaky in the warm-up matches against England and Czech Republic, which is hardly surprising considering he ordinarily plays in midfield for Turkish side Bursaspor. Perisic should be able to get the better of Shehu and create chances for Mandzukic.
Southgate's wing-backs to negate Tunisia's frustration tactics
Tunisia v England
Monday June 18, 19:00, Live on BBC One
This is a potential banana-skin match for England. A dull 0-0 draw, evoking memories of that infamous Algeria match and consequently sapping all the good will out of the camp, is certainly possible. Tunisia will defend doggedly in a disciplined 4-5-1 formation, meaning England cannot afford their usual sleepy start.
Spain only managed two shots on target in a 1-0 victory over Tunisia on June 9. If Isco, Marco Asensio, Andres Iniesta, Diego Costa, an David Silva couldn't break through the Tunisian back line until the 84th minute, then England will certainly find it tough.
However, one of the advantages of Gareth Southgate's 3-5-2 is that the wing-backs are free to bomb forward, stretching the opposition defensive shell and bombarding the penalty box with crosses and cut backs. Spain like their narrow passing triangles; England do not. It will be up to Kieran Trippier and Danny Rose to force an opening.
***
The Racing Post's chief football tipster Mark Langdon provided his best World Cup bets at Betfair's recent Preview Night...