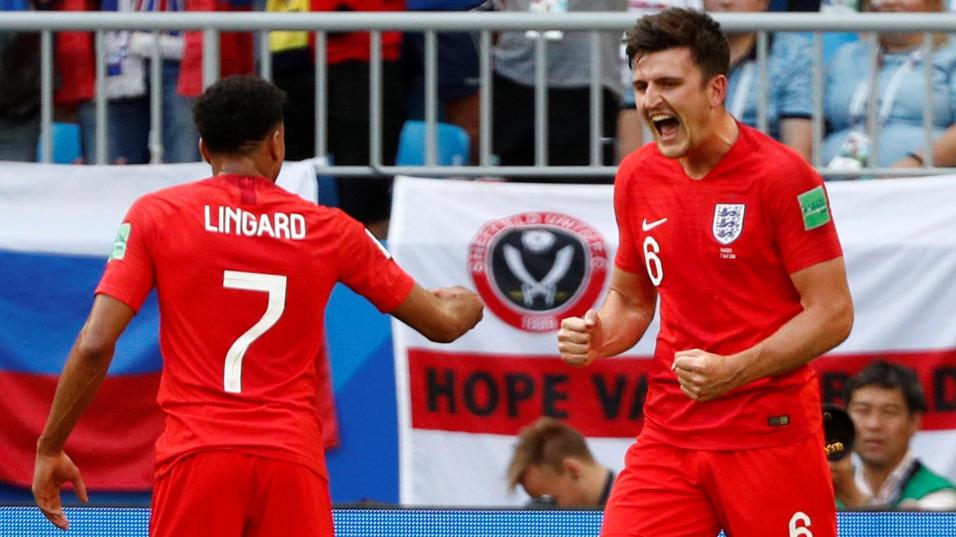 These two can shine again for England
Alex Keble picks out key tactical battles from the two World Cup semi-finals, predicting goals galore in Belgium v France and England to reach the final...
"There will be gaps between Luka Modric and the back four for Lingard, Alli, and Sterling to work their magic, pushing Croatia back and earning set-pieces."
France v Belgium
Tuesday, 19:00,
Live on BBC One
Belgium's chaotic tactics to cause havoc on the counter
Roberto Martinez's surprise 4-3-3 was just crazy enough to confuse the Brazil defence throughout the first half of their quarter-final, which puts them in a strong position to do something similar on the counter-attack against France - particularly through the middle. Paul Pogba's waywardness from the right side of central midfield will leave space for the brilliant interplay between Eden Hazard, Kevin de Bruyne, and Romelu Lukaku.
Bringing back a system he used successfully during his first season at Everton, Martinez deployed a false nine and Lukaku on the right. This allowed De Bruyne to dominate the number ten zone (by dropping into it, rather than hover there, which is easier to mark) and Lukaku to arc into the centre-forward spaces left when De Bruyne vacated (and pulled centre-backs with him). Along with Eden Hazard's free role, this completely bamboozled Brazil - even causing Fernandinho, usually so dominant, to twist and turn helplessly.
It is easy to see something similar happening on Wednesday, when N'Golo Kante will often be screening the defence alone as Belgium break. Unless Pogba is told to sit deep (he won't) or Blaise Matuidi can get all the way across from the left to help out (also unlikely) then Belgium will do serious damage.
Mbappe & Griezmann to outwit and outrun Witsel and Kompany
In typical Martinez style, Belgium's ultra-fluid attacking lines make them wide-open defensively, a situation that isn't helped by the presence of Alex Witsel at the base of midfield and Vincent Kompany in defence. Both players are too slow, and too easily caught on the turn, to be the spine of this Belgium side when Antoine Griezmann and Kylian Mbappe are the opponents.
Belgium's rapid counters should make this a remarkably stretched game, not unlike France's 4-3 victory over Argentina, with huge gaps opening centrally for the young Paris Saint-Germain forward. Witsel and Marouane Fellaini aren't adept at stopping quick interchanges, and so the thought of Olivier Giroud's excellent lay-offs, Griezmann's brilliant space-creating passes, and Mbappe's speed should terrify Belgian fans.
Kompany looked shaken by Brazil's speed in the second half of the quarter-final, which will give Mbappe confidence. Expect him to make plenty of runs on the shoulder of the Manchester City centre-back, leading to a frantic end-to-end game with plenty of goals.
Croatia v England,
Wednesday 19:00,
Live on ITV
England's high-tempo switches to win plenty of deadly set-pieces
Croatia will be physically and emotionally exhausted after back-to-back penalty shootout victories, which hands a clear advantage to England should they make a quick start to the game on Wednesday. Gareth Southgate will be hoping England can pick up where they left off after some slick interchanges in the second half against Sweden.
For the first time this summer, the benefits of training under Pep Guardiola and Mauricio Pochettino became clear. Harry Kane, Dele Alli, Raheem Sterling, and Jesse Lingard rotated possession neatly in the Sweden half, cleverly sucking the opposition to one side of the pitch before quickly switching the play for one of the wing-backs to dart into space and cross. It is a tactic that has become a hallmark of both Manchester City and Tottenham Hotspur over the last two years.
This is likely to do damage to Croatia as legs tire, particularly given that Zlatko Dalic's side don't have a strong anchor in midfield. There will be gaps between Luka Modric and the back four for Lingard, Alli, and Sterling to work their magic, pushing Croatia back and earning set-pieces. Eight of England's ten World Cup goals have been from dead balls, while Croatia have conceded three times from set-piece situations.
Maguire's aerial dominance to stunt Modric and Mandzukic
Modric was superb against Russia, once again putting in a man-of-the-match performance to drag Croatia to the semi-finals. However, Croatia are still one of the least creative sides to have made the knockouts, largely because they are too reliant on the Real Madrid midfielder.
They rank 17th in the tournament for touches inside the penalty area (12.53 per game), and only 25.7% of their shots are on target, the seventh lowest in the World Cup. That only Brazil have taken more shots than Croatia from outside the box (40 in total) is testament to their inability to fashion decent chances.
Consequently they will be looking to find Mario Mandzukic's head at every opportunity, which plays into England's hands. Harry Maguire's brilliant aerial performances so far this tournament, culminating in him winning 22 headers against Sweden and Colombia, would suggest Jordan Pickford's goal won't be regularly troubled.