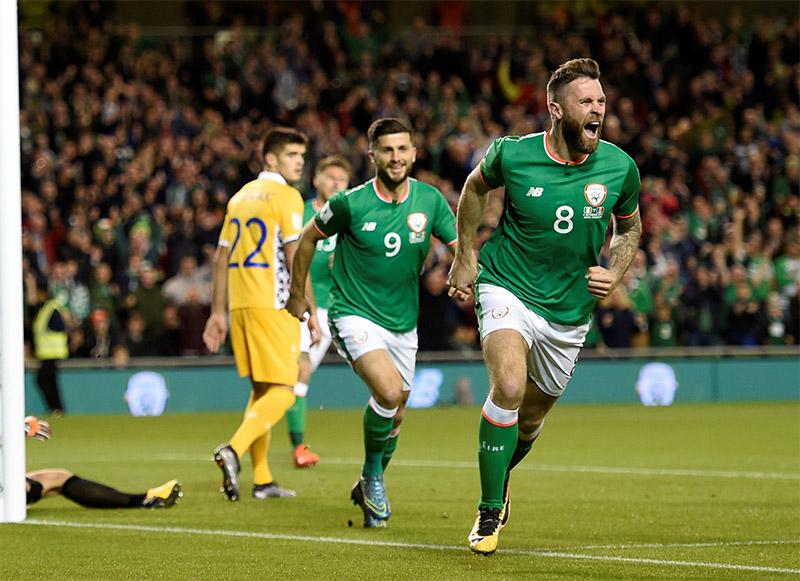 Wales and Rep of Ireland are battling it out for second place in Group D
Daniel McDonnell previews the winner takes all clash in Group D on Monday night but believes both sides could cancel each other out...
"With no safety net, there comes a point where teams have to go for broke. But the bet that appeals here is the [3.3] for the two sides to simply cancel each other out and deliver an anti-climax."
Wales v Republic of Ireland
Monday, 19:45
Live on Sky Sports Main Event
Winner takes all in tight encounter
"It's Do or Dai" was the headline in one Irish newspaper last week as Monday night's showdown in Cardiff approached.
World Cup qualifying used to be a straightforward affair but the expansion of UEFA membership has turned it into a complicated business. Wales and Ireland are battling it out for second place in Group D - barring a collapse by leaders Serbia at home to Georgia - and it's possible that a draw will knock both of them out of the tournament.
Ireland a point behind Wales and Scotland's collapse in Slovenia on Sunday has given them the absolute knowledge that a victory will prolong their interest in the competition; that was in doubt until Gordon Strachan's men lost their way.
Wales need the three points too. A draw would be enough for a play-off if they matched the scoreline of a Group I game between Ukraine and Croatia which kicks off at the same time but there is no way that can be in their minds when parity makes the situation so delicate.
It's winner takes all and that makes for a lively evening in the Cardiff City Stadium, the venue preferred by Chris Coleman and his players because of the noise it generates. With Irish fans trying their best to get their hands on any tickets outside their allocation, the atmosphere should be intense.
The 'local derby' line can be cliched but the scoreless Dublin meeting between these sides in March resorted to a stereotype because it was physical and not especially pretty to watch. Seamus Coleman's leg was broken by a horror challenge from Neil Taylor and Ireland have never really recovered. From Martin O'Neill's perspective, Gareth Bale's unavailability for this game evens things up on the setback front.
Wales got the job done without him in Georgia but their overall record minus the Real Madrid star is uninspiring. Ireland swatted away Moldova efficiently with two early goals before taking the foot off the gas - which was frustrating for those of us who had recommended three or more goals - but the priority was conserving energy for this encounter.
Robbie Brady and James McClean also return from suspension and will come straight into O'Neill's side. Ireland should have no excuses in the area of fitness and preparation. They've had week really building towards this game whereas Wales had a draining trip to Georgia where concentration was required to see it out.
The hosts were even money in some places last week but they are now trading at [2.42] which is a fair enough price. At shorter, they were lay material.
Wales should control possession - as they did for large spells in Dublin - with Joe Allen conducting things. Ireland have struggled in that department but they should bring an intensity to this game that puts Wales under pressure. Without Gareth Bale, they lack a real focal point in attack and Ireland's homework will have to revolve around stopping Aaron Ramsey breaking from deep.
It's possible that O'Neill will leave his veteran creator Hoolahan in reserve and look for Brady, McClean and Jeff Hendrick to set the tone. His major choice was going to revolve around whether to select Friday's goalscorer Daryl Murphy or the misfiring Shane Long, but the latter has now been ruled out with injury.
With no safety net, there comes a point where teams have to go for broke. But the bet that appeals here is the [3.3] for the two sides to simply cancel each other out and deliver an anti-climax. There's every chance it will be much shorter at the business end of this match so traders will have a chance to green up if they so desire.

Granted, the description above might sound like it has all the ingredients for another 0-0 and that's [7.8] if people are curious. But Ireland have scored in all of their away games in this group and Wales have a good record of doing so at home albeit with Bale a central figure.
A flurry of early activity wouldn't be a huge surprise and with a grandstand finish expected in any of the scenarios then the [2.1] about both to scoring does appeal. The 1-1 is [6.6]. Slovenia-Scotland developed into a chaotic affair when the protagonists were both going for it.
When Ireland scored in the second minute on Friday against Moldova, it was the fourth time they'd broken the deadlock inside five minutes in this campaign - the best starting record of any team in Europe. As it happens, they've actually put in some poor first half displays but they've a habit of bouncing out of the blocks smartly. Maintaining it has been the problem.
The fact that both sides need to win means it's possible you will get more of the same from Wales too. But the speculative play on Ireland leading at the break and drawing at the full-time is the fun bet here although it obviously wouldn't be much fun for fans of either side when they are both eliminated as a consequence.

Recommended Bets