Two and a Half Goals: Anfield to enjoy a goal-fest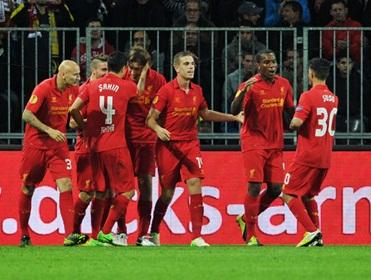 It will be a different set of players to the one that beat Young Boys but this Liverpool side can't stop conceding goals at present
The Inside Man is feeling a bit homesick this weekend so he is staying in England for all four Under or Over 2.5 Goals selections...
"Liverpool under pressure and needing a win have looked vulnerable at the back in every game they've played, including their 5-3 win over Swiss side Young Boys on Thursday."

Saturday
Southampton games come almost guaranteed with goals. Their four matches this season, including one in the Cup, have produced 19 goals.
Almost half of those were conceded to two of the countries top sides, Arsenal and Man Utd. However, it's the style of play which is as important as the opponents, with Saints willing to go toe to toe with each side they've faced. Entertaining? Yes. But tactically good enough to keep them up? Probably not. The fact that they also scored against such strong opponents, and created numerous more chances, tells you all you need to know. Think Blackpool of two seasons back, and then multiply the level of recklessness by two.
With Saints going for it, there are sure to be plenty of goalscoring opportunities for a Villa side that's improving in leaps and bounds. After a torrid first couple of matches, the Midlanders are now looking a different proposition altogether and could well yet become the latest success story to be written by manager Paul Lambert.
Darren Bent is yet to score in the league and won't get a better chance than this. I expect him to net in another high-scoring Saints thriller.
Recommended Bet: Back Over 2.5 goals @ 1.9210/11
Watching West Ham play of late is a bit like watching the proverbial paint dry. Channel balls knocked up territorially up towards the corner flag ala Johnny Wilkinson, or alternatively pinged into the chest of the centre forward for him to hold-up and wait for support.
It's old-school, and it's not very entertaining, I'd argue. But it is effective. And on top of that, the Hammers are scrupulously well organized. Manager Sam Allardyce was the man who pioneered the use of the Pro-Zone data analysis system over a decade ago, and which went on to become the must-have piece of equipment for the modern manager. His attention to detail has made West Ham a really tough unit to break down.
Sunderland meanwhile are no slouches themselves in terms of organisation, with Martin O'Neill having built a side with a strong work-ethic and determination to match.
The Hammers have yet to concede this season, and so will keep on doing what they've been doing. The Mackems have drawn all three of their league games and will be wary not to come away from this game with nothing to show for themselves, suggesting an air of caution from them too.
Recommended Bet: Back Under 2.5 Goals @ 1.875/6

Sunday
There are no doubts in my mind, this game will have goals. Liverpool under pressure and needing a win have looked vulnerable at the back in every game they've played, including their 5-3 win over Swiss side Young Boys on Thursday. The use of Stuart Downing as an occasional defender also shows how desperate things have become.
That's a defence that's conceded 11 times in five outings, and you seriously think it's capable of containing the likes of Ronbin van Persie, Danny Wellbeck and Hernandez, backed by Nani and co.? A United side who've scored 10 goals in their last three league outings!
On the plus side for Liverpool, they did look to be showing signs of improvement last weekend against Sunderland, whom they dominated for large periods of the game. They'll also surely go on the attack in a game where Brendan Rogers could wash away all the doubts about his side's early season form, with three points on Sunday.
With United conceding a goal a game so far, and looking far more happy in attack than at the back, the chances of them again conceding look strong. Their firepower up front though should be able to counterbalance that.
Recommended Bet: Back Over 2.5 Goals @ 2.0421/20
Tottenham may have bagged their first win, and breathed a collective sigh of relief last time out, but they remain a long away form being convincing in terms of their performances.
It was noticeable in the game against Norwich, just how narrow Andre Villas-Boas has his side playing. There was no width, which led to slow, ponderous build-up play, and left Gareth Bale roaming in midfield looking for a place to receive the ball. The pace and wing play that were Spurs' hallmarks under Harry Redknapp now look a thing of the past. As do the high-scoring games that used to accompany them. Failure to win home games against both Norwich and West Brom was clearly unacceptable, and Tottenham could again find themselves under pressure when they face a stubborn QPR.
Rangers have signed several high-quality players since the season began and have shown steady improvement, culminating in last week's 0-0 draw with Chelsea. The resilience shown in that game should be sufficient to cause problems for a Spurs side with considerably less ingenuity than Chelsea, meaning that another awkward afternoon for AVB looks very much on the cards.
Recommended Bet: Back Under 2.5 Goals @ 2.285/4
Read past articles