Serie A Betting: Time is right to oppose Juve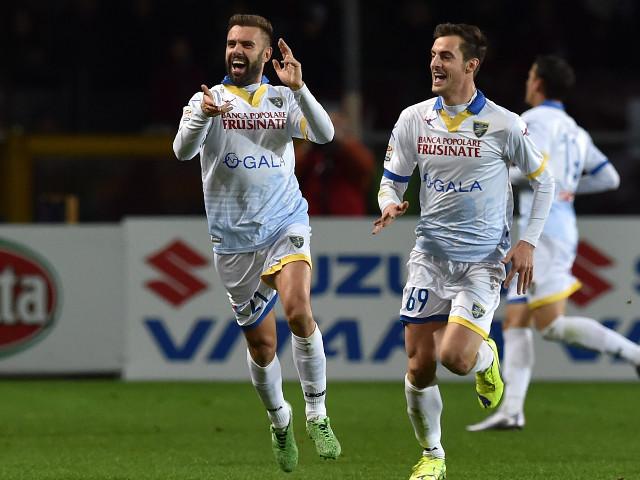 Paolo Sammarco has scored four in his last 10 games for Frosinone, a team that guarantees goals
Dave Farrar has a very special column for a Serie A friend, so place your bets on 2-2 in a few matches in Italy over the next few days, including in the big clash between Roma and Juve...

"Both teams look certain to score, (an outcome in six of Frosinone's last seven), and Over 2.5 Goals here are priced at a really surprising 1.9310/11. That looks like one of the prices of the season so far."
Serie A lost a friend this week, and so did I. If you've loved this division over the years, whether on Channel 4, on ESPN, on BT Sport, even in the Bravo days, then you owe a debt to a man called Tom Docherty. A brilliant producer, a wonderful man, and someone who adored Serie A.
Tom twinkled a lot at work, but never more than when he talked about Signori, Careca, Totti or Maradona. My kind of football lover, your kind of football lover, and this week we lost him.
Amongst many memories of Tom, my fondest is of his Saturday afternoon stroll to the bookies. We tended to work together on the ESPN Saturday night game, and before he wandered down Chiswick High Road, he'd ask me for advice on where his fiver should go. I'd fill his head with opinions, and statistics, and any of the other rubbish that goes through my head before a commentary, and he'd nod sagely, seemingly take it on board and head off.
Before kick off, he'd wave a slip at me, smile, and say: "I fancy 2-2." The optimist in him expected goals, the cynic in me often disagreed, but he would get it right more regularly.
He didn't always back 2-2 (3-1 got the odd look in), but he mostly did. And so, this week, in honour of my old friend, I hope you don't mind if 2-2 takes over. It feels like the right thing to do. And if you're watching a game this weekend, do me a favour and remember his name. Others are far more famous, but he was the real deal, and it's the least that he deserves.

Frosinone v Atalanta
Saturday, 17:00
Live on BT Sport 1
Frosinone have turned into the goal kings of Serie A, with three of their last four games each producing six goals. That makes 2-2 a conservative call, but with Atalanta a little more gun shy, it's a realistic scoreline.
Both teams look certain to score, (an outcome in six of Frosinone's last seven), and Over 2.5 Goals here are priced at a really surprising 1.9310/11. That looks like one of the prices of the season so far, and so, as well as the Correct Score bet that I'm duty bound to have, I'll back it up with a bit of that, as Roberto Stellone's great and flawed entertainers go for it once again.
Recommended Bets
Back Over 2.5 Goals in Frosinone v Atalanta @ 1.9310/11
Back 2-2 Correct Score in Frosinone v Atalanta @ 16.015/1

Juventus v Roma
Sunday, 19:45
Live on BT Sport Europe
Juve's run of 10 wins in a row in the League has put them in the perfect position from which they can defend their title, and the smart money seems to be favouring them to make it 11 in succession.
There were signs of improvement from Roma last week though (despite the result), and the re-appointment of Luciano Spalletti appears to have been timed perfectly, as they look to arrest their slump, and force their way back into the Scudetto race (they're only nine points off the lead, after all).
I can see why Juve are favoured here, but they look a little short to me, and I want to have Roma on my side, with the draw a big runner as far as I'm concerned. Roma have drawn seven of their last eight games in all competitions, with three 1-1 draws, three 0-0 draws, and a 3-3. The law of averages would indicate that they're due a 2-2.
Recommended Bets
Lay Juventus against Roma @ 1.695/7
Back 2-2 Correct Score in Juventus v Roma @ 22.021/1

Sassuolo v Bologna
Sunday, 14:00
And finally, to the battle between a team that has drawn 2-2 on three occasions so far this season, and one that has managed it twice, including last weekend. Both Sassuolo and Bologna have become two of the best teams to watch in the League and this just feels like one of those games that will be a lot more entertaining than the prices suggest.
Bologna are happy to play for a narrow, hard fought win when they need to, and they've become pretty adept at it, winning 1-0 away at both Genoa and Milan, but when a team opens up against them, they respond in kind, and this game is likely to be similar to the ones that we saw against Lazio, Empoli and Napoli, all of which produced goals.
Sassuolo are not dissimilar in style to those three, and with Over 2.5 goals available at an absurdly generous 2.47/5, I'm happy to tack that recommendation onto my favourite Correct Score one.
Recommended Bets
Back over 2.5 Goals in Sassuolo v Bologna @ 2.47/5
Back 2-2 Correct Score in Sassuolo v Bologna @ 21.020/1
2015-16 P/L
Staked: 54 Points
Returned: 46.22
P/L: -7.78 points
Discover the latest articles
Read past articles