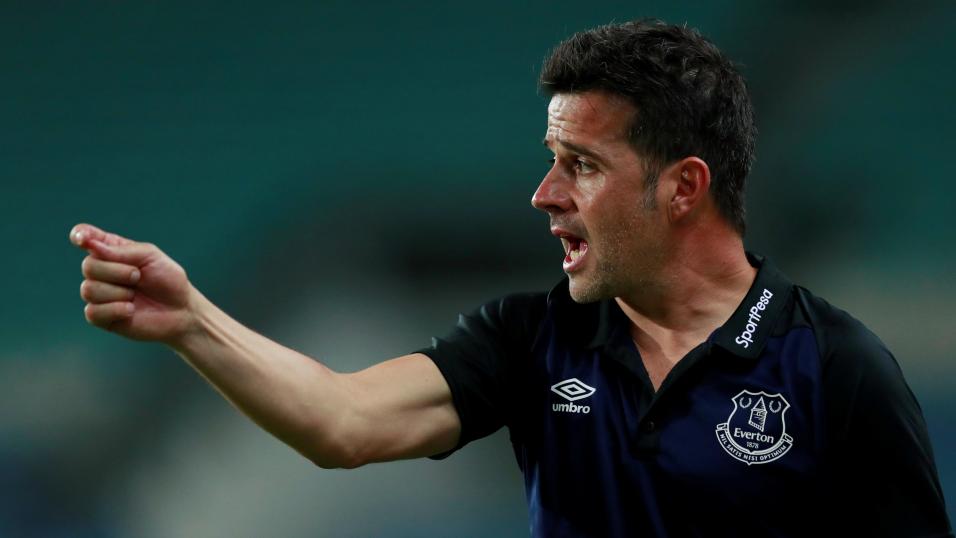 Silva is getting close to building an excellent Everton team
Alex Keble argues that Richarlison is a superb signing for Everton, capable of taking the Toffees to European football in 2019/20...
"Richarlison hugged the left touchline under Silva at Watford, drifting out of sight and awaiting a sudden diagonal pass from his team-mates, mimicking the way Leroy Sane is used at Manchester City. It is a vital piece of the jigsaw that had been missing until yesterday evening."
In the quiet of the off-season, transfers are the currency of optimism. In the final week before the Premier League campaign begins, when the bumper previews drop and the season ahead comes clearly into view, every club will be fairly assessed, but for now those most active in the transfer market pull our focus. Everton, silent until yesterday, aren't getting the attention they deserve.
Twelve months ago the Toffees were media darlings having spent more than £100 million on new players by mid-July, and yet the bubble quickly burst once the new season began. It first drooped under Ronald Koeman, whose stale tactics made journalists hastily rewrite their pre-season predictions and declare Everton had spent the Romelu Lukaku money badly, before Sam Allardyce barged in and sank the club with the sheer weight of his pessimism. It is no wonder expectations are considerably lower this summer despite the appointment of Marco Silva.
But they shouldn't be. Everton's squad is better, and more balanced, than it appeared throughout 2017/18 and in Silva they have the perfect manager to optimise their talent. Few were pointing this out a week ago, but with the Toffees bursting onto the back pages with the £40 million signing of Brazilian winger Richarlison it won't be long before the media jumps on the Everton bandwagon.
Marco Silva divides opinion
Silva is a divisive figure because he perfectly splits the 'Proper Football Men' from the 'Hipsters'. A foreigner getting a succession of English jobs despite a relative lack of experience will always rile some, as will the deemed pretentious retort from the other side that Silva's tactical complexity - that requires deeper insight than a simplistic fact check of results - makes him better qualified than the former pros struggling for work in Britain. The debate is more than a little Brexit-y.
The split opinion on the Portuguese coach partially explains why Everton aren't considered among the Champions League hopefuls - and why signing a 21-year-old forward with nine goals or assists last season is seen as overpriced at £40 million. Reunited from their time at Watford, Silva and Richarlison is an exciting prospect for Everton fans and, with a couple more signings, could make them one of the most attractive, successful Premier League teams in 2018/19.
Richarlison's qualities
Everton's new signing has been questioned for his waning form last campaign having failed to record a goal or assist from December 12 onwards, but it is important to note the impact of fatigue. Richarlison played 18 times for Fluminense before he left for Watford on July 23, taking his eventual tally to 59 matches between May 2017 to May 2018. That is clearly too many for a man who only turned 21 three days before the Premier League campaign ended.
What's more, his form only declined after Silva left for Everton, with his replacement Javi Garcia moving Richarlison into a central role and frequently leaving him out altogether (he started just five of the final 14 games). Rejuvenated after a long summer rest and back with a manager that knows exactly how to maximise his gifts, Richarlison can set the league alight again.
A quick reminder: Richarlison is strong in the air, hardworking defensively, makes intelligent runs in behind, is a powerful dribbler, and has a knack for getting into goalscoring positions. The Brazilian is still raw (his finishing and decision-making in the final third need improving) but Richarlison is undoubtedly worth the fee - particularly with the bold, gegen-pressing football Silva brings to Goodison Park.
Silva's tactics are perfect for Everton
At both Hull City and Watford, Silva's teams were defined by attacking courage, by pressing very high and charging into the final third in Klopp-esque fashion. He relies upon quick vertical passing and sudden switches of play from one flank to the other, building on the Bielsa aesthetic that is in vogue in England thanks to Pep Guardiola, Mauricio Pochettino, and Jurgen Klopp. That Silva could implement such a complex system (reliant on swarming positional interchanges and formation hopping) at two relegation candidates suggests he is the real deal.
Everton's squad, deemed bloated and lopsided under Koeman, is in fact perfect for Silva. Jordan Pickford's long-range distribution is ideal for the directness of the system; Idrissa Gueye is the box-to-box midfielder Silva builds his teams around; Gylfi Sigurdsson is suited to a counter-pressing game that affords him space to create in the final third; and a host of talented young players provides the energy and fearlessness Silva demands.
Richarlison hugged the left touchline under Silva at Watford, drifting out of sight and awaiting a sudden diagonal pass from his team-mates, mimicking the way Leroy Sane is used at Manchester City. It is a vital piece of the jigsaw that had been missing until yesterday evening. All Silva needs now is a centre-back, left-back, and striker to give him the tools for an assault on the top four. Lucas Digne, Yerry Mina, and Michy Batshuayi are all known targets; get all three, and the Toffees have an excellent chance of finishing in the top six this season, priced at 6/1. They might even push for the top four in spite of their 20/1 odds.
Recommended bets