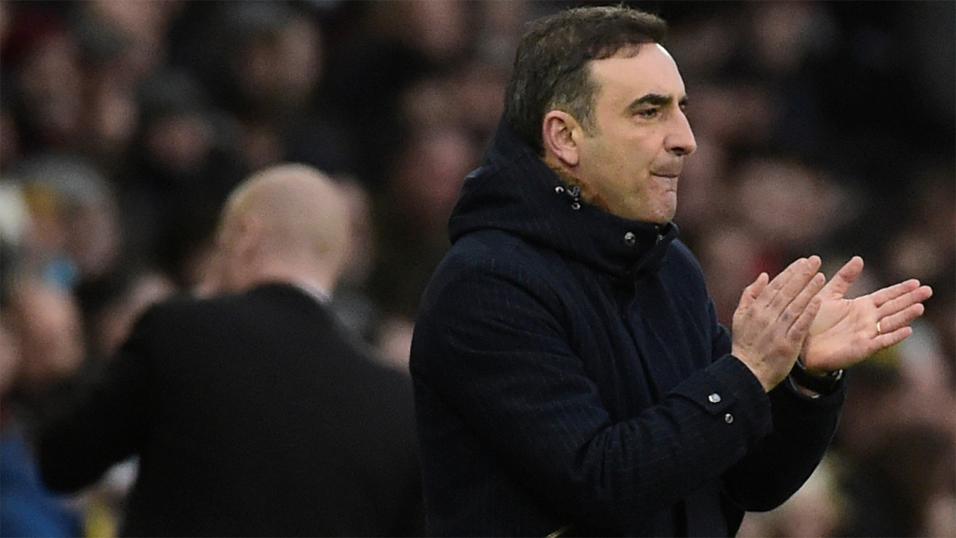 Southampton might get hammered by Man City, handing Swansea a lifeline.
Alex Keble picks out four key battles ahead of the Premier League's final day, arguing that Southampton's midfield-light 3-4-2-1 could see Manchester City win by a huge scoreline...
"The traditional positional errors of the 3-4-2-1 will finally be exposed on Sunday; if Man City are interested, they could easily score five or six."
Moses to give Dummett a rough ride
Newcastle United v Chelsea
Sunday, 15:00,
Live on Sky Sports Premier League
Newcastle's four-game losing streak suggests they are already on holiday, handing Chelsea an enormous advantage as they look to secure a now unlikely top four spot. Left-back Paul Dummett has been directly at fault for three of the last four goals the Magpies have conceded, and so Antonio Conte will almost certainly target this flank on Sunday.
Dummett made two crucial errors in the 2-1 defeat to Watford a week after he lost his marker for West Brom's winning goal at St. James' Park. The Englishman was considerably more assured against Tottenham in midweek but Mauricio Pochettino tends to funnel attacks through the centre of the pitch, whereas Chelsea are increasingly relying on their overlapping wing-backs.
As Newcastle sit in a deep and narrow blockade, Chelsea will look to get Victor Moses on the ball and whip crosses towards Alvaro Morata and/or Olivier Giroud. Dummett is highly unlikely to come out on top in this individual battle, ensuring victory for the visitors.
De Bruyne and Silva to make mince meat of Southampton's two-man midfield
Southampton v Manchester City
Sunday, 15:00,
Live on Sky Sports Mix
Mark Hughes's side are set for a worryingly big defeat on Sunday. Southampton's victory over Swansea City appeared to have secured their Premier League status, weakening them psychologically, while Saints' 3-4-2-1 formation is not at all suited to taking on Pep Guardiola's team. A huge defeat, the kind that Swansea need to stay up, is not out of the question.
Saints have only played one of the current top five - Chelsea - since Hughes was appointed, and Conte's team use the same 3-4-2-1 as the Welshman. Consequently City are the first real test of the formation's defensive resolve - and its lack of central midfielders.

Kevin de Bruyne and David Silva should completely overwhelm the two-man midfield, while Raheem Sterling and Leroy Sane should find joy making runs in between the central and outer centre-backs. The traditional positional errors of the 3-4-2-1 will finally be exposed on Sunday; if Man City are interested, they could easily score five or six.
Ayews to dominate spaces between Stoke's defence and midfield
Swansea City v Stoke City
Sunday, 15:00
Stoke City's biggest tactical fault under Paul Lambert is their erratic pressure on the ball, which opens up a huge space between the advancing front line and backpedalling defence. Using a 4-4-2 formation, this often means two central midfielders are left with an enormous area of the pitch to defend; it is in this zone that the Ayew brothers can win the game for Swansea City.
Having to cover so much ground, Joe Allen and Badou Ndiaye often look lost despite their courageous efforts. It is no surprise that an Ndiaye ranks 2nd in the Premier League for tackles made, but 129th for interceptions; the latter requires a compressed team shape while the former is a more individual category. Wilfried Zaha and Ruben Loftus-Cheek walked through the middle during Crystal Palace 2-1 win at Stoke last weekend.
Jordon Ayew and Andre Ayew both play like false-nines in Carlos Carvalhal's system, which partially explains why Swansea so rarely create chances (they are approaching 400 minutes without a goal). However, the Ayews' tendency to drop off into the number ten space should work this time thanks to the holes Stoke leave, which in turn means Jordon and Andre can turn on the ball and force some freekicks or corners. 41% of the goals Swansea have scored this season have been set-pieces, the second highest proportion in the Premier League.
Wagner's aggressive pressing to expose flaky Arsenal defence
Huddersfield Town v Arsenal
Sunday, 15:00
Buoyed by their scrappy 1-1 draw at Stamford Bridge, a celebratory atmosphere at the Kirklees Stadium should see Huddersfield's players fight for everything with a typical high-pressing system on Sunday. These tactics worked superbly against Manchester City, with a narrow block of four central midfielders able to rush forward and force the City defenders into panicky long balls forward.
Arsenal have now lost seven consecutive away league matches and, without Laurent Koscielny, are particularly vulnerable to teams that get in their face and force mistakes. It is highly likely the defence will be error-prone and unable to pass the ball calmly into attack, putting the visitors on the back foot and allowing Huddersfield to battle their way to victory.
Alex Pritchard looks particularly effective from attacking midfield. He will most likely be allowed to carry the ball forward on the counter-attack in the spaces left by Alex Iwobi, newly featuring in central midfield, to make sure the Terriers at least get a point.