Premier League Tactical Preview: Mane & Salah to lead Liverpool victory at Man City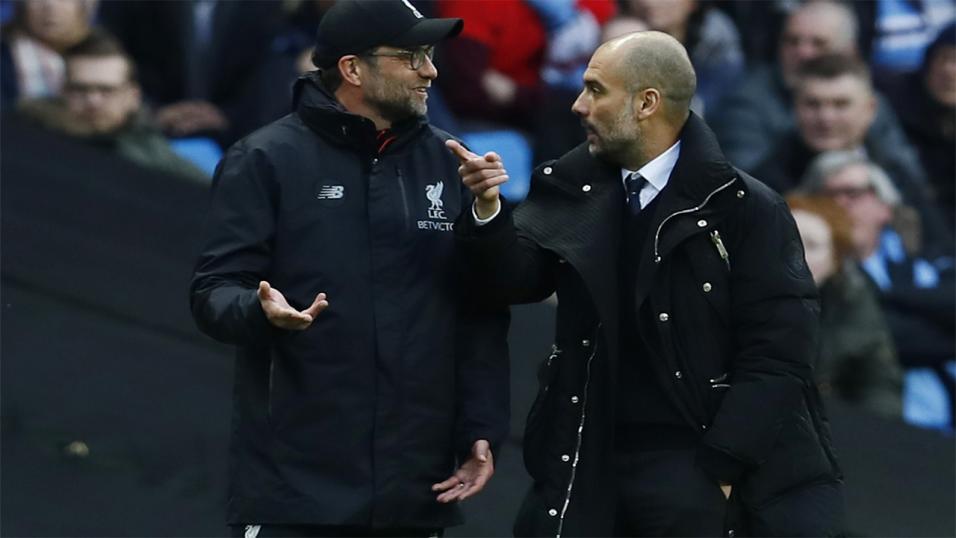 Guardiola and Klopp meet in the biggest game of the season on Thursday.
Alex Keble looks ahead to the 21st round of Premier League matches, arguing that Mane and Salah will get the better of Danilo and Zinchenko at the Etihad...
"Both Danilo and Oleksandr Zinchenko struggle to hold the correct positions in the City defence, and more importantly both are easily beaten when a winger squares up for a one-on-one."
Cardiff v Tottenham
Tuesday, 17:30
Live on Sky Sports Premier League
Before Spurs' dreadful second half performance against Wolves, in which they conceded three times and failed to record a single shot on goal, this looked like an easy win for Mauricio Pochettino's side. But the aggression and directness of Neil Warnock's Cardiff should cause problems for the visitors, who look jaded by the Christmas schedule and vulnerable in central midfield and at right-back.
Harry Winks and Moussa Sissoko have played all three Christmas matches, and with few alternatives are likely to play again. This is problematic given that their low energy explains Spurs' creative bluntness against Wolves, as well as the visitors' ability to repeatedly launch counter-attacks via sweeping long balls forward. The central midfielders weren't closed down quickly enough as they looked to spray it out wide, which is an encouraging sign for a Cardiff side that rank first in the division for long balls as a percentage of total passes (23.4%).
Cardiff's hard-tackling, long-ball approach ought to ruffle some feathers in the middle of the park, helping them crash into the final third and hit the flanks in classic Warnock style. Josh Murphy is a serious threat on the left up against either the inexperienced Kyle Walker-Peters or a struggling Kieran Trippier: this is the key battle in an old-school contest that spells danger for a Tottenham side who conceded a soft set-piece last time out.
Chelsea v Southampton
Wednesday, 19:45
With a disastrous switch to 4-3-3 quickly abandoned after 14 minutes against Man City, there is little doubt Ralph Hasenhuttl will reinstate a 3-4-2-1 formation for the trip to Stamford Bridge. His ultra-narrow inside forwards will be perfectly positioned to cut off the passing lines to Jorginho, stunting Chelsea's most important player and giving Southampton the opportunity to pick up points on Wednesday.
Southampton's high pressing through the centre will stunt Maurizio Sarri's desire to build centrally, while the use of wing-backs means the visitors can get tight to Willian and Eden Hazard. Both players play with their backs to goal, and thus can be stopped by defenders allowed to vacate the defence and follow them up the pitch. Saints' 3-5 system means the wing-backs can do just that, safe in the knowledge the spare centre-back will cover behind.
Oriol Romeu and Mario Lemina are flexible enough to hold off Matteo Kovacic as a two, which means Chelsea should - yet again - struggle to create chances. They have scored just five goals in their last four matches; Southampton have the confidence and tactical nous to win the midfield battle and prevent the hosts from scoring.
Newcastle v Man Utd
Wednesday, 20:00
Live on Sky Sports Premier League
For an idea of how this match will play out, we need only look to the second 45 at Old Trafford back in October when an unshackled Manchester United played with the same creative freedom that has so far defined the Ole Gunnar Solskjaer era. Paul Pogba and Anthony Martial took the game by the scruff of the neck, their interchanges in the number ten space too quick for the flat lines of a Rafael Benitez midfield.
Pogba is unstoppable at the moment, while injuries have forced Newcastle to play a static 5-4-1 formation. Liverpool eased to a 4-0 victory as a result of the Magpies' staleness in the middle, an area of growing concern for Benitez during such a busy time of the year; he is currently relying on Isaac Hayden in central midfield, and the Englishman only averages 1.3 tackles and 1.3 interceptions per game.
Assuming United will storm the middle of the park, the key battle is down Newcastle's left, where Matt Ritchie is deputising ineffectively as a wing-back. Liverpool's Trent Alexander-Arnold and Xherdan Shaqiri dominated down Ritchie's side in a recent 4-0 win, suggesting Diogo Dalot and Jesse Lingard will easily come out on top on Wednesday.
Man City v Liverpool
Thursday, 20:00
Live on Sky Sports Premier League
Although Liverpool are likely to play conservatively, as they did in the reverse fixture at Anfield, they may be unable to resist the temptation to press high to expose Man City's vulnerabilities. This is, after all, just what they did to blow Arsenal away at the weekend. But no matter how Liverpool approach this fixture they are guaranteed to hold a major advantage down the flanks.
Both Danilo and Oleksandr Zinchenko struggle to hold the correct positions in the City defence, and more importantly both are easily beaten when a winger squares up for a one-on-one. Whether Liverpool sit high and attempt to attack with a counter-press or hold off and feel their way into the game, eventually Sadio Mane and Mohamed Salah will start to receive the ball in the channels - at which point the huge mismatch on the flanks will be revealed.
Leroy Sane and Raheem Sterling (or Riyad Mahrez) will have to work extremely hard to track back and support their full-backs, particularly given that neither Bernardo Silva nor David Silva will be present to provide additional support. Danilo and Zinchenko won't get the help they need, then, which could mean a season-ending defeat for Guardiola's side.