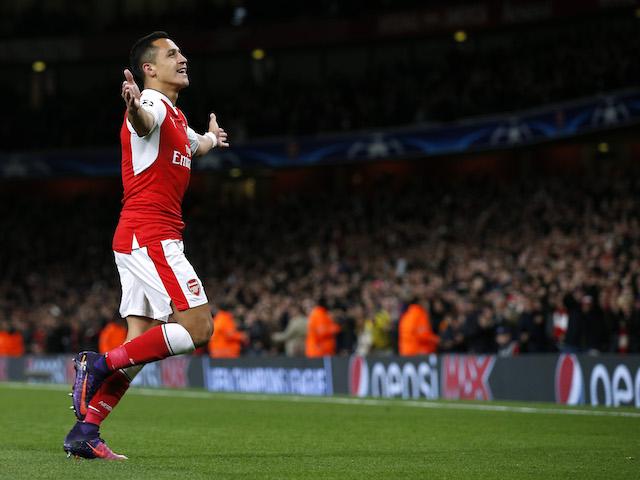 Will Alexis Sanchez stay at Arsenal, or is a transfer to Bayern Munich worth a punt?
Alex Keble takes a look at the "Transfer Specials" betting odds available on the Betfair Sportsbook, and picks out a 10/1 destination for Alexis Sanchez...
City will continue to show patience while Arsenal, headed by arguably the most stubborn negotiator in football in Arsene Wenger, refuse to budge, opening the door for Bayern Munich to make an 11th hour swoop as Sanchez itches to get away from the Emirates.
It's hard to believe we're only one week into the summer transfer window. Arsenal and Everton have already broken their transfer records with Chelsea and Liverpool soon to follow, while Manchester City's capture of Bernardo Silva and Manchester United's pursuit of Romelu Lukaku means the Premier League could break its summer window record before August even begins.

And those are just the transfers we know to be based in fact. As ever, the rumour mill is churning out dozens of new stories every day - many of them made up - in a desperate attempt to fill the void left by the absence of any on-field action. It can be frustrating and overbearing, but then again, the rumours do serve a purpose. How else are we going to get our football fix during the barren month of July?

With this in mind, Betfair have an ever-shifting set of "transfer specials" on offer during the window. It might not be as exciting as betting on Premier League matches, but it's a great opportunity to win some money.

Here's our pick of the bunch:
Alvaro Morata
Chelsea - 6/4 | Man Utd - 5/2 | No move - 5/4

Long-time Man Utd target Alvaro Morata is a puzzling footballer. The 24-year-old is considered world class by most and is valued at £70 million despite having never completed a full season as a first-choice striker. In four years of senior football Morata has a mere 53 starts and 68 substitute appearances in the league.

There is clearly enormous potential in the Spaniard, but given he remains an unknown entity at the highest level it is unsurprising Jose Mourinho decided to prioritise Romelu Lukaku, expected to join for approximately £75 million from Everton this week in spite of Chelsea's interest.

Since Morata is such a similar player and Antonio Conte signed him for Juventus back in 2014, it would make sense for Chelsea to pursue the Spaniard as an alternative to Lukaku - and the board will no doubt get a move on. Reports indicate Conte is ready to walk, making a quick(ish) deal likely. Back Morata to move to Stamford Bridge at 6/4.
Alexis Sanchez
Man City - 5/4 | Bayern Munich - 10/1 | No move - 1/1

The Sanchez saga will drag on tediously throughout July and August, but, thanks to the intriguing odds on offer it's well worth keeping an eye on.

The Chilean is 1/1 to remain at Arsenal largely because the Gunners are stubbornly refusing to let Sanchez move to a Premier League rival. However, City are determined to bring him in for around £50 million and believe they have leverage, with Sanchez entering the final 12 months of his contract.

They are mistaken. City will continue to show patience while Arsenal, headed by arguably the most stubborn negotiator in football in Arsene Wenger, refuse to budge, opening the door for Bayern Munich to make an 11th hour swoop as Sanchez itches to get away from the Emirates.

It is definitely worth putting a small wager on Sanchez to join Bayern at 10/1. The odds on such a move will only fall as Sanchez becomes increasingly anxious to get away from north London.
James Rodriguez
PSG - 6/4 | Man Utd - 2/1 | Chelsea - 3/1 | No move - 6/1

Talk of Colombia's star playmaker James Rodriguez has died down in recent weeks, but it's extremely unlikely he will stay at the Bernabeu for another season after Zinedine Zidane so frequently snubbed him in 2016/17. The odds on his destination will shorten after the Lukaku/Morata stories die down and he's back in the news - so it's best to bet now.

Paris Saint-Germain are most likely to come up with the money, particularly since United won't sanction such a big move in the same window as Lukaku's £75 million transfer. That being said, the Premier League is surely a more attractive proposition for Rodriguez.

According to reports, Real are prioritising Chelsea as a potential target, and as tensions rise between Conte and the board James is another marquee signing they might push extra hard for in the next couple of weeks. What's more, Diego Costa's imminent departure frees up plenty of money for five or six big signings this summer. Back James to move to Chelsea at 3/1.
Gylfi Sigurdsson
Everton - 11/10 | Spurs - 3/1 | No move - 100/30

We've picked out this one because the odds of Sigurdsson moving to Everton seem far too kind to the punter. Tottenham Hotspur's supposed interest in re-signing the Iceland international is based almost entirely on a tweet that celebrated five years since he first signed for the club, which is tenuous to say the least.

That Swansea have slapped a £40 million price tag on a man who flopped at White Hart Lane only adds to the sense that Everton is Sigurdsson's only viable destination.

The Toffees are reportedly preparing a £32 million and, with no other suitors, can afford to take their time in haggling with the Swans. By the end of August the two clubs will have split the difference and Sigurdsson will join the Ronald Koeman revolution, so it's best to get in there early and back him to join Everton at 11/10.
Jack Wilshere
West Ham - 8/11 | Bournemouth 12/1 | Southampton - 12/1 | Newcastle - 16/1 | No move - 7/4

Our final tip is a wildcard. Nobody seems to be talking about poor Jack Wilshere at the moment, whose loan deal at Bournemouth ended in April after he sustained an ankle injury.

West Ham United are current favourites to sign the Englishman, but his injury record appears to have put them off. David Gold recently played down their interest, telling TalkSPORT that "we are interested in all good players but we have to face the facts here - we have got good midfielders."

Wenger surely won't bring him back into the fold in 2017/18, and with only 12 months left on his contract that means Wilshere's Arsenal career is over. The 25-year-old must find a deal elsewhere, then, even if that means moving down a division. Newcastle United at 16/1 might be worth a small punt, but watch this space; the likes of Aston Villa might take a look later this month.