League Two Midweek Betting: Cobblers could be pegged back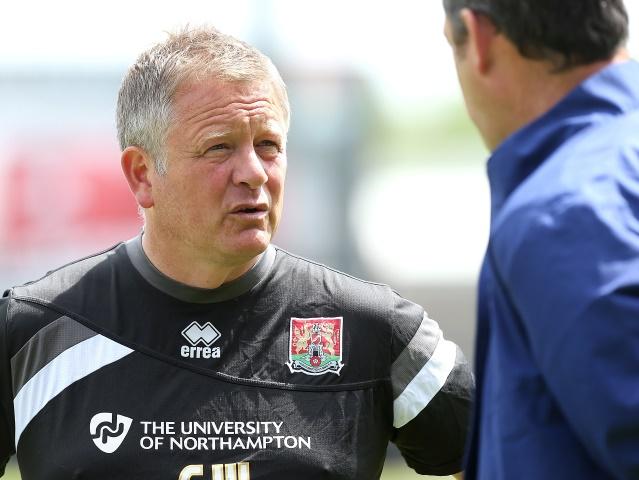 "I just want it sorted." Chris Wilder is desperate for Northampton's future to be ironed out
A couple of draws - for Northampton and Plymouth - a lay and goals at Accrington, who play at the appropriately named Wham Stadium, are on Ian Lamont's midweek radar...

"At some point the cauldron that is the goings on at Sixfield has to boil over and their remarkable backs-against-the-wall results run out of steam. In-form Crawley might not end it, but they can certainly help themselves to a draw."
Crawley Town 3.02/1 v Northampton Town 2.6413/8; the draw 3.56
On Saturday, Crawley Town matched their best ever Football League run - four games unbeaten - while Northampton took a fourth win out of an unbeaten five against a backdrop of club difficulties.
So on that basis the odds should be a little more even when the second and third most in-form teams in the division over six games clash at the Broadfield on Tuesday night, especially when the Reds have five straight wins at home.
Mark Yates was grateful that his side started fantastically in the win over Bristol Rovers - who have been excellent away - at home on Saturday, Rhys Murphy scoring twice in the first 10 minutes to take his tally to five in the last six league games.
But he will not be so pleased that those goals came from the Reds' only shots on target. He knows that Northampton can also start matches with quick gains, a goal having come in the first 10 minutes of three of their last four league and FA Cup matches.
A rousing win on Saturday at Notts County was inspired by an intimidating attack including Marc Richards (nine goals in League and FA Cup), Alfie Potter and Nicky Adams. They, also, scored twice from just two shots on target.
Boss Chris Wilder has previously kept his counsel saying he was "exhausted" answering questions about the future of the club. But his emotion got the better of him when he revealed his frustration that a deal by his old Oxford chairman Kelvin Thomas has not yet gone through, ranting "It's on the table" on Saturday evening.
He added that he left a "decent club" to join the ambitious Cobblers. The ins-and-outs of why he chose to leave (they were top of the table) would make a nice little book and could have had something to do with ground ownership issues of the Kassam bubbling away in the background (fans successfully applied to have it made a "community asset" fearing it could be sold).
At some point the cauldron that is the goings on at Sixfield has to boil over and their remarkable backs-against-the-wall results run out of steam. Crawley might not end it, but they can certainly help themselves to a draw.
Recommended Bet
Back the draw @ 3.56

Plymouth Argyle 2.915/8 v Leyton Orient 2.89/5; the draw 3.412/5
You could be forgiven for thinking: Why the long odds on leaders Plymouth? Two factors: firstly, leaders at this stage of the season have a habit of not being the leaders for long. The Pilgrims had a five-point lead before Saturday. Secondly - more importantly - they have five players out, including top scorer Reuben Reid.
Goalkeeper Luke McCormick has now been replaced by Christian Walton, on loan from Brighton, while Hiram Boateng, Carl McHugh and Peter Hartley remain out, too.
Reid might be close to a return but when? If he comes back for this game, albeit a touch rusty, the odds on a home win will look a wee bit generous. The hosts have plenty of quality in Jake Jervis and Graham Carey but the spine of any team being missing would hurt.
Leyton Orient clearly benefited from their bonding week eating and sleeping in a hotel five minutes from the training ground (goodness knows what their families thought of that last-minute decision!) and will be used to staying in hotels for this trip to the West Country, where the hosts are rarely beaten.
Given their form, Orient have been odds-on for no justifiable reason - at home and away - so on that count are a tad long given Plymouth's injuries and form. Jay Simpson's double might have given them only a third win in 13 games, but at least he is scoring again (13 goals this season) and if he continues that form Ian Hendon's men do have a habit of going through spells of scoring freely.
Another draw could well ensue particularly as Plymouth go back to basics.
Recommended Bet
Back the draw @ 3.412/5

Luton 2.01/1 v Carlisle 4.03/1; the draw 3.814/5
Were they allowed to bet, Carlisle would be wondering why they are such long odds for this game, another where the prices look somewhat unbalanced.
Keith Curle's side have had some excellent away results this season, not least the outing to Home Park where they defeated Plymouth in the FA Cup.
After wins in the League Cup at places such as Chesterfield and QPR, plus the league win at Leyton Orient, they are entitled to a little more respect than a 4.03/1 quote suggests, although they are probably still wondering exactly what hit them at Bristol Rovers.
Oh, and they showed really battling qualities to claw back a point at home to Portsmouth on Saturday, demonstrating they could become the promotion candidates their manager wants them to be, captain Danny Grainger equalising late with a stunner. Their away record of 3-3-3 13-16 (goals) is little worse than Luton's at home (3-3-3 11-9), where John Still's men have one win in four and two of those 1-1 draws.
Paul Benson being sent off in the war at the Broadhall with Stevenage on Saturday won't have helped the Hatters' cause. John Still's desire to bring in a striker before the loan window shots just got more urgent.
Carlisle's Jabo Ibehre could well remind Still of what he is missing with a first goal since his return form injury.
Recommended Bets
Lay Luton @ 2.01/1

Accrington 1.75/7 v Hartlepool 6.05/1; the draw 4.03/1
No sooner has Ronnie Moore pulled in some fresh faces and picked up some point than they let him down again with a confusing-the-form display at Mansfield. One -game wonders? The manager now demands more quality from his squad.
Hinting at line-up changes (at how many options does a team who had to pull in those loan players have, one wonders?) more demands more quality in the box. Presumably at both ends, possibly with the exception of a good, experienced keeper in Trevor Carson. Michael Duckworth's possible return at right back would be a big boost, Moore believes. The last thing he wants to do is pull Carl Magnay out of centre midfield as cover, given the steel he adds to midfield, the manager says.
It could be all in vain anyway if Sean McConville continues to take the bait from his boss John Coleman that he hasn't converted enough chances into goals. He scored his fifth of the season in Saturday's predicted win at Cambridge and goals could be the key here.
Accrington are up to fourth but only being taken semi-seriously as title contenders - did I just write that? - at about 30.029/1. That makes them about sixth favourite. I'd still want 50.049/1 as a back to lay, which is presumably what whoever backed them at 270.0269/1 in the league winners market has done.
Boss John Coleman said he hasn't given the team targets, but wants to be in the promotion places at Christmas. Why not the end of November?
It is hard to argue that any team should be backed at odds-on in this division. Kal Naismith returns to his former team, on loan at Hartlepool from Portsmouth. Either Accrington will show him the progression he has missed out on or he will turn them over.
Meanwhile over 2.5 goals makes better value because Accrington's last six games have averaged more than four (26 in total). No wonder Accrington's home is called the Wham Stadium.
Pools' defence has shipped three goals or more four times. Their last six matches have seen a total of 16 goals. It's not just McConville they have to worry about but Billy Kee and highly prized Josh Windass, too.
Recommended Bet
Back over 2.5 goals @ 2.01/1

*You can read more League Two tips as well as Alan Dudman's thoughts on the week's League One action by visiting our dedicated English Football League section here on Betting.Betfair.
Read past articles