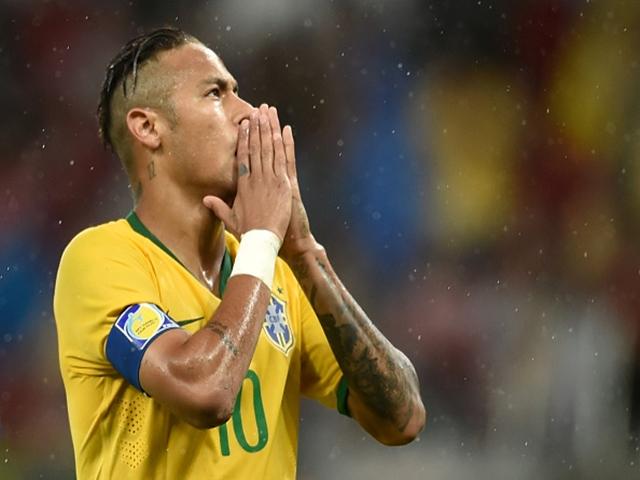 Watching Neymar play is a luxury, but Neymar is no luxury player
Following the completion of Neymar's world record transfer to PSG, Ryan Baldi gives his verdict on the impact the former Barcelona man can make in his first season in Ligue 1...
"As things stand, PSG are probably two or three players away from truly rubbing shoulders with the likes of Real Madrid, Barcelona and Bayern Munich. But Neymar is different, he's special; he could close that gap all by himself."
Neymar's £198million move to Paris Saint-Germain has not only shattered the world transfer record - more than doubling the fee Manchester United paid for Paul Pogba last summer - it has also changed the transfer market landscape, perhaps irrevocably.

The Brazilian's departure from Barcelona sets a new benchmark against which all elite players will be judged and valued; an £80million player a year ago might now worth £120million; a £150million transfer budget could've seen to a top-quality overhaul last summer, now teams will be lucky to have change from that for one world class player.

Aside from questions over the player's motives for moving to Paris, many are also unsure whether Neymar, wildly talented though his is, is capable of having the impact his new club are anticipating: delivering the Champions League, namely.

PSG's domestic dominance may have been interrupted by Monaco last season, but few expect that to be anything other than a blip in the Parc des Princes side's continued dominion over Ligue 1. Indeed, they have won four league titles and seven domestic cups since the Qatari Sports Investments assumed control of the club in 2011.

It's the Champions League they crave, though, and that has, thus far, eluded their grasp. Hence the monumental outlay to acquire Neymar. The 25-year-old won everything there is to win in his four seasons with Barcelona, except the Ballon d'Or, of course.

That lack of individual recognition, always playing second fiddle to Lionel Messi, is said to be the main driving factor behind his decision to move to PSG, to forge his own path; to have the team's hopes of glory rest on his shoulders, with the subsequent lavishing of praise flowing in his direction.

He's ready for it, too. As things stand, PSG are probably two or three players away from truly rubbing shoulders with the likes of Real Madrid, Barcelona and Bayern Munich. But Neymar is different, he's special; he could close that gap all by himself.

Often seen as an individualist due to his mesmerising dribbling skills and penchant for crowd pleasing flicks and tricks, Neymar is also the consummate team player. Last season, as Messi's natural progression into a more central role continued, it was the Brazilian who consequently dropped wider and deeper to compensate.

Although 4-3-3 was the nominal formation for Barça for much of 2016/17 ¬- with Messi closer to Luis Suárez, and Ivan Rakitić shifting a little more to the right - in practice the Blaugrana often appeared to be operating in a shape more akin to a lopsided 4-4-2, with Neymar on the left of midfield.

The switch may have seemed minimal for Neymar but it increased his defensive workload greatly and upped the mileage he was expected to clock. As a consequence, his goals return was down - 13 in La Liga from 24 and 22 in the previous two seasons respectively ¬- but his productivity was up in almost every other metric.

He produced career high averages in dribbles per 90 minutes (5.7) and key passes per 90 (3.1), as well as increasing his defensive efforts from the season before with 1.4 tackles per 90 (up from 0.8).

Watching Neymar play is a luxury, but Neymar is no luxury player.

Some also question his ability to be the main man without Messi and Suárez alongside him, feeling it may be a case of "be careful what you wish for" when his South American former partners in crime are no longer on hand with moments of magic so frequent as to become almost quotidian.

But there was a spell in the early months of 2015/16 when Messi was ruled out for eight weeks through injury. A disaster for Barça. Two months without their greatest ever player - the greatest ever player, for that matter - had the potential to completely derail their title hopes.

Messi and Neymar remain close friends and the Brazilian would never wish harm on his brilliant colleague, but he knew this was his opportunity to shine, to take centre stage, and he grasped it.

For those eight weeks, it was Neymar through whom every Barça move flowed; it was Neymar galvanising the team and motivating through inspiration; it was the best period of form of his career to date.

Neymar knew the Camp Nou throne was his when Messi eventually stepped away. But that two-month spell might just have sown the seed of impatience that has led to the situation he and PSG have manufactured this summer.

What's more, the remontatda, Barcelona's miraculous, come-from-behind 6-1 Champions League victory over none other than PSG, was of Neymar's making. He was the one who kept plugging away when the cause seemed lost, he scored a stunning free-kick which to all but him looked a mere consolation as time ticked down.

It was Neymar who brought new hope when stepping up to convert a late penalty, and it was Neymar who demanded the ball before conjuring the perfectly-flighted pass for Sergi Roberto to send the Camp Nou into raptures.

Yet his hopes of receiving the individual recognition he feels he deserves remained minimal; the Ballon d'Or could not have his name on it as long as he shared a field with Messi.

That may still be the case even now. At 30, Messi's decline is creeping into view, but it is not imminent; he's still the best player in the world and, over in Madrid, Cristiano Ronaldo just keeps winning.

Moving to Ligue 1, a comparatively less competitive league than La Liga - and one in which he is priced at 11/10 to finish as top scorer this season - may be perceived as a backward step. It is certainly a compromise: a lead role but on a smaller stage.

Neymar might have to almost single-handedly deliver the Champions League trophy for PSG and outscore Messi in the competition along the way (you can get odds of 7/4 on that alone) before he is allowed to assume top spot on the podium - he is priced at 7/1 to win the 2018 Ballon d'Or. But make no mistake, he is capable of doing it.