Infogol Expected Goals Euro Acca: Back against Dortmund and Barcelona in 29/1 fourfold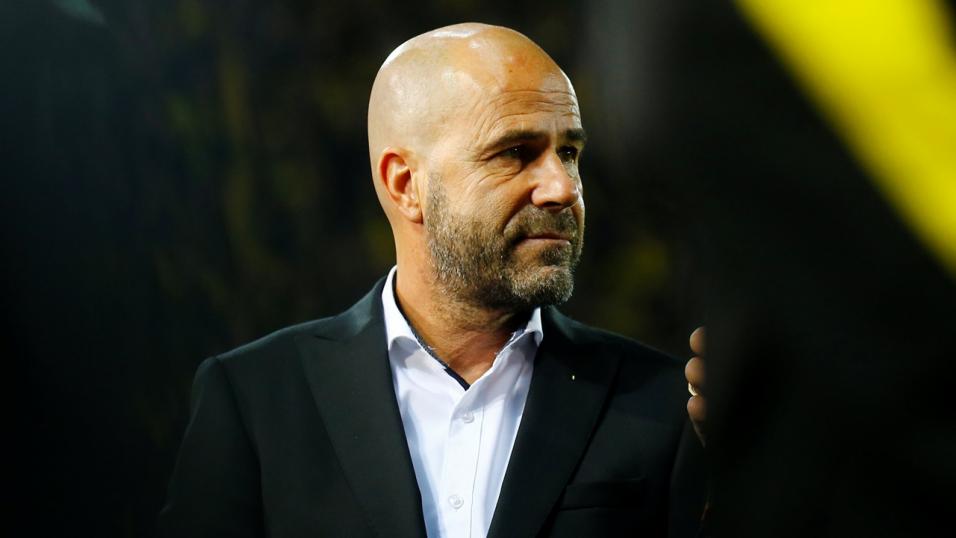 Bayer Leverkusen manager Peter Bosz can haunt his former team
Infogol's analyst is back with the best bets across Europe, using expected goals (xG) data to select a nicely priced weekend fourfold...
"This is one of the bigger games in Germany this weekend, and Infogol suggests the bookies are showing Bayer 04 no respect in this match up, with Infogol suggesting Bayer have a 60% chance (1.67) of avoiding defeat."
Dortmund to fail to win again
Dortmund vs Bayer Leverkusen
Saturday, 14:30 GMT
Dortmund suffered their first set back of the new season before the international break, as they were rightly beaten by Union Berlin after a poor defensive performance (xG: UNI 1.70 - 1.35 DOR).
Lucien Favre's side have been creating good chances this season, but continue to look vulnerable defensively, allowing an average of 1.21 xGA per game.
Bayer Leverkusen have been in great form ever since Peter Bosz took over in December, and have started the season very well, picking up seven points from three games, but have been unfortunate not to win all three.
They are creating good chances (1.89 xGF per game) and looking assured defensively (0.98 xGA per game) once again this season, picking up from where they left off in 18/19, as they rated as the second best team in the league on xG since Bosz's arrival.
This is one of the bigger games in Germany this weekend, and Infogol suggests the bookies are showing Bayer 04 no respect in this match up, with Infogol suggesting Bayer have a 60% chance (1.67) of avoiding defeat.
Dortmund are an extremely short price (1.75 - 57%) up against a fellow top four contender, with Infogol suggesting the home side should be priced up around 2.50 (40%), so the selection is to Lay Dortmund on the Betfair Exchange at 1.87, or back Bayer Leverkusen or Draw if you play on the Sportsbook at 2.00.

Another entertaining Napoli game
Napoli vs Sampdoria
Saturday, 17:00 GMT
You may have kept an eye on Italy's Serie A so far this season, but if you haven't, Napoli are now the entertainers.
Carlo Ancelotti's side have played two games so far, and both have finished 4-3, one in Napoli's favour against Fiorentina, and one to their opponents Juventus last time out.
They are averaging 1.79 xGF and 1.95 xGA per game, so chances at both ends as the two seven goal thrillers would suggest, and there are no signs of that changing, with Ancelotti himself saying they will continue to play open football.
Sampdoria have lost both of their games so far, going down 3-0 to Lazio and 4-1 to Sassuolo, and have looked as bad defensively as those two results would suggest.
They will more than likely concede in what is another tough game, but have shown glimpses of attacking quality this season, averaging 1.03 xGF per game.
Given the way both of these sides have been defending at the start of the season, the obvious play is to back BTTS, with Infogol calculating there is a 59% chance (1.69) of this landing, suggesting there is a small amount of value in backing this on the Sportsbook, but even more value on the Exchange.

Back to back defeats for Rennes
Brest vs Rennes
Saturday, 19:00 GMT
Brest have started the campaign pretty well, having collected five points from four matches, and there have been some promising performances in there, notably a win over Reims, as they are unbeaten at home.
The main reason I'm looking at this game though, is Rennes.
While on the face of it they have made an excellent start to the campaign, picking up nine points, their underlying numbers are terrible, with them ranking as the worst team in the league according to expected goals.
They have over-performed in both attack (6 goals, 3.1 xGF) and defence (3 goals against, 7.1 xGA), and are performing like a team we would expect to see in a relegation battle.
This level of over-performance isn't sustainable moving forward, and if they continue performing in this manner, more defeats will follow, and it is a surprise to Infogol that Betfair make them favourites to win this game (2.30 - 44%).
Infogol suggests that it should be the home side that are favourites (37% - 2.70), so the value play here is to back Brest to get the win at a huge price.

Valencia to haunt Barca again
Barcelona vs Valencia
Sunday, 20:00 GMT
Barcelona have made an extremely poor start to the campaign by their standards, picking up just four points from three games, with two underwhelming performances on the road.
They were very fortunate to get a point against Osasuna last time out, a game in which they were comfortably second best according to xG (xG: OSA 2.09 - 0.43 BAR), with the main issue for Barca being that their talisman Lionel Messi is missing, along with Luis Suárez and Ousmane Dembélé.
It could get worst before it gets better for Barca, as not only is Messi a doubt for this game too, they play their bogey team this weekend.
Valencia have been in the news for all the wrong reasons this week, as they sacked manager Marcelino - the man that registered back-to-back top four finishes and delivered a trophy - due to disagreements with the owner, replacing him with Albert Celades.
Celades has a different style to Marcelino, he wants to implement an expansive, possession based style of play compared to Marcelino's pragmatic, direct style, but Celades won't have had enough time to work with his players ahead of this game, which is seen as a good thing.
Marcelino's style with Valencia has caused serious problems for Barcelona over the last few years, with the Catalonians unable to deal with the high-press, high-energy, counter-attacking football.
Last season, Valencia held Barca twice in the league, 1-1 at the Mestalla (xG: VAL 1.38 - 0.40 BAR) and 2-2 at the Camp Nou (xG: BAR 2.08 - 3.15 VAL) but were the better team on xG on both occasions, and they beat them in the Copa del Rey final, so really have Barca's number.
Infogol suggests Barcelona are too short in this game (1.47 - 68%), with the model rating them as having a 59% chance (1.69) of winning, so the value play is to Lay Barcelona in this game at 1.53 on the Exchange, or back Valencia or Draw at 2.62 on the Sportsbook.
The Infogol model calculates that this fourfold should be around 18/1, but it is available at 29/1 on the Sportsbook
Visit infogol.net and get all of our football tips
Infogol's 19/20 Euro P+L
19/20
Staked: 11pts
Returned: 5.6pts
P+L: -5.4pts
18/19
Staked: 102pts
Returned: 100.9pts
P+L: -1.1pts
Read past articles