Champions League: Atletico the team to beat at the semi-final stage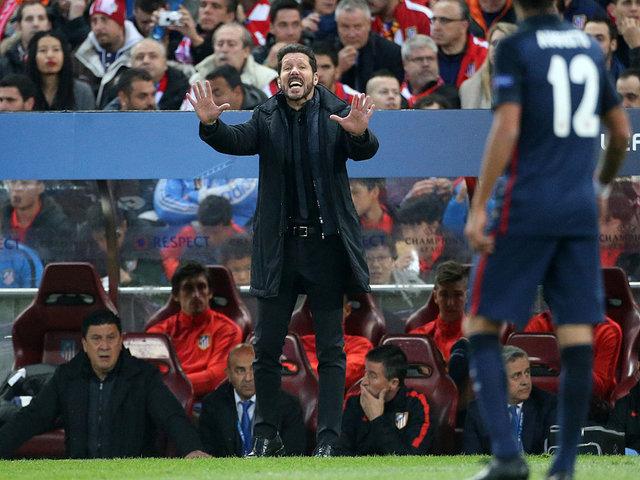 Simeone's Atletico are arguably in the strongest position to win the tournament.
Alex Keble uses tactical analysis to assess the strengths and weaknesses of the four semi-finalists of this season's Champions League and predict which team is most likely to lift the trophy in May...

"Given that in both legs Benfica's compact defence frightened Bayern Munich, Atletico will be confident they can keep such a possession-obsessed team quiet. Man City have a dreadful record against high pressing, defensively organised teams whilst Real Madrid were fortunate to take anything from their two meetings with Atletico this campaign. They are, against all odds, the team to beat."
Man City
Man City's tactical style is as enigmatic as their Chilean manager and after three years of drifting along in a dazed semi-success in Manchester these final few European nights will come to define Manuel Pellegrini's legacy.
City heave and swing in an unusually muscular rendition of tiki-taka football that has brought, perhaps predictably, wildly oscillating bursts of form. Pellegrini's stoic demeanour seemed astute when City calmly trudged past a hysterical, Suarez-fuelled Liverpool, but a league title from just 14 days on the summit now looks like the anomaly. Yawning gaps between their formation lines and predictably chaotic defending have left us questioning the club's progress across 36 months and £260 million in net transfer expenditure. However, despite all this they find themselves in a peculiarly strong position to win the Champions League.

Strengths
Flexibility and humility are City's key assets. Pellegrini was comfortable with a 36% possession average over the two quarter-final legs and indeed his side are better suited to the simplicity and discipline of a counter-attacking system. Kevin de Bruyne's talents are best utilised as the centre-piece of a furious surge into opposition territory (hence why he excelled as a Wolfsburg player) whilst Yaya Toure, David Silva, and Jesus Navas all benefit from a system that demands they stay deep; a major City flaw is their forwards' unwillingness to track back after sustained periods of ball domination.
Vincent Kompany's recovery is their most important strength. Man City average 2.07 points per game in which he features and 1.57 in which he does not; the return of their leader at the heart of a strong, compact defence could be enough to steal some vital clean sheets.

Weaknesses
Man City's central midfield is in desperate need of an overhaul. Fernandinho and Fernando rarely synchronise to great effect, appearing solid in the 1-0 win over PSG only because the opposition was so flat. In the first twenty minutes in Paris, they were predictably overwhelmed by Zlatan Ibrahimovic and some direct passes into their zone. This is undoubtedly their most vulnerable spot, closely followed by their full-backs' propensity to stay too high as the game wears on.

Can they lift the trophy?
A hunched barrier in 4-5 formation that breaks swiftly via De Bruyne and David Silva could be hugely effective, particularly against the defensively chaotic Real Madrid. Their difficulties in central midfield are largely eliminated in games the opponents dominate, and thus outscoring Real in the semis - followed by a backs-to-the-wall win against Bayern in the final - is far from impossible. With such long odds, it is definitely worth a small bet on Man City to win the Champions League at 7/1.
Real Madrid
The binary logic of the ZeZu appointment fits snuggly with the quick-fix logic of a club entirely at odds with the very Barcelona model they yearn to replicate; who better to lead galacticos than a galactico given cash to buy yet more galacticos? Zinedine Zidane has reinstalled the razor-edged attacking football demanded in the capital and things are progressing smoothly enough, although the victories over Wolfsburg, Roma, and Barcelona were fortuitous - brushed with a semi-controlled disorientation befitting Real's recent history.

Strengths
Cristiano Ronaldo has been released of defensive responsibility as part of a restored 4-3-3 formation that relies upon incisive passing into the channels. Overlapping full-backs have returned alongside Real's ball retention philosophy, giving the wingers more opportunities to cut inside as Marcelo and Danilo stretch the full-backs wide. This is the formula that Ronaldo craves.
Their second most important strength is Casemiro's life-giving qualities at the base of midfield. His defensive resilience unshackles Luka Modric and Toni Kroos, who yo-yo forward to dominate the number ten spot alternately.

Weaknesses
Ronaldo's free-role is supported by Gareth Bale dropping into right midfield when Real are out of possession, creating a flat 4-4-2 shape. Early signs suggest this needs work; Wolfsburg twice scored via attacks down the wings because neither Bale nor Kroos could get into shape in time. This, coupled with a generally confused back four, makes them highly vulnerable to conceding goals on the break.

Can they lift the trophy?
In spite of their winning streak Real simply look unstable. Zidane's managerial credentials remain unknown but, in the short term, their defensive issues and tactical inconsistencies make them weaker than any of the other three semi-finalists. Don't back them to win at 2/1.
Atletico Madrid
Diego Simeone's heroic Atletico side continue to overpower the giants with their stunningly well organised tactical model, and having despatched of Barcelona will be confident that they can nullify Pep Guardiola - a man whose system is extremely familiar to Simeone and his players.

Strengths
Atleti dominate space, not the ball; mark the gaps, not the players. Their ultra-compact shape presses frantically in high areas of the pitch before compressing and swirling into a deeper line when under sustained pressure, although both inter-related systems function in broadly the same way: they cut off passing lines and force the ball out wide.
The sheer complexity of the system deserves greater analysis than can be given here, but suffice to say their telepathic appreciation of one another's positioning, movement, and decision-making creates incisive counter-attacks and a brick wall defence. In a narrow 4-4-2 that squeezes space, their biggest strength is being in total control - even when their opponent has possession.

Weaknesses
Some may bemoan their lack of out-and-out creativity (beyond one or two key counter-attacking players), but this largely reflects a preference for absorbing pressure against Europe's elite. Though critics are understandably hesitant to hail Atletico above teams with more aesthetically pleasing styles, in truth Simeone's team are utterly flawless in executing their model. There are no real weaknesses here.

Can they lift the trophy?
Given that in both legs Benfica's compact defence frightened Bayern Munich, Atletico will be confident they can keep such a possession-obsessed team quiet. Man City have a dreadful record against high pressing, defensively organised teams (as shown in defeats to West Ham, Liverpool, Leicester, and Spurs this season) whilst Real Madrid were fortunate to take anything from their two meetings with Atletico this campaign. They are, against all odds, the team to beat. Back them to lift the trophy at 7/2.
Bayern Munich
Pep Guardiola's idealism has softened during his time in Munich and whilst a swarming tiki-taka still defines his tactical style there is room for greater flexibility and direct attacking football at Bayern. They dominate possession by building from the back, but via Frank Ribery and Douglas Costa are more free-flowing in their attack and wing-focused in their route to goal. Keeping their forwards quiet is monumentally difficult but opponents will take encouragement from some shaky spells against Benfica and Juventus.

Strengths
Their core strength is control. Bayern hold possession with a resilience matched by none and thus are capable of tiring opponents into submission. Against Atletico's patient defensive model this will be a particularly important attribute, as will the shape-shifting roles of Thomas Muller and Douglas Costa. These two flit and weave in and out of each other's positions, causing havoc in central positions that lures the opposition into the centre - leaving Ribery, Philipp Lahm, and David Alaba to pour down the flanks unopposed. Again, Atletico are arguably most vulnerable to this method.

Weaknesses
Bayern have been rattled by high pressing in 2016, most notably by Juventus in the second round. When the passing lines are cut off between defence and midfield Bayern are forced to hit it long - a move that is largely ineffective given the compactness of their shape.
What's more, Juventus scored twice in Turin thanks to incisive break-away goals that exploited space behind Bayern's attack-minded full-backs; all three of the other Champions League hopefuls possess the sort of quick and intelligent wingers needed to achieve similar success.

Can they lift the trophy?
Bayern are the overwhelming favourites, but Guardiola's recent history of falling short in crucial semi-final clashes makes their progress to the final difficult to predict with certainty. Atletico's bullish approach could unsettle them over two legs, although the skill and efficiency of their attackers should be enough to get past either Real Madrid or Man City. At 11/8, there seems little value in betting on Bayern until we see how they fare against Atletico.