2019 Asian Cup: Things are hotting up in the UAE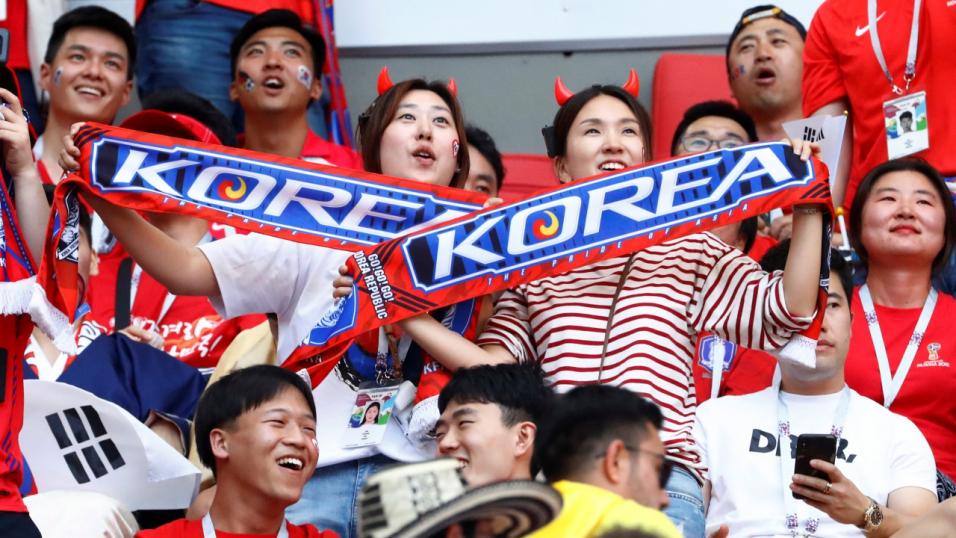 South Korea fans could well be celebrating come early February.
As we approach the Last 16 stage of the 2019 Asian Cup, Jamie Pacheco gives us the lowdown on what's happened, how it works and what the current betting odds are saying...
"The Betfair Exchange market has South Korea, Japan and Iran all at around the 4.5 mark. All three have already qualified for the Last 16 stage after winning their opening two games."
What is the Asian Cup and why does it matter?
It's the Asian equivalent of the Euros, AFCON or the Copa America and of those, only the latter is older than this one, given the first edition of it took place way back in 1956, when it was hosted in Hong Kong. If anything, it's arguably even more important than the World Cup to Asian sides because they haven't really come close to winning the big one, whereas someone obviously has to win this one!
Held every four years, it takes place at a time of year that is suitable to the host nation's conditions (in this case the UAE) which is why it's taking place bang in the middle of the European football season.
Running from 5 January to 1 February, it's made up of 24 teams with everyone but the host nation having to go through preliminary qualifying rounds that also counted towards qualification for the 2018 World Cup.

It follows the same format as Euro 2016 did, meaning it's six groups of four with the top two progressing to the Last 16 and joined by the best four third-placed finishers in the groups. Then it's a Last 16 phase followed by quarter finals, semis and the big final.

At the time of writing, Group A have played all their matches and all the other groups have played two.
Who's the team to beat?
Japan are not only the sole side to have won it four times but are also the 'form' team with three wins across the last five editions. They've never lost a final.
Iran have won it three times but the most consistent sides over the years other than Japan have been Saudi Arabia with three wins and two runner-up spots and South Korea with two wins and four second places.
The defending champions however are Australia, who won it on home soil four years ago after a dramatic late extra-time goal after they drew 1-1 with South Korea in normal time. Korea's hero with a last-gasp equaliser to enforce extra time? Tottenham's Son Heung-Min.
The Betfair Exchange market has South Korea, Japan and Iran all at around the [4.5] mark. All three have already qualified for the Last 16 stage after winning their opening two games.
Australia, who look a far weaker side than last time and who are now without the retired Tim Cahill, are around [15.0] but should also qualify for the knockout rounds.
Players to watch?
Son is the obvious place to start. He has been in sublime form for Tottenham over the last month or so, scoring seven goals in his last eight appearances. His club manager Mauricio Pochettino managed to negotiate matters so that he'd be around for Sunday's Manchester United game just gone but his use of the forward won't have pleased national manager and former Portuguese midfielder, Paulo Bento. Son started every game (eight) for Spurs since mid-December, so can't possibly be in peak physical condition. He's missed Korea's first two matches, both of which they won 1-0, and is 14/1 to be the tournament's top scorer.
The 5/2 favourite for top scorer honours is the Sudanese-born Qatar forward Almoez Ali who plays for Al-Duhali in his home country and already has five goals.
A better punt might be Japan's Yuyu Osako at 11/2. He's only got two goals so far but he's been playing the Bundesliga since 2014 and now plays at Werder Bremen, so is used to playing at a considerably higher level than most of the other forwards here on show. He also plays for the joint favourites Japan, who are expected to go far so he should have more matches to catch up.
Ki Sung-yeng of Newcastle United and formerly of Swansea isn't lacking for experience with 110 caps and will be key part of Korea's midfield.


When are the games on?
There are four on most days with two played simultaneously at 13.30 UK time and then another two at 16:00 UK time during the group stages.

Defending champions Australia are in action on Tuesday at 13.30 against Syria.
You can watch them all on Betfair Live Video.
Trivia
•The champions will get to play in the 2021 Confederations Cup. However, the runners-up could possibly qualify as well. Qatar were meant to host the World Cup 'teaser' event in 2021 but have since lost the right to do so. If the team who wins this event ends up also being the host nation for the 2021 Confederations Cup, the runner-up here would also qualify for the Confederations in two years' time.
•Iran are the side with the best FIFA ranking (29) of those taking part. Yemen have the worst ranking, currently sitting in 135 on the FIFA tables.