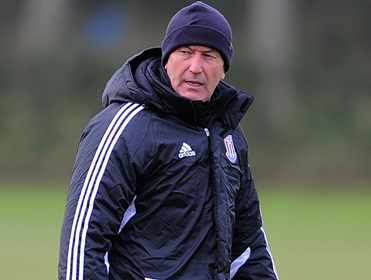 Tony Pulis has a decent record in the FA Cup at Stoke City
Would it be a shock result if Stoke knocked Manchester City out of the FA Cup in Saturday's fourth-round tie at the Britannia stadium?
"All of Stoke's knockouts under Pulis have been away from the fortress of the Britannia stadium."
The odds suggest it would be, with Stoke [5.3] for the win and City strong favourites at [1.78], but there are stats indicating only mild surprise would be the most appropriate reaction if Stoke make it to the fifth round.
The first aspect of Stoke's record that deserves recognition is what a good cup side they have become under Tony Pulis. They have had six previous FA Cup campaigns during Pulis' tenure and, of course, they have lost six times in that period (as has almost every club bar the three that have lifted the trophy at least once).
Stoke's defeat rate, however, is a highly creditable 26 per cent - a lower defeat rate is an indicator of a team that has progressed into the later rounds on several occasions, as Stoke have by reaching at least the quarter-finals in the past three seasons. As a means of comparison, Liverpool's rate is not much better at 22 per cent, although City's is considerably better at 18 per cent.
Two more aspects of Stoke's recent FA Cup record are particularly striking. Firstly, it takes a high-class side to beat them: in the past three seasons their exits have come against Liverpool (the eventual runners-up), Manchester City (winners) and Chelsea (winners).
City, of course, have the class to beat Stoke again, but then there is the second striking factor of Stoke's cup record to consider: their excellent home form.
All of Stoke's knockouts under Pulis have been away from the fortress of the Britannia stadium and their home record for their current manager in the FA Cup is won five, drawn four, lost none (in 90 minutes).
City know as much as any team how inhospitable the Britannia can be. They lost there in a fifth-round replay three seasons ago (after extra-time), having been held 1-1 in the first meeting, and they have yet to taste victory there in the Premier League.
Stoke won 1-0 at home to City in their first season in the Premier League and since then every meeting at the Britannia has ended 1-1 (including that cup replay before extra-time). 
In the past 12 months Stoke have lost only two out of 19 at home to Premier League teams and, with a full house to drive them on, they rate a good bet with a start on the Asian handicap at [2.02] off 0 & +0.5.
 
Stoke v Manchester City is one of the highlights of the fourth round, hence its selection for live coverage on ITV1, but at the other end of the scale is Hull v Barnsley, which will interest few people outside Yorkshire and Humberside (and probably will pass unnoticed by many inside that region).
Yet it was noted before the third round that teams from the top half of the Championship are often worth following in the FA Cup, particularly when they are at home to teams below that level. Two of the three teams identified then as good value won their home ties and overall in the past five seasons the win rate for such teams is 60 per cent.
That makes Hull a decent bet at [1.75] - a more accurate price based on the league form of Hull and Barnsley would be no bigger than [1.7].
Another Championship top-half team to note in the fourth round is Millwall, who have a decent chance of an upset on Friday night when they host Aston Villa only three days after the Premier League club's exit from the Capital One Cup. Millwall are [2.46] to back.
 
Recommendations
Stoke off 0 & +0.5 on Asian handicap v Man City at [2.02]