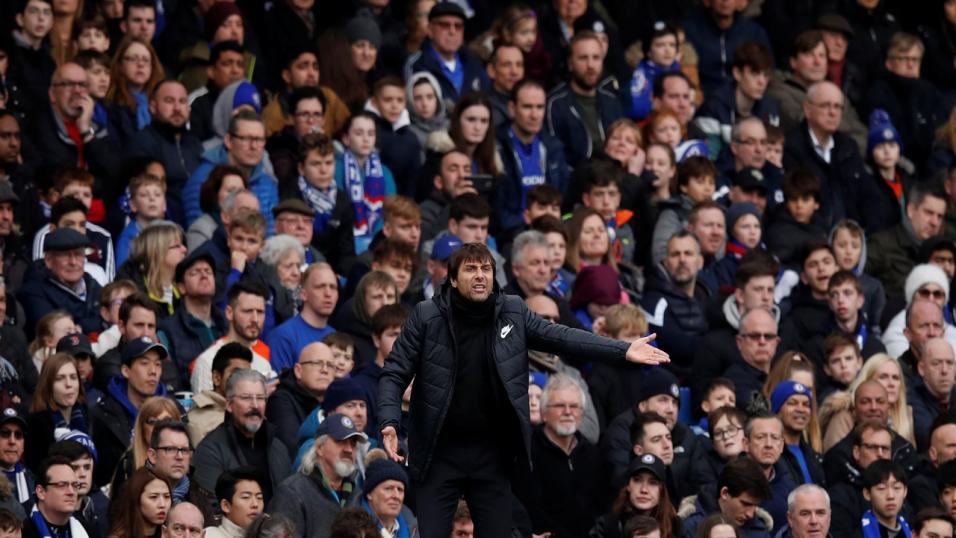 Your guess is as good as Antonio Conte's as to whether Chelsea will turn up on Sunday
Stephen Tudor looks back on a pair of fixtures that traditionally are the reserve of the big game hunters.
"Spurs take on Manchester United and the North London giants would be in fine fettle were it not for a week of dropped points that has disseminated doubt at the worst possible juncture."
This weekend's FA Cup semi-finals offer up a host of fascinating narratives not least that three of the clubs involved have under-achieved this season and are in urgent need of redemption. With the fourth being a Tottenham side desperate to claim their first piece of silverware under Mauricio Pochettino that amounts to two consecutive days of sweaty-palmed necessity at Wembley Stadium.
This is entirely appropriate given that semi-finals, as a rule, are not to be enjoyed but rather endured and though a decent performance is an optional extra really the only objective is to get through, by hook or crook, to English football's centrepiece final in May. Following this logic to its natural conclusion then it could come down - in both cases - to who shows up and handles the pressure best on the day.
If acknowledging this compromises the form guide for the quartet in question, then that's hardly a disaster because the form guide for all four has been patchy and contradictory anyway. Take Southampton whose plummet into relegation trouble means they are a tempting 13/2 on the Betfair Sportsbook to prevail in normal time over a Jekyll and Hyde Chelsea this Sunday.
After three defeats on the bounce since Mark Hughes' arrival the Saints look more doomed to drop than ever, yet a spirited hour against the Blues last week had the visitors rocking until reality crashed down on them. As for Chelsea your guess is as good as Antonio Conte's as to which of his two teams will turn up: will it be the one who jogged aimlessly around St Mary's conceding two goals cheaply or the side that suddenly remembered they were all-conquering champions only last year?
Twenty-four hours earlier Spurs take on Manchester United and the North London giants would be in fine fettle were it not for a week of dropped points that has disseminated doubt at the worst possible juncture. As for United their recent results are the best of the bunch but it's hard to shake the feeling that Jose Mourinho has played one mind game too many on his star players leaving them primed to self-destruct. For the record this will be a record-equalling 29th appearance in a FA Cup semi-final for the Reds.
So where does that leave us? An underdog spiralling towards the Championship who is finally showing some fight. A team good enough on paper to win the league that are mired in inconsistent crisis. A sleek and accomplished outfit that have begun to stutter right before their most defining game of the season. And the unpredictable soap opera that is Manchester United.
Perhaps then it is better to move away from the teams themselves and concentrate instead on the fixture itself. Because the FA Cup semi-final has forged its own distinctive identity down the years and by studying all 36 of the contests since the millennium certain characteristics and patterns come to the fore that reveal a great deal. Whoever is participating - in this instance four sides who only elicit confusion - recent history lends a hand by throwing up clues galore as to what we can expect from a decidedly nervy weekend ahead.
Possession isn't nine-tenths of the law


We may reside in an era of possession football but the oldest football tournament in the world holds little truck with such modernity, especially when its contestants have been whittled down to the last four. From the last twelve semi-finals nine have been won by teams who have seen less of the ball with last years' winners - Arsenal and Chelsea - progressing despite only having 34% and 38% of possession respectively.
Quite why this trend exists is entirely subjective but it's worth pointing out all the same that Southampton have lower possession stats in 2017/18 to Chelsea (53.1% to 55.9%) while Jose Mourinho's ethos that you can't make a mistake if you don't have the ball means that Manchester United will be content to let Spurs do most of the work and punish them when the opportunities present themselves.
For such a strategy to work of course you need your best players to be at their most clinical. Which brings us to another possible cause for optimism for the United faithful.
Marquee names nearly always grab the headlines
It may no longer hold any relevance but we still like to romantically believe that cup finals are reserved for the unlikeliest of heroes. And if the obscurity-to-household-name fairy tale doesn't happen anymore on the biggest stage then we can multiply that by ten for the semis because time after time it's the big game hunters who decide matters.
From the 98 semi-final goals since 2000 only six have been scored by substitutes, a meagre return from a fixture that has gone to 120 minutes on several occasions. Furthermore only six defenders have got onto the scoresheet, a pitiful 6.2% of the overall haul.
This unquestionably and statistically is a game for strikers and given that Romelu Lukaku has scored in every round so far the 5/2 available for the Belgian hitman to score anytime is mighty generous. In the other pairing meanwhile, Olivier Giroud has a long-running love affair with the FA Cup that has resulted in 14 goals and seven assists from his 25 appearances since 2013. The Chelsea forward is 11/10 to score anytime.
Comebacks are common
On six occasions since 2000 a team has conceded then gone on to stage a recovery to win the game. Only once has extra-time been required to do this.
Now that might not sound like a big deal but it really is because that means once every six games something happens in FA Cup semi-finals that usually occurs less than 10% of the time in football matches. Considering that this has taken place over a long period of time we can discount a statistical blip and deduce that this game, more than others lends itself to late turn-arounds in fortunes.
For this reason the half time/full time market is worthy of your attention even if it's an area you usually dismiss.
Tensions are easing
The 3.8 average of yellow cards dished out per game is so close to the domestic norm as to be neither here nor there yet what is striking is that the disciplinary record from all sides has markedly improved in recent years. Indeed if we treat last season's Manchester City v Arsenal contest as an anomaly (where seven cautions were shown) the average since 2012 drops to 2.8. That's positively civil.
The same restraint applies to dismissals too with only three red cards brandished in FA Cup semi-finals during the 21st century. The last player to depart early was Paul Scholes in 2011.
Desperation may be at the forefront of this weekend's big games but don't expect tempers to overly fray.