FA Cup Betting: New year, new priorities for the Premier League's middle class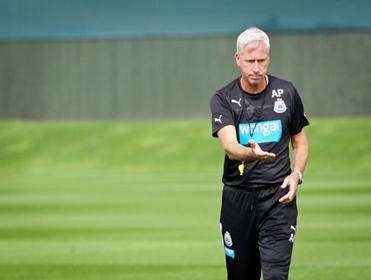 Alan Pardew is sure to field a strong side in the FA Cup this time
The FA Cup third round takes centre stage this weekend with the introduction of the top clubs in the country, but while those at the top of the Premier League table are sure to be strong contenders, who does Andy Brassell believe can mount a challenge from the 'middle class'...
"Last season's FA Cup exit at the third round stage by Brighton infuriated locals, as Alan Pardew fielded the sort of scratch side that strongly suggested his priorities lay elsewhere."

If this week will mark millions of blurry-eyed Brits making New Year resolutions, it wouldn't hurt a few Premier League football clubs to follow suit. One of the nation's noble traditions, FA Cup third round, is upon us this weekend, and some notable names from the top flight would do well to treat it with the reverence that it deserves.
The turn of a calendar year passes barely noticed in the English game, without a pause for breath over the holiday season while its continental cousins reflect on the first half of the campaign and top up their tans. Yet a brief moment of reflection is needed.
While one will expect Chelsea - 6.86/1 to win the FA Cup - and Manchester City (5.95/1) to indulge in a touch of resource management, there is a chunk of the Premier League's burgeoning middle class that must concentrate on making the third round count as they attempt to continue to fill their seasons with meaning.
Perhaps the most obvious example is Newcastle United (36.035/1). Authors of a laudable effort in the league thus far, their Sunday defeat to Arsenal reminded us that any pipe dreams of a Champions League challenge are just that. Given their memories of struggling to combine Premier League competence and Europa League progress, the chance of a trophy is a real ambition.
For a hungry support that haven't been able to celebrate winning a major pot in over 40 years, the semblance of a challenge would be welcome, at the very least. Newcastle haven't been past the fourth round since 2005. Last season's FA Cup exit at the third round stage by Brighton infuriated locals, as Alan Pardew fielded the sort of scratch side that strongly suggested his priorities lay elsewhere. With survival not an issue this time around, there are no excuses going into a meeting with a vulnerable Cardiff City at St James's Park.
Southampton (28.027/1) - whose last major trophy was the 1976 FA Cup - could be of a similar mindset as they welcome Championship high-fliers Burnley. Mauricio Pochettino has put together an attractive team and one with ambition, albeit one that doesn't quite have the clout to challenge the very top of the Premier League just yet.
The Argentinian may well regard the FA Cup as an opportunity to foster a winning mentality in the young core of his side. Having won the Copa del Rey twice as a player with Espanyol, Pochettino won't need much convincing of its value.
Though they are genuinely in the Champions League mix, Everton (15.014/1) are sure to be competitive. They have an inviting home tie against Queen's Park Rangers - and few would bet against Harry Redknapp resting a player or two as they chase the bigger prize of a Premier League return - and have the desire to compete on another front this season.
Roberto Martinez may point to the example of Roberto Mancini at Manchester City, who won the 2011 edition as he built them into champions. That's not to say Everton can go quite that far, but it would be a valuable snare for an upwardly mobile club.
Plenty of others have reasons to want to do well - Mark Hughes' Stoke (110.0109/1) face Championship leaders Leicester as they seek to extend tentative progress that has slowed of late, while Paul Lambert could buy himself more time after a sticky spell at Aston Villa (55.054/1), with Sheffield United on the menu for them.
The message should be clear. Very few Premier League clubs can turn their nose up at this famous trophy, so let's get to it.
Discover the latest articles
Read past articles