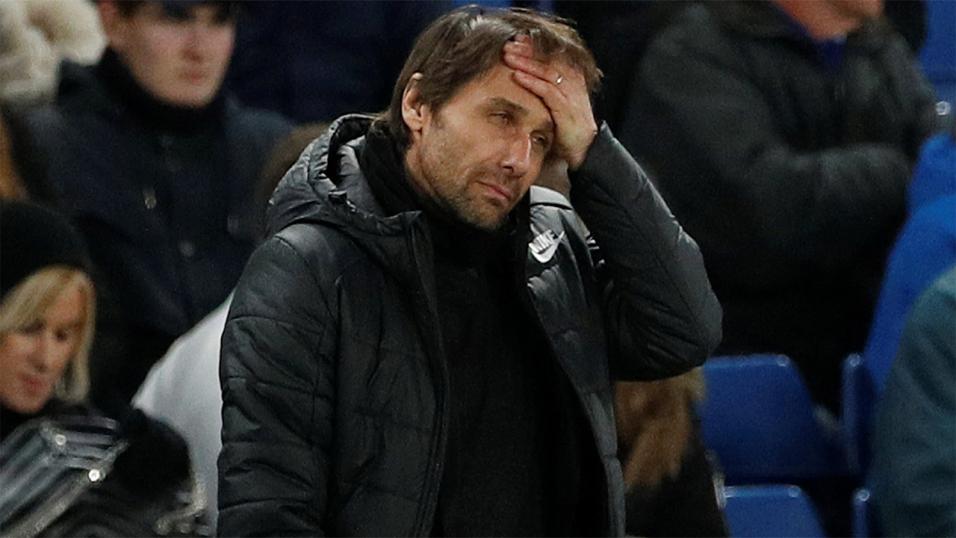 Antonio grimaces recalling last year's defeat
Stephen Tudor looks back on 25 years of FA Cup finals featuring Manchester United and Chelsea to see what each team can learn from their old triumphs and disasters...
"It may be an obvious point but it's still one worth making that in any cup final it is essential to profit from momentum."
The American philosopher Dale Turner once said that the error of the past is the wisdom of the future and as Manchester United and Chelsea prepare for their third FA Cup final clash in recent years that's a sentiment well worth sticking with.
Between them these swaggering giants have competed in English football's centrepiece event on thirty occasions with United victorious twelve times and Chelsea seven so historically they know what is necessary to lift the famous cup. Yet with three painful defeats each in the Premier League era alone there is also an abundance of warning signs it would be folly to ignore as they head down Wembley Way.
For such valuable life-lessons we're mainly concentrating on the 15 finals involving these teams post-1992 because frankly there is not an awful lot Pogba, Hazard and co can learn from Manchester United's 1909 victory over Bristol City or Chelsea's 3-0 loss to Sheffield United in 1915.
Even fast-forwarding through the world wars brings us to games that have very little connection to this weekend as the clip below (40 seconds in) of Aston Villa's Peter McParland committing common assault on United's poor Ray Wood in 1957 illustrates. It's difficult to decide which bit astounds the most but we're going with the commentator declaring that they 'bring each other crashing down'. The Villa forward incidentally stayed on to score two goals.

No, the modern era is where the pertinent lessons are to be found and particularly the two occasions these sides have gone head-to-head on an industrial estate in North London. Naturally then that's where we begin.
Capitalise when on the front foot
The score-line suggests that Chelsea's 4-0 reverse to United in 1994 was a thoroughly one-sided affair but in reality Glenn Hoddle's men bossed the first-half and reduced the Reds' defence to disarray. They were in charge. They were asking all of the questions.
A failure to create any meaningful chances however proved to be costly and on the hour-mark John Motson astutely noted that United were gaining the upper hand mere moments before Eddie Newton made a desperate lunge in the box and Eric Cantona scored from the resulting pen. From there the Blues capitulated.
It may be an obvious point but it's still one worth making that in any cup final it is essential to profit from momentum.
Revenge was successfully sought in 2007 but this time Chelsea prevailed through a war of attrition that went all the way to extra-time. With both sides presently struggling for form and in short supply of goals (averaging a combined one per game since mid-April) the likelihood is that we'll see a repeat of the latter rather than the open, attacking fare served up in their nineties duel.
The 13/8 available for under 1.5 goals is a shrewd option to balance out the fun cup final punt on Chris Smalling scoring a hat-trick.
United are best on their best behaviour
This may be a quirk rather than a cautionary tale and it would be nonsensical to propose that United start with 10 men but here's a stat to bore your mates with down the pub this Saturday nonetheless: In both finals where United have had a player sent off they have gone on to win the game. In each instance they scored after being numerically disadvantaged.
It gets weirder too because the only occasion they have found themselves 11 v 10 (if only briefly against Arsenal in 2005) they lost.
Taking the red cards off the table though reveals something much less quirky and far more illuminating. From the five FA Cup finals they have won since 1992 United have only committed six yellow card offences. In three of those games they received no cautions at all.
Blues go the distance
While United have a 50% success record from finals that bled into extra time and beyond Chelsea have triumphed on both occasions where their big day stretched to 120 minutes.
As previously alluded to Didier Drogba finally broke the deadlock in 2007 with a late, late poke past Schmeichel while a replayed marathon against Leeds in 1970 was eventually concluded by David Webb.
Though it's true that none of the players involved in either final will be on display this weekend (unless Michael Carrick is afforded a last swansong) having such a record embedded in your DNA only adds to a team's belief as energy reserves are depleted.
Be ready from the off
Chelsea have twice conceded inside the opening five minutes in the past decade, a stark contrast to Roberto Di Matteo's bazooka after 42 seconds that broke Middlesbrough hearts in 1997. Elsewhere an alarming 40% of their goals conceded in FA Cup finals have derived from individual errors.
Not only are they often the architect of their own downfall then but it's becoming a habit to do so at an early juncture.
United are 5/2 to be leading at the break and unless lessons have been learned the recent past tells us that's a generous shout.
Beware of the threats lurking in plain sight
Cliché dictates that the showpiece for the world's oldest football competition is routinely decided by an unlikely hero. Yet this is absolutely not the case when Chelsea and Manchester United are present and from the 22 goals they have racked up between them since 1992 precisely none have been scored by a full-back or centre-back.
A breakdown of those goals - 13 by centre-forwards, five from attacking midfielders/wingers, and four from central midfield - prove that the biggest teams so often rely on their biggest stars to shine on the biggest stage.