FA Cup Final Betting: Have we seen this Road to Wembley before?
FA Cup

/ Mike Norman / 11 May 2010 / Leave a Comment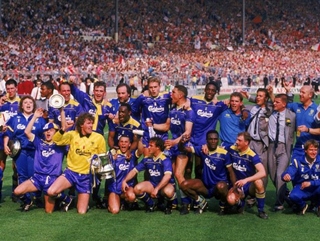 Wimbledon's Crazy Gang caused one of the greatest FA Cup shocks of all time when they beat Liverpool in the 1988 final
"Victory for Portsmouth on Saturday will eclipse what Wimbledon did; it will be – bar nothing – the biggest FA Cup upset ever, a fairytale story that has no parallels given what Portsmouth Football Club has endured this season."
Just days before Chelsea are expected to lift the FA Cup trophy, Mike Norman takes a look back at one of the biggest FA Cup upsets of all time and explains the similarities between that success, and what Portsmouth could achieve.

This Saturday, what was once called the greatest club knock-out competition in the world reaches its climax when Chelsea and Portsmouth go head-to-head in the 2010 FA Cup final.
Newly-crowned Premier League champions Chelsea are the overwhelming favourites, not just in the eyes of bookmakers and Betfair punters, but in the eyes of every football fan up and down the country, regardless of who they support. The paths each club have taken to reach the final unquestionably mirror the gulf in class that currently exists between Carlo Ancelotti's superstars and Avram Grant's bewildered and mentally battered squad.
For Chelsea it's been a straightforward passage; easy victories over Watford, Preston, Cardiff and Stoke were followed by a 3-0 semi-final triumph over Premier League high-flyers Aston Villa. Sixteen goals scored, just one conceded; the Blues will arrive at Wembley full of confidence in their quest to win the club's first ever league and cup double.
Portsmouth's 'Road to Wembley' has been anything but straightforward however. They were just seconds from going out of the competition at the very first hurdle - albeit in a replay - but a last minute equaliser at home to Championship side Coventry saved their blushes. They would then score a120th minute winner to prevent them from going to a penalty shoot-out before narrowly beating Sunderland in round four. A fierce derby match against Southampton in round five would give Portsmouth plenty of problems, but they eventually ran out 4-1 winners thanks to three late goals.
In round six Pompey survived an 'over-the-line' goal that wasn't given in a 2-0 victory over Birmingham, but it was the semi-final triumph over Tottenham that was Portsmouth's hardest-fought game of their cup campaign. Having to withstand immense pressure from a talented Spurs side they somehow managed to keep a clean sheet, take the game to extra time, and score two goals themselves to reach the final.
In that final, relegated Portsmouth are expected to be outplayed by a sublime Chelsea side - hence their [17.0] quote to win the match in 90 minutes on Saturday. The Blues on the other hand are as low as [1.11] in the FA Cup Winner market, making them the strongest favourites to lift the trophy since a certain Liverpool side took to the field against Wimbledon in 1988.
Back then Liverpool were the dominant team in England, and come cup final day they had just won yet another league title and were now going for back-to-back league and cup doubles. Like Chelsea, their 'Road to Wembley' had been a relatively easy one; they didn't concede a goal in the competition until the semi-final where they triumphed 2-1 over Nottingham Forest - a top class side at the time who had just finished third behind Liverpool in the league.
And like Portsmouth, Wimbledon's path to the final was much harder. The Crazy Gang conceded goals in every round, narrowly defeated division three side Mansfield 2-1 in round four, and had further 2-1 triumphs over relegated Watford (round six) and Luton in the semi-final.
Wimbledon were unfashionable, un-liked by many, and very much the underdogs to beat a Liverpool side littered with experienced internationals. Nobody gave the Dons a chance; but in one of the greatest FA Cup upsets of all time Lawrie Sanchez scored the only goal of the game to secure an unlikely victory.
Victory for Portsmouth on Saturday will eclipse what Wimbledon did; it will be - bar nothing - the biggest FA Cup upset ever, a fairytale story that has no parallels given what Portsmouth Football Club has endured this season. They've resembled a down-and-out prize fighter who refuses to be knocked to the ground; they've taken body blows and head punches all season long. But they're still here, ready to walk out for the final round in what could be their last ever fight if the club's reported enormous debts are correct.
All Portsmouth need is one lucky shot, a shot that can send Chelsea's heads spinning into disbelief, and one that might send Ancelotti's team crashing to the canvas like nothing before them - except for Liverpool in 88 of course!
Read More UK & Ireland Football