The Betfair Big Interview: Arsenal legend Nigel Winterburn on a Wembley upset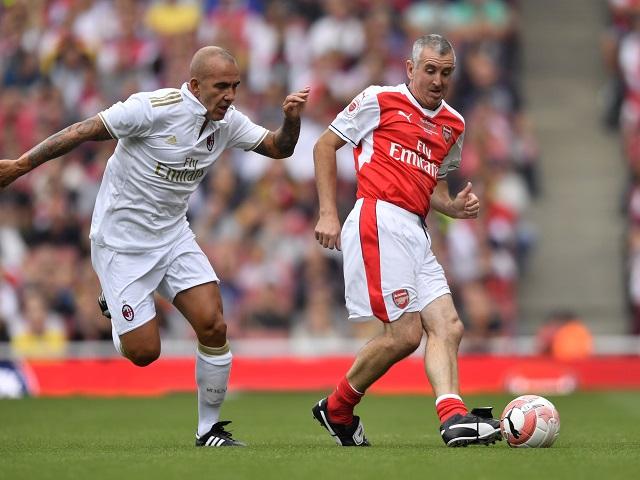 Still got it - Nigel Winterburn shakes off Paolo di Canio in a recent Arsenal Legends match
Out of the Champions League for the first time in 20 years, Arsenal need to finish the season with a flourish in the FA Cup final. Betfair met Gunners legend Nigel Winterburn to talk about what we can expect . . .
"The two teams are actually very close. Cup finals as we all know are one-offs and you just have to seize the opportunity when it arises. Arsenal have done that very well over the last few seasons."

Hi Nigel. Can this game change the view of Arsenal's season?
I'm not sure. You set out every year with your first aims as the Premier League and Champions League, but then the FA Cup comes next. Winning it would arguably make it a good campaign, but that wouldn't hide, I would say, the disappointing middle period from the Premier League.

Were you at The Emirates on Sunday?
I was, and I thought the atmosphere was pretty good, actually. There were one or two chants about Stan Kroenke, but I thought the level of support for the team was very good, and it has been for maybe the last four or five home games.

It's still a strange situation after so many years of such stability.
The start of the season was good once the international players returned - Arsene always leaves them out for the first few games after a tournament summer. From there until Christmas it was great, but then from the end of January to the middle of March I think in six league games we picked up only four points. That will be the real frustration and that was what cost any chance of challenging properly for the title. I sense a little bit of frustration from the manager over the last couple of seasons that he actually thought this team was good enough to challenge for the title, and they haven't quite delivered for him.

So what comes next?
That's the big question. I think we're all just waiting to see when the board and Arsene Wenger makes that announcement after the Cup final as to where the club are moving.

Is it important all those differences get put aside for Wembley?
It is. The team have finished very well. I think they have shown great unity in the last few weeks, but we all know that comes from confidence of winning games. Arsenal seem to have moved on from that period, from the end of January to the middle of March, when their league form was terrible. I have no doubt that everybody at Wembley will be hoping their team can do something and I think a lot of fans are beginning to think Arsenal can pull off a surprise.

Chelsea are huge favourites in our market.
I'm not surprised, but the two teams are actually very close. Cup finals as we all know are one-offs and you just have to seize the opportunity when it arises. Arsenal have done that very well over the last few seasons.

They will need Alexis Sanchez to be at his best.
Yes, but then he has been very strong and I think Mesut Ozil has too. I know he divides opinion, and he will never dominate a game for 90 minutes, will never be all action like Sanchez, but he has that ability to change the course of a game. I know some people say he doesn't do that enough in the big games, but I don't think you can dispute his quality. He creates chances for people, and I guess he'll want to work out as much as anybody why he went off the boil for a couple of months.

How big a blow is losing Laurent Koscielny to suspension?
Very big. Again I would assume he'll go in with a back five now as they have played it the last few weeks, it will depend on how Arsene Wenger sees that. Mustafi played as the spare centre half the other week so I guess he'll fill that role, and then it is who plays with him? When your captain is suspended, one with real genuine pace who reads the game well, you can't hide that it will be a loss. I always say, though, that it is an opportunity for somebody to step up.

Chelsea are aiming for the double. You did it in 1998, just how difficult is it - it has only happened twice this century?
Cup finals are very weird. In 1998 when we did it we played Newcastle and we were strong favourites and in real form, and they were not one of the top teams at that time. This year is a bit different because you have two real top teams going head-to-head.

Is the pressure on Chelsea?
I don't know because they have already lifted the Premier League. As professionals you want to do the double, but I don't think they'll feel pressure. They will be able to go and enjoy the occasion.

Where will it be won and lost?
I think when Arsenal are in possession of the ball. Chelsea seem to be able to sit back, win the ball in the midfield, and then break very quickly. That's what they did at Stamford Bridge, when Eden Hazard exploited the right hand side where we pushed fullbacks on. Five at the back will suit Arsenal more to give them cover in that area. It sounds weird but as a defender you are almost at your most vulnerable because you switch off when you are in possession. It is how long Arsenal can keep the ball and then not let Chelsea break at pace which is what they did very well at Stamford Bridge.

We hope you enjoy your day, and to say thanks for your time we have a free £50 bet with winnings to your favourite charity.
That can go to the Willow Foundation - and I do a bit of coaching so I'm not allowed to bet so you can choose for me. If you picked Arsenal to win in 90 minutes at 5.24/1 I wouldn't argue.
Read past articles