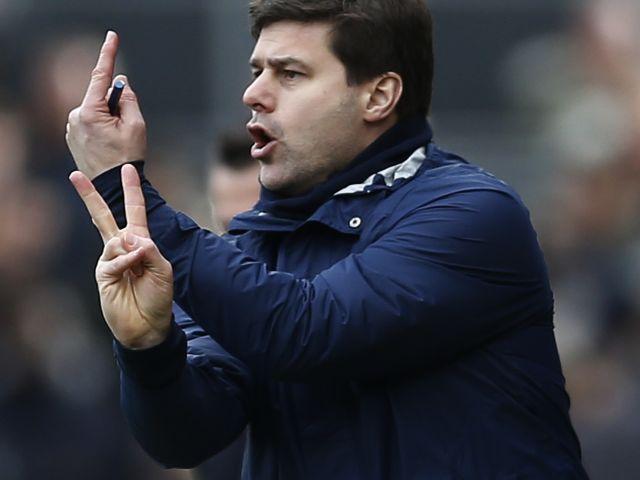 Pochettino's score prediction should be taken with a pinch of salt
Two title contenders. Forty-four fixtures since 2000. One step from a final. Stephen Tudor does the maths to determine who has history on their side as Wembley beckons.
"Tottenham are the side that Chelsea have beaten the most in the Premier League era. Not Aston Villa. Not Newcastle. Their peers across the capital."
According to the proverb an enemy of an enemy is a friend and considering their mutual loathing of all things Arsenal and West Ham that should make Chelsea and Tottenham firm bosom buddies. This is precisely why proverbs have no place in football.
When these two giants meet it never fails to be anything less than a fractious, highly-charged grudge-fest that still somehow finds room for fantastic individual displays and no shortage of drama. It is a local scrap that is a must-watch even for neutrals. Granted the results have been a touch one-sided down the years but this Saturday's FA Cup semi-final at Wembley is sure to be anything but a predictable contest with both sides still harbouring genuine aspirations to secure a memorable double. Which makes this one extremely hard to call even before we add in the capricious nature of the cup.
It may help then to look back, to the 44 previous encounters since 2000 across all competitions to see if any clues or patterns emerge. Thankfully they do.
Don't overlook the dominance
Like a frugal squirrel let's get the old chestnut out of the way first.
No matter how you look at it Spurs' record against their London rivals in recent years has been woeful to such a degree that it's become the go-to example whenever football curses are brought up in conversation. Their seven wins across all competitions since 1990 have all come since the turn of the century so at least progress is being made but that's very small consolation next to this pretty damning fact: Tottenham are the side that Chelsea have beaten the most in the Premier League era. Not Aston Villa. Not Newcastle. Their peers across the capital.
Granted this is a Spurs team made of infinitely harder metal than their predecessors and two consecutive title bids is testimony to that. But curses, by their very intangible nature, tend not to have much respect for individuals whoever they may be.
Yellow fever for Tottenham
There is at least one area where Tottenham have far bettered their rivals. Unfortunately that area concerns a lack of discipline. Spurs have been on the receiving end of 111 cautions from the 192 dished out since 2000; a ratio that only worsens in recent years with 36 from 57 in the Villas-Boas/Pochettino era.
Looking at the larger picture it's pertinent that Chelsea have only picked up more bookings than their opponents on 11 occasions in the last 44 games, a surprising 25% considering the litany of agitators they've had at their disposal in that time period.
The balance of blame levels out when red cards are factored into the equation - with John Terry, as ever, going above and beyond with two dismissals all to himself - but it's worth noting here that there hasn't been a sending off in this fixture since September 2013, with just one in the last 16 encounters.
From the back to the back pages
As ever better value can be found for an anytime goal-scorer beyond the attacking heavyweights, in this instance Costa and Kane. This is especially true when Chelsea play Spurs because the fixture has regularly seen defenders punned badly in headlines as they secure the points from a set-piece or otherwise.
While it is difficult to nail down a mean average to work from when assessing the probability of defenders scoring a better than 10% from all goals scored is certainly a welcome alarm bell ringing in the distance.
In this fixture 20 defenders since 2000 have wheeled away in celebration from a total of 132 goals. That's a very big bell indeed.
Gary Cahill has previous so the 17/2 available for the Chelsea centre-back to break Tottenham's resolve is mightily tempting. Alderweireld at 12/1 is even more so.
Spurs to score first
Backing Pochettino's men to break the deadlock may seem counter-intuitive given Chelsea's vastly superior record in this fixture but while the results tally is comprehensively in the Blues' favour Tottenham have more than held their own when it comes to scoring first. Since the millennium they've done so in 32% of games and crucially - because history only tells us so much, recent history tells us more - Kane, Eriksen, and Alli have respectively put their side ahead on the last three occasions.
Spurs are 23/10 to be ahead at the break and factoring in too their recent early destructions of Bournemouth and Watford that's a generous price.
Prepare for impact from the bench
Some fixtures have a habit of getting the job done then going through the motions until the final whistle. Others like to simmer to a boil before all hell breaks loose in the closing moments.
Chelsea v Spurs is traditionally neither of these type of games or at least not to any discernible extent. One stage of the game is as likely to erupt into high-drama as any other.
What does stand out however is the large number of substitutes who have scored at the Bridge, Lane or Wembley when these sides meet; a figure that initially flies under the radar because rarely have they been deciding strikes.
Ten goals from the bench is over three times the amount seen in the Merseyside derby in the same time period which suddenly makes the likes of Cesc Fabregas, Willian, and yes even the put-upon Vincent Janssen attractive propositions in the last goal-scorer market.