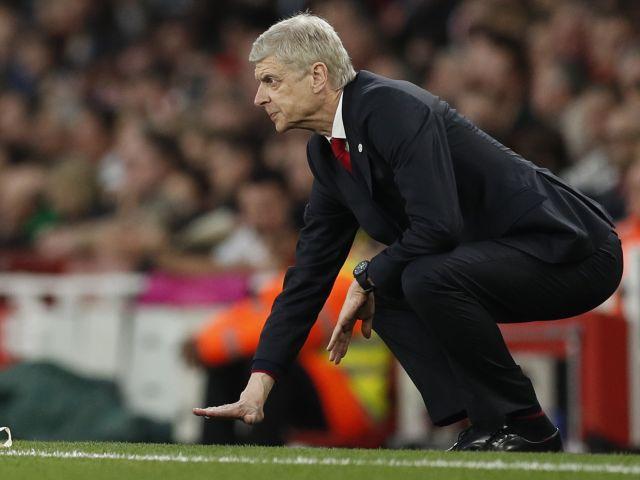 Arsene accurately measures the average height of his forward line
Stephen Tudor looks back on a fixture where the roles have reversed in recent years but still manages to produce goals by the bucket-load.
"That is not to suggest that we shouldn't anticipate a bucket-load of goals to accompany the drama this Sunday. In the 36 games since the turn of the millennium we've been treated to a veritable avalanche of them."
Prior to 2008, Arsenal v Manchester City had a certain inevitability about it. The north London giants would rock up to the then-named City of Manchester Stadium or host their starry-eyed opponents at the Emirates and proceed to dish out a momentous hiding. So comprehensive were the manner of their victories they would often be treated to appreciative applause from every corner of the ground while at other times, such was their dominance, they would nonchalantly eschew a straightforward penalty and attempt to re-enact an infamous Cruyff spot-kick from the 1980s.
All of that has changed of course since City's takeover and steady rise to prominence and these days they meet as equals. Well, not quite. Arsenal's recent freefall into full-blown crisis means it is their former whipping boys who go into this Sunday's FA Cup semi-final at Wembley as firm favourites, despite there being only two places between them in the league.
How much do the Gunner's present woes impact on their chances this weekend? Some may argue it's a considerable factor. Others may stand back, take the long view and seek out the clues and patterns from the 36 previous encounters between this pair across all competitions since the millennium. Because doing that tells a very different story.
Walcott always scores
Theo Walcott is hardly a prolific forward despite his protestations to Gareth Southgate following his recent omission from the England squad. The 28-year-old man-boy has only broken the 10 goal barrier on three occasions in his 11 seasons at Arsenal with an overall strike-rate that can generously be described as leisurely. Yet, for reasons only known to hexing gods, it's fair to say that he has recently found the measure of Manchester City with five goals against them in his last four starts. Not even Aguero comes close to matching that which makes the 12/5 on the wideman being an anytime goal-scorer tremendous value.
Elsewhere Oliver Giroud will equally fancy his chances having put four past City in recent seasons.
City to score first
City have struck first nine times in the 14 games since the last goalless stalemate between these sides back in early 2011. What is just as pertinent, however, is that they only went on to ultimately win on four of those occasions, drawing the other five.
Even so, that makes the 11/8 available on City to be ahead at half-time all the more enticing while the coin-flip on Aguero and Welbeck to be the first goal-scorer suddenly lands in the Argentine's favour.
On the subject of early goals the 30-40 minute time period has been a particularly fallow one in this fixture's recent history with just seven scored in this section of games from 103 in total since 2000. This is significantly under what should be expected from a usually productive period of any match.
Goals are guaranteed
That is not to suggest however that we shouldn't anticipate a bucket-load of goals to accompany the drama this Sunday. In the 36 games since the turn of the millennium we've been treated to a veritable avalanche of them - 103 in total - while being subjected only twice to a 0-0 draw.
The figure compares very favourably to any top six encounter you wish to mention and indeed puts most others in the shade exceeding Manchester United v Liverpool by way of example by a full fifth.
Sixty-two per cent of the goals have come courtesy of the Gunners but due to their clear superiority over pre-takeover City this perhaps gives a false reading with routine victories that totted up into the fours and fives.
Breaking down the scoring stats further reveals some interesting anomalies with no hat-tricks from 17 years and only five pens slotted home. It would have been six of course if Pires and Henry had not got their wires crossed in 2005.
Fair play
The signings of Nasri and Adebayor may have contributed to friction in the stands but that ill-feeling has not really translated to the pitch with the full-length celebration from the Togolese striker in 2009 and a typically daft moment from Balotelli in 2012 standing out as the only bones of contention.
That dismissal of Mad Mario, along with an unremarkable sending off for Laurent Koscielny ten months later, are two red blots on an otherwise sanguine landscape and it would go against the fixture's type were there an early bath disrupting proceedings at Wembley.
Even the number of yellows comes in at an average of 3.6 per game, bang on par.
Don't discount an own goal
This fixture in the 21st century has produced just two own goals, a low number which is a sliver under average but certainly nothing worthy of note. Its inclusion here however is because both occurred within consecutive games with Arsenal's Lauren and City's Michael Tarnat left shame-faced in the same season of 2003/04.
They're like buses with another due very soon.