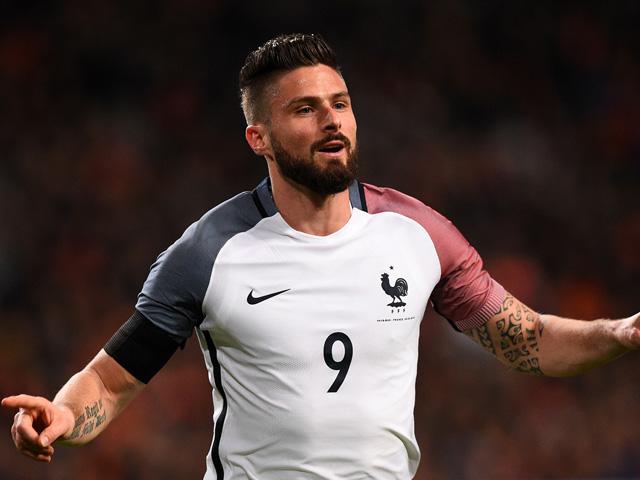 Olivier Giroud has scored seven goals in his past four Arsenal or France appearances
Thomas Muller and Cristiano Ronaldo are Euro 2016 Top Goalscorer favourites, but Michael Lintorn is backing Olivier Giroud...
"Though he is scapegoated as much by fans in his homeland as at Arsenal, it hasn't stopped him from registering 17 France goals, seven of those this term and four since March alone."
It is easy to understand why Muller leads the way. The 26-year-old has attended three international tournaments, scoring five goals in two of those to return with a Golden Boot from one and second place in another. Germany's reliance on him has increased further since Miroslav Klose stepped aside. Mario Gomez is the sole outright striker in their squad, and he is far from certain to start.
So the Bayern Munich man is the main attacking threat for the second favourites, and was the third most prominent goal-getter in qualifying - what's not to like? Well, the one competition that he didn't dominate was Euro 2012, firing blanks in all five appearances, and he arrives in France quite cold, netting just once in his closing six domestic outings of the campaign.
The three-time Ballon d'Or winner was interpreted as having criticised the calibre of his Real Madrid teammates earlier this year, but the difference between his tallies in the Champions League and in international tournaments indicates that dragging his Portugal colleagues up to his level is far more draining.
Ronaldo has never shirked his summer duties, striking at least once at every European Championship or World Cup that he has attended - six in total - yet the 31-year-old has never lit one up in the way he often does the continent's leading club competition, which he has top-scored outright four times.
By contrast, the only time he finished first with Portugal was at Euro 2012 on an unremarkable three goals, tied with five other players, and that was with his side reaching the semi-finals, which they didn't manage at Euro 2008, World Cup 2010 or World Cup 2014.
The combination of Griezmann's outstanding Atletico Madrid form in 2015/16 - contributing 32 goals across all competitions for the Champions League runners-up - and the quality of the support cast for favourites France, which includes Paul Pogba, Dimitri Payet and Kingsley Coman, makes him a popular top goalscorer pick.
However, whereas he is the headline attraction at the Vicente Calderon, he is often part of the aforementioned excellent support cast for Les Bleus, primarily being picked out wide. He didn't convert in any of his five World Cup 2014 games and has a mere seven goals in 27 caps in total for his country. All of them came in friendlies, and over half of them against Jamaica and Armenia.
Instead, it is Giroud who is expected to serve as the frontline focal point for the Euro 2016 hosts and frontrunners and, though he is scapegoated as much by fans in his homeland as at Arsenal, it hasn't stopped him from registering 17 France goals, seven of those this term and four since March alone.
The 29-year-old's main fault is a proneness to streakiness but, aware of this, he had the good sense on a 15-fixture Premier League drought from January 17 to April 30, timing his revival to ensure that he is at his most purple this summer, notching four times in his final two Arsenal matches and three times in two pre-tournament friendlies.
He might not be the best attacking player at Euro 2016, yet he is the most important for one of the teams with the greatest goalscoring potential and is rightly recognised as the most likely Premier League performer to do what Fernando Torres (2012), Milan Baros (2004) and Alan Shearer (1996) did and bring a Golden Boot back with him to England. There is definitely support out there for him too, as he was 21.0 when this writer first backed him a month ago.
Kane was the Premier League's foremost marksman in 2015/16, delivering 25 goals for Tottenham, but it is difficult to take the prospect of a first English tournament top scorer in 20 years seriously when the Three Lions have managed a meek 11 strikes in their past 13 World Cup or European Championship contests.
Their forward options seem stronger this year, with Kane, Wayne Rooney, Jamie Vardy, Daniel Sturridge and Marcus Rashford backed up by the likes of Dele Alli and Raheem Sterling, though recent friendly efforts suggest that they haven't yet found the formula to maximise those talents.
The final four friendlies yielded six goals, no more than two by any one individual, while Kane's first post-season England experience was a flop last year, playing every minute of the Young Lions' three European U21 Championship group ties without once beating an opposition goalkeeper.

Recommended Bet: Back Giroud to be top goalscorer @ [16.5]