League Two Betting: Seek a draw with Forest Green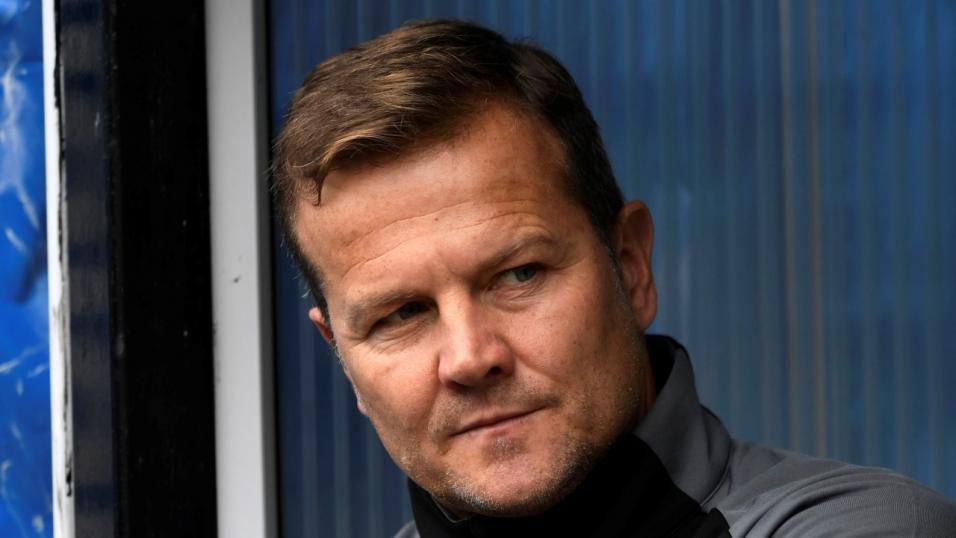 Mark Cooper heads up League Two's only unbeaten side, Forest Green Rovers
Mark Cooper's unbeaten side can earn another point against Newport, says Ian Lamont, while Oldham ought to win to put aside off-field dramas. So should Exeter...
"New Notts County boss Harry Kewell says striker Jon Stead is the heart and soul of the dressing room and is like a "big brother" to the younger players. It's amazing that this type of team spirit and unity seemed glaringly missing just weeks ago."

Tight defences point to a draw
Forest Green [2.2] v Newport [4.0]; the draw [3.6]
In some ways, you'd want to believe that Forest Green, the greenest club on the planet apparently, can really kick on after their 3-1 win at Cambridge. In many ways they are far too short at [2.2] to beat Newport, who, equally, are far too long to win this match.
Rovers have scored in all but one game but only three times have they netted more than once: 4-1 on the opening day at Grimsby, 3-1 at Notts County and 3-1 at Cambridge. Remarkably, all away but these teams were in poor form.
At home they have drawn four and won once. Stubborn then, yes, but not particularly strong favourites as the layers would have us believe. Especially against a team sitting third. One who might have the odd splat but who have scored goals recently. Seven in two games in fact.
The fact they were at home might have something to do with Mark Cooper's men's price. However, the hosts are going to have to work hard to outscore Michael Flynn's men.
Jamille Matt has scored twice in two games and so has defender Mickey Demetriou. If the latter is getting forward, that might explain the number of goals given away. Interestingly, Opta point out only Lincoln and Colchester (10) have more different goalscorers than Newport (9) this season in the division.
The Exiles have five goals for and five against on the road. Forest Green have four strikes at home and three against. So this is likely to be another tight game and my pick is the draw, with Cooper's men protecting their unbeaten record - the only one in League Two, as Opta emphasise.
Sweeney keeping Exeter sweet
Yeovil [3.0] v Exeter [2.6]; the draw [3.6]
When I saw this fixture, I thought "goals - both teams likes to attack" and while they might like to get forward, recent stats don't actually indicate any guarantee of a goalfest, especially with the fixture this way round.
Yeovil won 6-0 away at Newport but in five of their most recent six matches they've only scored once or not at all. Exeter have hit the net in their last four games, but didn't score in the previous two. They did in both of their last away games though, winning at Mansfield and drawing at Port Vale.
Their odds to win League Two, which Yeovil's local media trumpeted as falling significantly a couple of weeks ago, have drifted again. Has the bubble burst?
Darren Way said he believed the Glovers are ready to take the "next step" and challenge for promotion, but that was before defeat to Swindon brought them back down to Earth. He admitted he might have to change their style of play after Crawley worked out their attacking style and secured a draw. However, whatever he then did resulted in a loss at Colchester on Tuesday.
So the hosts need to dig in and ensure the likes of Jordan Green and Olufela Olomola can find the space to test opponents, especially as they have won just once in 11 home league games.
Matt Taylor said Exeter put in their best performance of the season to beat in-form Stevenage, who have been a surprise package. Keeper Christy Pym remains a difficult opponent to get past, while right-back Pierce Sweeney received a nomination for League Two's player of the month, based on his ability to get forward as well as defending.
It's always the attackers who receive the acclaim, eh? With Dean Moxey still capable of pulling the strings in midfield and Jayden Stockley still progressing as a player up front, the Grecians can sneak victory in a match which the layers have priced for a draw.
Confident County to extend unbeaten run
Macclesfield [3.1] v Notts County [2.42]; the draw [3.7]
Sheffield United's on loan winger Nathan Thomas has made it clear that confidence has returned to Notts County. They are a different side to the one constantly losing a few weeks ago and are now four games unbeaten.
Mistakes have largely dried up, he says - and they are more ruthless.
Eight goals in four games does point to huge improvement.
New boss Harry Kewell says striker Jon Stead, who scored his 151st goal in 550 appearances on Tuesday, is the heart and soul of the dressing room and is like a "big brother" to the younger players. It's amazing that this type of team spirit and unity seemed glaringly missing just weeks ago.
Having recently beaten Crewe and Crawley, Macclesfield present a different type of equation, but should still be beatable.
The Silkmen are now over their League Cup distraction of facing West Ham, but still haven't won a league game. Draws against Newport and Forest Green show promising signs, but Mark Yates will be desperate for his defence to hold out if Koby Arthur or Dan Whittaker can score again. It's a bit of a worry that defender David Fitzpatrick, is joint top scorer with them (they all have two) and that the nominated strikers have two goals between them.
I'm backing the Magpies should continue their progress here.
Latics need the light relief of victory
Oldham [2.1] v Carlisle [4.0]; the draw [3.7]
After three draws in a row, here's a game that Oldham could win. And they should if they have ambitions of promotion this season, having drawn with Mansfield, Swindon and Colchester, who all have intentions of going up.
The Latics have only suffered two defeats this season and in fact don't have the greatest home record, having suffered both of those reverses at Boundary Park.
Sam Surridge and his colleagues will want to put that right for Frankie Bunn - and for the fans who were not impressed, it seems, that keeper Daniel Iverson apparently kept the Lancashire side in their game against Mansfield all by himself. The critics readily ignored the fact that the Stags had whipped Northampton in their previous match, so a point can be cherished.
Maybe the players had other things on their mind, as it was reported on Thursday that they have threatened to go on strike over unpaid wages. They have faced several winding up petitions in recent years and more cost cutting took place in the summer. Yet they are riding relatively high in eighth. A great performance and a victory would keep up spirits.
Carlisle should be there for the taking. John Sheridan's men haven't scored in three of their last four matches - four out of six if you want to tread a bit further back. They could really do with Richard Bennett adding to his four goals, but I think the hosts should have enough to win, and break that run of three draws which they achieved similarly in April.

Recommended bets
Back Forest Green and Newport to draw @ [3.6]
Back Exeter to beat Yeovil @ [2.6]
Back Notts County to beat Macclesfield @ [2.42]
Back Oldham to beat Carlisle @ [2.1]