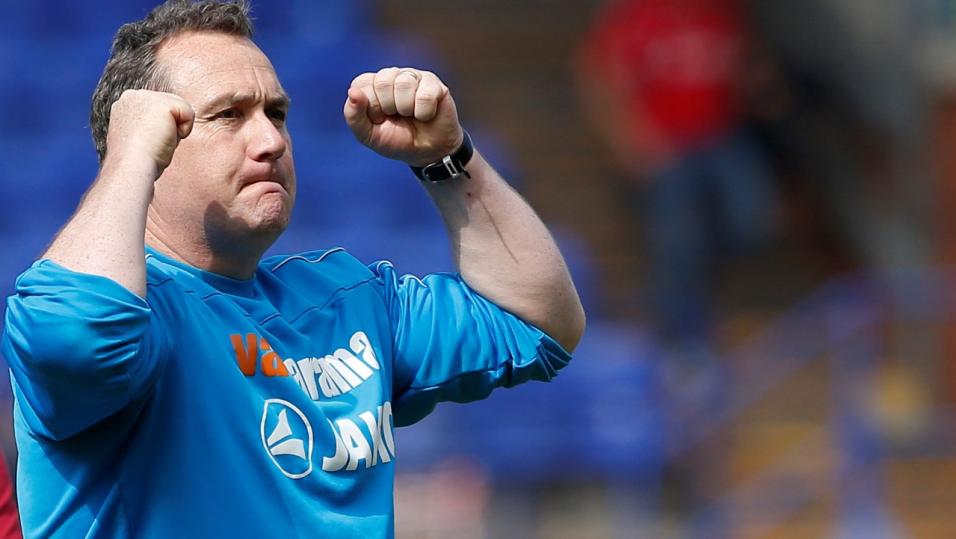 Micky Mellon says his Tranmere squad is not as strong as he would like it yet
Exeter can take advantage of Morecambe's malaise, says Ian Lamont, who expects Notts County and Tranmere to also take victories...
"Exeter boss Matt Taylor clearly thinks his namesake Jake is excellent in his new role as a central midfielder in a 4-3-3 formation, and has also described Nicky Law as 'different class'."
Mellon demands Prenton Park fortress
Tranmere [2.1] v Cheltenham [4.1]; the draw [3.6]
Nobody wants to start the season with two defeats, but now Tranmere are at home, they are in a fine position to add to their opening draw after promotion at Stevenage, where they came from 2-0 down, with a victory over winless Cheltenham.
Midfielder Ollie Norbury left this week, for Shrewsbury, who seem to have featured a lot in the transfer news this past week.
Micky Mellon expects League Two to be tough: but that's what he wants Rovers to be at home - hard to beat. It's a bit difficult to talk about making Prenton Park a fortress without playing a home game, but that's what he's done. Fighting talk. So let's see him back it up.
Even though he has brought in the likes of Mark Ellis and Jake Caprice, Mellon believes his squad is short of where he wants it.
For Cheltenham, Gary Johnson will be glad for the services of Scott Flinders, who brings calm to his back line, and must be considering starting Kalvin Kalala who came on as a substitute in the opener against Crawley.
Jacob Maddox made a difference in a central position in the second half, when the Robins went 4-5-1, but Cheltenham by all accounts lack a striker. They bid for AFC Fylde's Danny Rowe this week, but £175,000 was rejected. This is an opportunity for the hosts to make their mark.
Midfield maestro Taylor can cause havoc for Morecambe
Morecambe [3.6] v Exeter [2.3]; the draw [3.4]
If it seems a bit harsh to suggest Morecambe might suffer another defeat after their 6-0 whipping at Crewe, the assessment has to do with the apparent strength of a new-look Exeter.
It also has to do with the Grecians' new shape in midfield. New captain Jake Taylor is playing centrally, instead of on the right, in a three man midfield with Nicky Law and Hiram Boateng alongside him.
Boss Matt Taylor clearly thinks his namesake is excellent in his new role, plus has described Law as "different class". Whether Jon Forte, Jayden Stockley and Lee Holmes will still enjoy the freedom to call themselves a front trio away from home is to be proved. A 4-3-3 can easily be adjusted to a more conservative 3-5-1 away from home, but it seems that fans of the Devon club can be cautiously optimistic about the season.
The answer to Morecambe defensive problems, meanwhile, was to sign yet another player this week - striker A-jay Leitch-Smith, who was released from Shrewsbury in the summer.
Typically, a team which has been thrashed usually puts in a far sturdier performance the following week. Manager Jim Bentley will hope his side won't be as "clumsy" this week, after that 6-0 defeat and wants his "pub team" to show their metal.
No Doughty about Swindon midfielder's quality
Lincoln City [1.96] v Swindon Town [4.4]; the draw [3.7]
Lucky. That was a word both Danny Cowley and Phil Brown used to describe their respective opening victories of the season.
Losing centre-back Luke Waterfall, their captain, this week to Shrewsbury doesn't help justify Lincoln's odds-on price to win this game against fellow promotion favourites Swindon. Ellis Chapman, 17, suffered an injury after an impressive pre-season and isn't quite ready to feature yet, perhaps. By some compensation, the Imps have signed ex-Derby defender Jason Shackell.
There is much to like about the Imps, with John Akinde and Billy McCartan adding to their attacking abilities.
It will be interesting to see how Swindon and in particular Michael Doughty come back down to earth after their late, late win at home to Macclesfield, with the midfielder scoring a hat-trick that included two injury time penalties.
The last time Doughty was in this division was as a teenager on loan with Crawley. Now he has plenty of experience, particularly twice on loan to Swindon where he appears to have made his home.
Brown's side seem to have been taught a lesson by Chelsea's youngsters in the Checkatrade on Tuesday. Injuries to Kyle Knoyle and Jak McCourt will annoy him ahead of Saturday's big test. Winger Jermaine McGlashan and others will have to find a way to help overcome any absences, but I think the hosts are a bit short with a draw more likely.
Magpies will be pushing Hardy for success
Cambridge United [2.8] v Notts County [2.9]; the draw [3.3]
At the start of last season, Notts County's form was a surprise to many. Now they are marked as a team to watch out for. Be wary of if you are an opponent - because they are likely to make an even bigger impression on the promotion places this season.
They should have finished the job last, of course, having led the division for quite a while, giving owner Alan Hardy a headache because he had to pay out more in bonuses every time they won, or depending on their league position.
Kane Hemmings says the squad were disappointed not to score in their draw with Colchester on the opening day. And boss Kevin Nolan insists that Joe Dunne's Cambridge will be no pushovers after a 3-0 defeat against Port Vale.
The Magpies haven't won in their last three visits to the Abbey Stadium, conceding eight goals. The hosts will also want to improve on last season, when mediocrity eventually got Shaun Derry the boot. Reggie Lambe and Ade Azeez will have to do better up front though if the U's are to stand a chance of getting something.
Maybe Cambridge's recent record at home - not just against the Magpies but against the big clubs last season - and Notts County's draw on Saturday is built into the price which seems to indicate an even game between these two. But I am going for the away win.
Recommended bets
Back Tranmere to beat Cheltenham @ [2.1]
Back Exeter to beat Morecambe @ [2.3]
Lay Lincoln City @ [1.96] against Swindon
Back Notts County to beat Cambridge @ [2.9]