League Two Betting: Frankie's having a Bunn time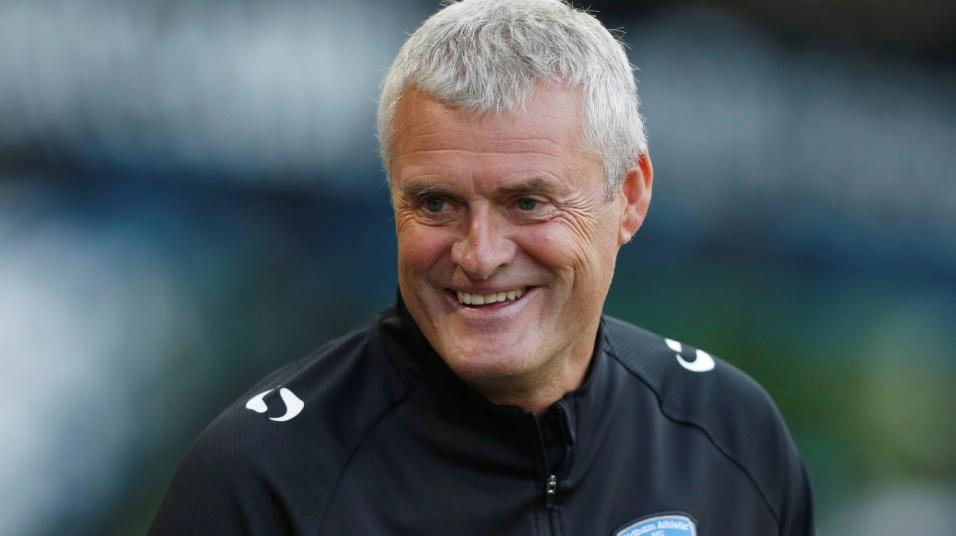 Oldham Athletic seems a far more happy club this season, under first time manager Frankie Bunn
Boundary Park appears to be a happier place than the last few season and Ian Lamont is keen to take advantage by backing Oldham, while also feeling that Swindon can win at home...
"The experienced manager Phil Brown, who was in charge of Hull in the Premier League, knows he will need his best players out against the Shakers and their inexperienced manager, Ryan Lowe."
Jolley not so happy and Oldham can prosper
Grimsby [3.1] v Oldham [2.7]; the draw [3.4]
After a 4-0 humiliation, Grimsby will be determined to prove a point to their supporters against Oldham.
Manager Michael Jolley still has much to prove, being an unknown manager with little professional football experience as a player, or even a first team coach.
One wonders in this brutal world of football how long the Blundell Park board will tolerate a winless home record and another season of struggle near the foot of the division. The Mariners haven't scored in three matches. Matters must improve.
After a rout, they often do, but Opta offer telling statistics: only Cheltenham's Scott Flinders (32) has made more saves this season than Grimsby keeper James McKeown.
Another slightly less grim stat gives the hosts hope: while Oldham have lost just once in 11 away league games, they have won just two of those and drawn eight. This season, they have drawn two and won once away, losing none.
Frankie Bunn is among the "rookie" managers, in his first role as a first team manager but with plenty of experience behind the scenes. After relegation, it is not all doom and gloom. In fact, as midfielder Dan Gardner tells us, the place is a happy one after years of battling relegation. It seems a long time since Boundary Park has been a place of joy.
It's been time to regroup, rethink and get some victories that will point the team up the table rather than down. Bunn might have been frustrated that a five-game unbeaten run ended against Newport, but the Exiles are in good form.
Oldham's forward line could do with scoring a few more goals. Gardner and fellow midfielder Gevaro Nepomuceno lead the way with two apiece.
Goals have been pretty scarce for the hosts, with again a midfielder leading the way, Jordan Cook scoring twice. I fancy the visitors to take victory.
Patrick has the speed to keep Yeovil on the up
Newport County [2.34] v Yeovil Town [3.7]; the draw [3.3]
It would be rude to suggest that Yeovil are doing better than they should be. It's pretty hard from the west country to build anything when there are not many teams around you of the same - or higher - level. The region's teams have always had to struggle, because players don't want to move to a place where every away trip is a long distance.
You have to build a mentality. They did it to climb into the Football League several years ago. Now, Darren Way's side are flourishing again, despite a low budget and just about surviving in League Two for the past few seasons.
Arguably their session with the marines in pre-season has done them plenty of good. It has built spirit. Togetherness. This week will be a test in many ways.
So far they have suffered one defeat, away on the opening day, at Bury, who have under-performed my expectations. Omari Patrick, a recent recruit, has settled in nicely, scoring within minutes of his debut in the win at Grimsby. He's quick, speed inherited from his father who has a 400m relay medal from the Commonwealth Games.
Omar Sowunmi has a big future, says Way, with interest for him from big clubs in the summer. Forward Alex Fisher has found his feet and a club to call home. Even if Way wants to play down the money they made from the FA Cup run last season but it will have helped.
You should be satisfied with the reasons to back a side in form. Unfortunately that goes for Newport, too. Mick Flynn believes this is the best squad with the best attitude he has had since being appointed.
Also only defeated on the first day, they are flying even higher - in second. In seven games they have netted nine goals, via eight different scorers. That's the sort of variety that can bring success.
Mark Harris is the one who has scored twice and they have plenty of other experienced attackers including Jamille Matt and Padraig Amond. This could be a close affair and both sides will be satisfied with a draw.
Brown believes he has right competition for places
Swindon [2.6] v Bury [2.8]; the draw [3.6]
These two sides are still feeling their way in League Two after relegation. Phil Brown's team have only scored three goals in their past three games - one per time to draw twice and win once.
That's the downside of their season. The upside is they have actually only lost once and are five games unbeaten.
Now, he says that he has real competition for places and a selection headache from a squad with strength in depth, despite threatening to sign more "free agent" players now that window has opened.
There are a few mixed messages, then, but one thing is for sure: he is considering Luke McCormick for a starting place against Bury, because he can't argue with the keeper's two clean sheets (one in the league) in the international absence of Lawrence Vigouroux.
Give the travelling Chilean a rest, you might think. Toumani Diagrouaga and James Dunne and Ellis Iandolo also did a good job in midfield.
However, the experienced manager, who was in charge of Hull in the Premier League don't forgot, knows he will need his best players out against the Shakers and their inexperienced manager who has now returned from a two game ban after insulting drug testers earlier this year.
The visitors have taken time to get going, including losing to Crawley, but have found the net in abundance in their past two games, winning 3-2 and 4-0.
Like Swindon, they had to battle hard to defeat Morecambe. Since when they dispensed of the Mariners rather more easily.
Boss Ryan Lowe was delighted with the attitude of Danny Mayor, who had been ill but turned out to be man of the match, and Neil Danns, who came straight off an aeroplane and sent him a text saying he wanted to play.
Both teams seem to have a strong attitude within their squad, but while Bury have scored more goals recently I think Swindon can shade this one, potentially with more than 2.5 goals being scored.
Imps can bounce back to claim another win
Macclesfield [4.0] Lincoln [2.1]; the draw [3.6]
There might be few chances to catch Danny Cowley's men at this length of price during the season, so we had better do so now.
The odd reverse - defeat to Crawley last weekend - will just blow away the cobwebs and reignite the Imps' resolve, I predict.
Not many teams will prevent the forward line of John Akinde, Matt Green and midfielder Lee Frecklington from scoring. Or at least, one of them is likely to find an opportunity. The defeat in Sussex was the first time Lincoln had failed to score this season.
Frecklington is suspended for this one after his red card at Crawley, and Dean Walling called the defeat a "wake up call", presumably that the Imps won't have everything their own way. Shay McCartan is convinced that no team will "bully" Lincoln this season and I think the theory will prove right against the Silkmen.
They have not scored in three of their seven games and have only netted more than once on one occasion. No goals in their past two games. However they are the only League Two side still in the League Cup, quite remarkably. I think the visitors ought to be able to keep Michael Rose and Harry Smith at bay though. Macclesfield have failed to win any of their last 30 League Two ties. Their return to this level after promotion last year has not been a happy one, with just two points to show for their efforts.
Recommended bets
Back Oldham to beat Grimsby @ [2.7]
Back Newport and Yeovil to draw @ [3.3]
Back Swindon to beat Bury @ [2.6]
Back Lincoln to beat Macclesfield @ [2.1]