League Two Betting: Back Walsall on the way up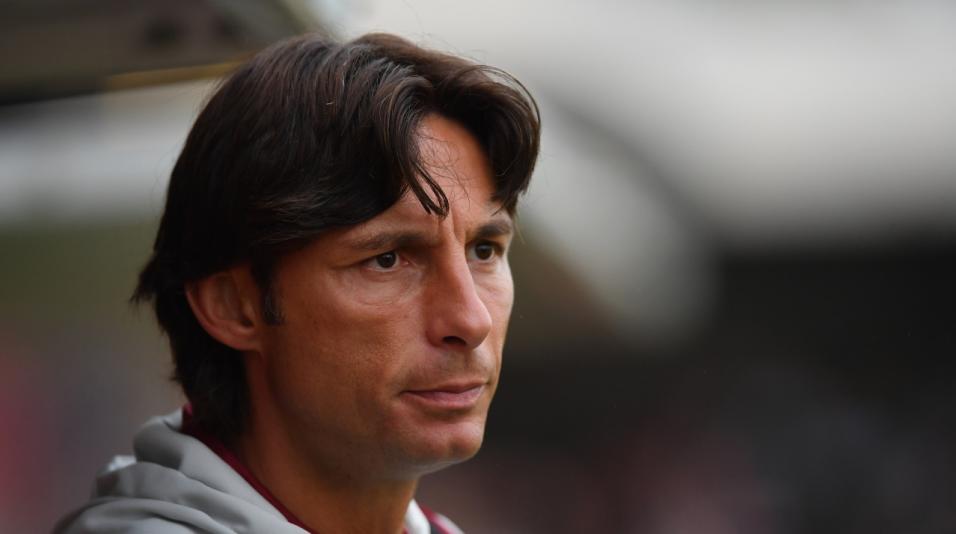 Gabriele Cioffi's Crawley are well respected and feared by Mark Cooper, whose Forest Green host them
Walsall have starte to motor, assesses Ian Lamont, who heads to Forest Green to start his draw hunting in a division strewn with level pegging results...
"League Two remains as tight as ever. Crawley remain as ready to score as ever, 18 in 11 games is above 2.5 on their own per match - and they have scored in all their fixtures. With 16 goals against, however, it is no wonder they have a healthy portion of draws"

Clarke can't strike for ever
Walsall [2.24] v Salford City [3.6]; the draw [3.4]
You know when you want to get every last drop from a glass of a really good beer? Well, it feels like that when trying to find winners this season, at home at a decent price.
Walsall have had a tricky start to the season, winning on the opening day, but then not again until mid-September, their ninth game, and now it seems Darrell Clarke's men can't stop winning!
It seems, already, that after that change in their fortunes, layers have been quick to squeeze out much of liability in them winning, making them just [2.25] to win.
James Clarke scored an absolute cracker to start the scoring at Crawley last Saturday, from 30 odd yards. The fact he is top scorer from central defence probably hasn't helped their progress.
Attackers Elijah Adebayo and winger Wes McDonald finally got on the scoresheet against the Reds, to the delight of their manager.
It's time to entertain their goal-starved home support now and Salford come along in poor form, conceding four times in both their last two matches. Two wins, lots of draws, and no away wins give the visitors little chances of taking three points, and the Saddlers don't seem to be in the mood to let them have just the one, either.
Graham Alexander has some reconstruction work to do, although he will be happy Adam Rooney has finally found his first league goal for the club, having scored 21 goals in their promotion campaign last year. Rory Gaffney, who netted 11 alongside him last season, who now plays for the opposition.
Cooper fears Crawley's attack
Forest Green [2.5] v Crawley [3.1]; the draw [3.6]

Of the seven possible choices for games that could end in draws this weekend, I have whittled it down to this one and the next. Seven, you say? Well, I'm hunting for them after considerable success in the past three years.
I'm not saying there will be seven. I'm just sizing up the possibilities. There were, after all, six last Saturday, four on the previous Saturday, four on the Tuesday before that, and two and four in the remaining September rounds of fixtures prior to that.
League Two remains as tight as ever. Crawley remain as ready to score as ever, 18 in 11 games is above 1.5 per match - and they have scored in all their fixtures. With 16 goals against, however, it is no wonder they have a healthy portion of draws - four, so more than a third.
A first league defeat since August, to Walsall, will provide a chance for the Reds to reset. Perhaps Bez Lubala, their top scorer with six, will be restored to the starting line-up. Gabriele Cioffi made four changes. Was that right after two 2-2 draws? Clearly he wanted to try something against goal-shy opponents who suddenly found a plethora of goals.
Ashley Nathaniel-George has two goals in as many games, as the manager mixed it up after the League Cup win over Stoke City, on penalties.
Forest Green, too, surprisingly found the net multiple times all of a sudden at Salford, winning 4-0 having not scored in two games - or more than one in any game. Just seven goals in 10 games before last Saturday, in fact.
Mark Cooper, the home manager - sorry, head coach - describes Crawley as dangerous. They have attacking intent and in Lubala a great asset.
For his own club, Matthew Stevens and Aaron Collins are now up and running, he hopes, having scored last Saturday. Midfielder Ebou Adams is drawing comparisons with Patrick Veira and Steven Gerrard. Possibly at 23 he's not going to achieve the heights of those two. Cooper won't get carried away, just like being quietly spoken about being a point off top spot (in fourth).
The point is, they generally only score once, while Crawley have just two clean sheets and the hosts, who have eight - including five straight - have three draws. So while there's always a chance that Crawley will suffer their first blank in front of goal, even a nil-nil draw as Forest Green fail to score as well, there's a probability each side will score - and that seems likely to even out as a draw. Cioffi will be looking for the Reds to make amends for last week's early collapse and poor show.
Opta have a killer stat: Crawley are unbeaten in four away, with three of them draws.
Maamria will demand big effort to hold Robins
Oldham [2.66] v Cheltenham [3.0]; the draw [3.4]
I feel a lot less certain about the other six draw possibilities I initially considered this week - but this is the best of them. The Latics have a penchant for level pegging, having taken three 2-2 draws in their past five games, before beating Morecambe and being done by Carlisle away, to a single goal after just three minutes.
New boss Dino Maamria says it is a massive challenge managing Oldham, and they have shown their spirit to him, with that 3-1 win in his first game.
"Not good enough" was his assessment of the defeat last week. Chris Missilou scored in the two games before the new boss arrived, just as Oldham seemed to be getting it together. They kept a clean sheet in a goalless draw against Exeter at the end of August, and other, scoring, draws against Plymouth and Grimsby more recently give them hope of holding Cheltenham.
And holding Cheltenham to a draw is probably their best chance of a positive result. The visitors have won their last two away games 2-0, including at Plymouth, while also beating Bradford at home at drawing with Crewe.
Michael Duff is pleased with progress, especially as the Robins are flying high in third, a point off top spot, with Luke Varney finding the net again and Ryan Broom chipping in goals from midfield regularly. Gavin Reilly has also been semi-regular on the scoresheet, also with four goals. In fact, Opta tell us that only Plymouth (11) in the division have more different goalscorers than Cheltenham (10).
Cheltenham are unbeaten in five, losing just once in 10 point out Opta. If the hosts can match Crewe, from last week, for effort, they could take a point.
Let there be entertainment with Leyton
Northampton [2.04] v Leyton Orient [4.0]; the draw [3.8]
Another one to squeeze a price out of, to make it worth having a bet, is Northampton who are just above my minimal price, evens, to be considered.
After two draws, Jordan Turnbull will want his goals to count for victories this time. It's not often the defender scorers and he has three this season, none of them in victories.
The Cobblers if Andy Williams could add to his four strikes, but eight players have scored in the past six games, netting a total of 11 which will please Keith Curle.
The former defender was reminiscing this week about Justin Edinburgh, who remains much missed by Orient. Neil Embleton, meaning, has spoken of his relief at his announcement that he will step back to being assistant, happily allowed the O's to appoint a main leader.
There's no doubt the hosts have been entertaining to watch, conceding seven goals in those six games too, but the visitors have also been putting the goals away and conceding them in great number. They have netted nine times in six (and 14 in eight) and conceded 13 in six (and 18 in eight). The key stat comes from Opta - Orient are winless in seven.
Conor Wilkinson and Lee Angol, with three each, are well on the way to achieving double figures by Christmas, but midfielder Josh Wright heads them both with four.
Given all those goals, it would be logical to think over 3.5 goals would be on the cards - and it's available at about [3.3] - but this is sport and logic usually has little to do with anything, especially given previous attempts to land it this season which have resulted in low scoring games! I'm sticking with the home win.
Recommended bets
Back Walsall @ [2.24] to beat Salford City
Back Forest Green and Crawley to draw @ [3.6]

Back Oldham and Cheltenham to draw @ [3.4]
Back Northampton @ [2.04] to beat Leyton Orient