League Two Midweek Betting: Calculating Cowley to be rewarded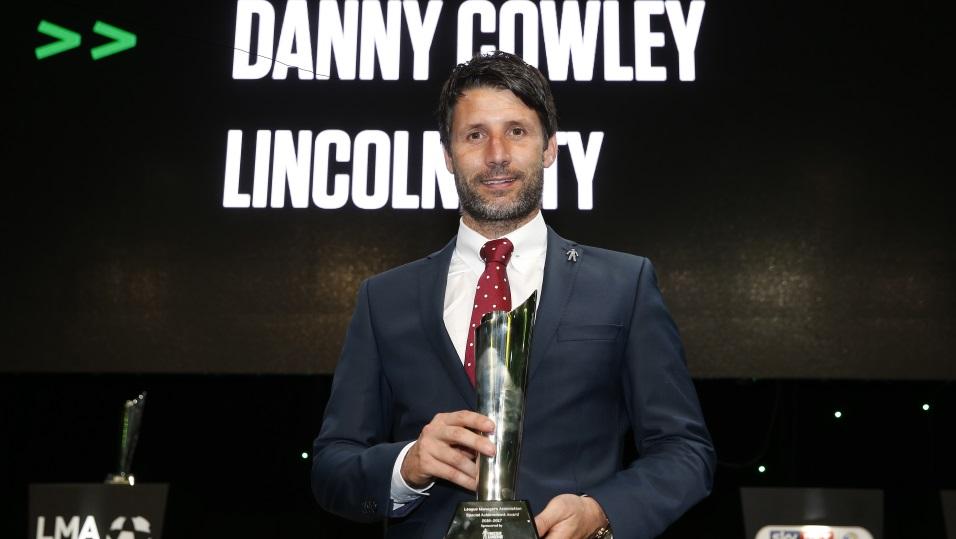 Danny Cowley has masterminded Lincoln's rise to the top with long-term planning
Leaders Lincoln can sink Paul Scholes' side, says Ian Lamont, while Milton Keynes will prove too strong for Morecambe and Northampton should defeat Newport...
"In the 11 games since Christian Doidge has returned, Forest Green have won three and drawn two. He has scored twice - and four times the team has failed to score at all, the most recent being their past three away games."
Morecambe will meet their match
Morecambe [4.4] v Milton Keynes [2.0]; the draw [3.8]
It seems perfectly reasonable to back MK Dons are they pushed themselves back into the top three, at the expense of Mansfield, after victory at Macclesfield.
It feels doubly reasonable after Morecambe took one of their perennial victories that keeps their head above water.
Jim Bentley's men have won consecutive games only twice this season, fairly recently the second time, against Port Vale and then Oldham, two sides not in the best of form.
Paul Tisdale's men are a far different proposition for a side scrapping at the bottom, having won five straight matches.
Bentley will be pleased Rhys Oates has scored against for the first time since early November, and that Aaron Collins and Alex Kenyon have contributed in the absence of AJ Leitch-Smith.
But he will be concerned at the strength of Tisdale's attack, even if an average away record by the Buckinghamshire club seem to give the hosts a chance of something.
Kieran Agard has scored in five of his last seven games, taking his League Two tally to 16 this season. Chuks Aneke has a mere three in eight - but 14 this season - alongside him. Twelve goals for in six games and six against plays well against Morecambe's 10-9.
Three straight wins away should have the visitors taking control, especially as they have scored in 16 of their 18 away games.
Lincoln leader loves long-term view
Lincoln [2.02] v Oldham [4.5]; the draw [3.8]
It is well known that the season is a "marathon not a sprint", What is well less known is that Sir Alex Ferguson used to schedule Manchester United's season is microscopic scientific detail so that the players were conditioned to peak in March, when the silverware starts to come into focus. Tottenham could probably do with some tips.
Howard Wilkinson, in a different method, drilled his Leeds team pre-season on how to play against every team before they won the top flight title in 1992.
I was reminded of this when I saw the headline that Danny Cowley hopes long-term planning will help Lincoln overcome Oldham. The story, sadly, was less about peaking at this time of year than Cowley requesting long ago that last Saturday's fixture be brought forward an evening to Friday, giving his side more time to recover for midweek and him a chance to watch the Latics draw at Cambridge.
The Imps boss will hope to make the most of that now. It has felt a little dangerous to predict results for my pre-season League Two title tip. Wouldn't want to jinx it!
The local media has started trying to calculate how many points the hosts need for promotion and the title and - dangerously - where they might get the points. All we know for now is that if they win on Tuesday they are guaranteed a top seven place.
In one sense they would love to be guaranteed a top three place by the time they visit Milton Keynes on April 6. They've been given a big ticket allocation as supporters salivate.
Even though they are a smidge over evens it seems right to suggest they can beat Paul Scholes' men. They only put one past Yeovil and don't seem to be scoring in huge abundance - 10 goals in seven games, while conceding seven. Tight margins.
Perhaps Lee Frecklington's absence has made that difference. He suffered an injury in the 2-2 draw at home to Stevenage and has missed the four games since.
Lee Andrade went through a purple patch recently, scoring six goals in four games, while John Akinde's total this season has reached 13. Those two ought to fashion some chances. It is 20 league games since Lincoln failed to score. They have but one defeat at home.
Oldham, by contrast, remain a battling work in progress under Scholes with three draws and a win to show in six games and while they have scored in each of their past nine games, the last five of the six since the former Manchester United midfielder's arrival have reaped just a goal at a time.
Jose Baxter could do with finding that scoring touch again, having netted in every other game for Scholes, while they had to rely on defender Peter Clarke for their goal in the draw at Cambridge (although several sources seem to have given his third goal of the season to Cambridge's Harrison Dunk). Gevaro Nepomuceno seems to have chances but not put them away, while much has been made of his side conceding late goals in five straight games to cost them points.
The play-offs look out of reach.
Crewe need to toughen and given a good performance
Cambridge [2.62] v Crewe [2.9]; the draw [3.5]
Three straight losses could have ended Crewe's season. That's not my opinion, that's a headline from their local paper. It's quite possibly true, though. They look, in 16th place, too far off the play-offs now to have a realistic chance of climbing to seventh.
Defeat at Tranmere on Friday night was by a fine margin and hard to take for Dave Artell, who felt that the referee should have awarded a penalty for a trip on Shaun Miller. The player was penalised for offside when an opponent played the ball last.
The Railwaymen are up against it, with two wins and five draws on their travels - leaving 11 defeats and no goals in two games. But actually their recent away record has reaped three scoring draws, at Morecambe, Macclesfield and Oldham, and a win at MK Dons. The statistics show you they should win at home, where they have just lost twice, and not take points away.
With Jordan Bowery displaced, more emphasis is on Chris Porter and George Ray to score, while Cambridge, who have had their own troubles away while being solid at home, were held by Oldham on Saturday.
Victory through George Taft and Rushian Hepburn-Murphy goals at Grimsby before that will have given them confidence but their form is a bit hard to read, with no goals in four from five games before that. Maybe David Amoo or Jevani Brown will be inspired by the Abbey to find a way to goal, but they are not in huge supply from the U's at present. There seems a high chance of a draw.


McGreal's men ablaze at home with goals
Colchester [2.6] v Forest Green [3.0]; the draw [3.5]
Mark Cooper questioned the desire of some of his players - for the first time this season he says - before their trip to Morecambe. Goodness knows what he was doing after a 3-0 defeat there, because he didn't come out to talk to the media and nor did anyone from his team.
The inquest into their horrible recent run which has seen them drop from play-off position near certainties to ninth has been nothing short of eye popping. The fact they were there in the first place shows what a fantastic job Cooper has done on a slim budget, judging by the fact they have League Two's fourth worst average attendances.
Ironically, Rovers have been faltering since Christian Doidge, their top striker from last season and the one before, returned from Bolton Wanderers after his abortive loan-to-sale move. In the 11 games since his return, they have won three and drawn two. He has scored twice - and four times the team has failed to score at all, the most recent being their past three away games.
And yet Doidge, who left at the end of August, is still their top scorer with eight. Reuben Reid has seven - and should be a lot more prolific given his stats at Exeter - while Reece Brown also has six from midfield including the last one they scored, at Lincoln.
Colchester, meanwhile - a comfortable midtable in the attendance averages - should be getting higher crowds for their efforts, with their glowing +20 goal difference at home where they have 10 wins. They might not be totally consistent, but at home they have two 3-0 wins recently and a 1-1 draw.
Sammie Smodicz is the key to their success, with 11 goals and no doubt a fistful of assists for John McGreal's men. Frank Nouble should really learn to outscore the midfielder, from the front.
It could be a Goode night for Cobblers
Northampton [2.34] v Newport [3.5]; the draw [3.5]
The battling qualities that have propelled Northampton to three straight wins - for only the second time this season and matching their best run this campaign - is epitomised by Charlie Goode.
Brought off in the dying minutes of their win at Crewe, he discovered he had a broken nose. So he decided to have it put back in place without general anaesthetic and regretted it when the treatment was extremely painful. And this is just from a player on loan from Scunthorpe. That just shows a player's commitment to a temporary cause.
Like with teams already mentioned, it is probably too late for the Cobblers to work their way into the top seven, but they seem to belatedly be giving it a go with four wins and two draws in six. Scoring two per game will undoubtedly help, as will only conceding four goals in those six.
Defender Aaron Pierre has chipped in with a couple of goals in that time, and Keith Curle doesn't care which Powell scores - Daniel or Joe.
Quite what mood they will find Newport in seems anyone's guess. The Exiles have a recent pattern of WLWLWL. So they should be due a win. But they haven't scored in three of their past four away games, at teams in form, winning only at Notts County.
Padraig Amond, called up by his country, will want to remind his international manager what he can do, while Jamille Matt needs to find the net more regularly. Ade Azeez, a bit of a wanderer in football, can hopefully settle down in Wales, but this night might well belong to the hosts.
Recommended bets
Back Milton Keynes to beat Morecambe @ [2.0]
Back Lincoln to beat Oldham @ [2.02]
Back Cambridge and Crewe to draw @ [3.5]
Back Colchester to beat Forest Green at [2.6]