League Two Betting: Back Pools and Carlisle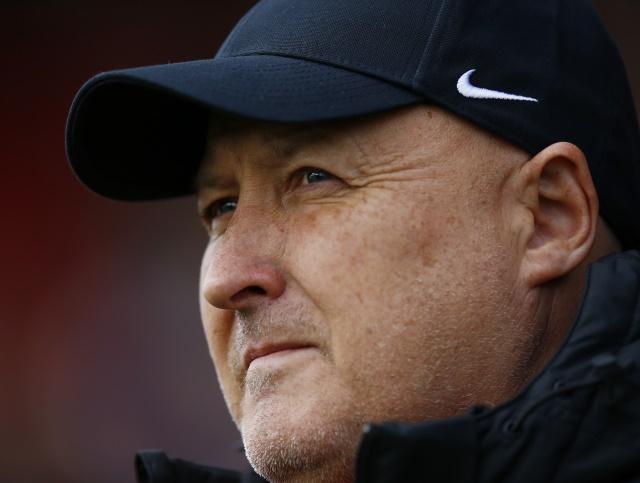 Impress me: Russell Slade will want to know about his Grimsby players before summer changes
Ian Lamont takes a few risks on sides desperate for points this weekend, while also tipping Grimsby whose players have just a few matches to impress Russell Slade before the summer...

"Carlisle have been on a desperate run, falling from a comfortable looking second place to eighth. At least they have found the net in their past four games, with Jabo Ibehre's timely return to form."
Hartlepool 2.89/5 v Barnet 2.77/4; the draw 3.55/2

When you are struggling to avoid relegation, the last thing you want to do is compound a bad run by losing to a side whose plight looks hopeless.

Hartlepool's defeat at Leyton Orient left the gate open for Omar Riza's men - just a little. But it allowed Newport manager Michael Flynn to assess that it is between his side and Pools to stay up. And that's the last thing a manager wants to hear, even an experienced one like Dave Jones.

Hartlepool have been "just surviving" for weeks - lately on just two draws from six matches as they seek to keep their necks above water.

In their defence, Pools have lost to some of the better sides recently - Wycombe, Portsmouth and Blackpool - before drawing with crumbling Carlisle and Morecambe.

Can Lewis Alessandra and Padraig Amond find one last effort to overcome Barnet, a side who seem in even worse form. Rossi Eames has to pull a side with just three points (one win) to show from their last six games, including when Kevin Nugent was still there as manager.

John Akinde can't be feeling that inspired. Expect mistakes. Expect nerves. Expect tension. Expect a scrap. Barnet haven't scored in four of their last six matches, but have conceded in each of their last 12 - sometimes once and sometimes twice. Hartlepool only seem to score once and rarely keep a clean sheet. Hartlepool might scrape a victory.

Recommended Bet
Back Hartlepool @ 2.89/5

Stevenage 3.02/1 v Mansfield 2.56/4; the draw 3.613/5

Stevenage have been remarkably hit and miss for a team who find themselves in the play-off places. After eight wins from nine which got them there, Darren Sarll's men have won just two games in seven outings - and not scored in four of them.

Yet such has been the inconsistency of the teams just below them they are still fifth and pretty likely to be in the top seven after the weekend, whatever happens against Mansfield.

Striker Matt Godden's broken toe, picked up against Morecambe on Good Friday, will keep him out for six weeks and severely hamper Stevenage, however much people might like to point to goals by Charlie Lee and Harry McKirdy (on loan from Aston Villa at the time) scoring in the 2-1 win over the Stags in October.

Godden has 20 goals this season and nobody comes close to matching that. They would be lucky to have him back for the play-off final, if they got there. Ben Kennedy is next best with eight, but Tom Pett and Steven Schumacher need to step up.

A draw would definitely keep Stevenage in the top seven. If Mansfield have other ideas, they could do with stating them pretty loudly. Like their hosts, their form doesn't inspire confidence, although with three wins and a draw it is marginally better. Wins against Carlisle, at Morecambe and especially Wycombe in current form show they have grit and determination - hallmarks of successful sides put out by Steve Evans.

Scoring just three goals in their last four games show they might be feeling a little pressure. If Stevenage don't have many goals in the squad after Godden, Mansfield struggle a little in that department, too. Matt Green (10) and Danny Rose (7) are top scorers who have not scored in weeks, while the team can point to debatable penalties going against them.

Perhaps defeats to Exeter and Doncaster - as better sides - can be forgiven. But then again if Mansfield are to be promoted - or even reach the play-offs - they are going to have to match those types of team. They did so against Luton, but after Stevenage come Portsmouth a week on Saturday.

According to Opta, Mansfield have won back to back away games just once, while the two teams have never drawn in the Football League. A win from the visitors' point of view seems vital, but the hosts' strong home record might just steer them to a draw.

Recommended Bet
Back the draw 3.613/5

Grimsby 2.89/5 v Yeovil 2.8415/8; the draw 3.39/4

At a glance, it might seem that neither team has much resting on the outcome of this match, so it wouldn't be worth considering betting on.

However, the players have plenty of incentive to earn places in their respective squads for next season. Yeovil boss Darren Way will be looking jealously towards near West Country rivals Plymouth who have been promoted and noted Derek Adams' statement that a clear-out of the previous season's players helped.

Grimsby have another new manager to impress. Russell Slade will impose the high standards his board demands for a promotion campaign next season. It might be over ambitious to expect it, but that won't stop him analysing whether his current players are up to the job.

A number of different players have scored recently - Callum Dyson, Chris Clements, Sam Jones - and the Mariners have drawn only one blank in 10 games. They have only kept two clean sheets in that time, too, however, something which no doubt contributed to Marcus Bignot's downfall as manager.

Beating Blackpool and Cambridge recently show what they are capable of, which should make them a slightly bigger price than they should be to defeat the Glovers, who have not scored in three of their last four games.

One thing Way will want to address in the summer is the Somerset side's lack of goals: scoring three times at Morecambe and at Exeter were exceptions to their general rule. They have scored in each of their last four away games, however, but three wins on their travels all season suggests they struggle to find their tempo away from home.

Perhaps without the threat of relegation hanging over them Yeovil have begun to relax and show their true potential, but the Mariners should have too much for them - and that's what makes this game value to bet on. The Opta stat that Yeovil have not won back-to-back league games since October is also in Grimsby's favour.

Recommended Bet
Back Grimsby @ 2.89/5

Crawley 3.3512/5 v Carlisle 2.3411/8; the draw 3.613/5

There are a number of tempting away bets this weekend, from Plymouth to upstage Colchester, who have one of the division's strongest home records, as they attempt to snatch the title from Doncaster to Accrington to dent Newport's chances of survival or Doncaster to win at Wycombe.

However, the most tempting, at relatively short odds it has to be said, is Carlisle to win at Crawley, who have not scored in three of their last four matches.

The Cumbrians have an urgency to stoke the embers of a dying play-off bid. Keith Curle was a manager spoken of as one being looked at by other clubs a few months ago, but since Charlie Wyke left in January - even before - Carlisle have been on a desperate run, falling from a comfortable looking second place to eighth. At least they have found the net in their past four games, with Jabo Ibehre's timely return to form. Previously to that, they went seven games without scoring.

But draws, as they achieved with Stevenage and Hartlepool, won't do at this stage. They have to do what they did at Yeovil and win, to stand any chance of going back into the top seven. Strugglers Newport will be hard-bitten opponents next week, then on the final day if Exeter need anything to gain the best play-off position they can they will be tough opponents. Carlisle have to take a victory now.

Crawley, with James Collins failing to net in three games and getting sent off against Plymouth, don't seem to be inspiring one fan, who wrote in his local paper that there had been no progress since this time last year and that there were calls for the manager Dermot Drummy to be sacked. Lacklustre seems to be a word to sum up their end of season.

That stems from the Red Devils winning just one of their last nine home games, stress Opta, who add that Crawley have scored the fewest (2) and conceded the most (11) goals in the first 15 minutes of matches. Score early has to be Curle's message.

Recommended Bet
Back Carlisle @ 2.3411/8
Get the Best Odds on English football with Betfair!
Betfair has had the best odds on all domestic English league football since the start of December. So when you win, you win bigger! Click here for full details.
Discover the latest articles
Read past articles