Blackpool v Exeter: Tisdale has the touch for promotion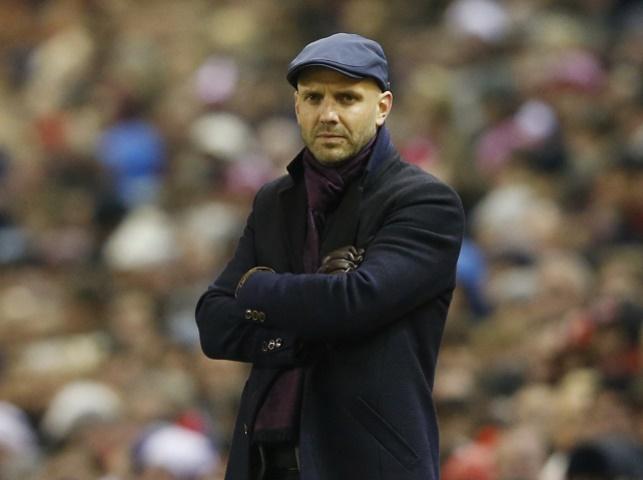 Promotion would be just reward for Paul Tisdale's long service at Exeter
If there is one thing Ian Lamont is certain about, it is goals at Wembley in the League Two play-off final on Sunday, which he thinks away kings Exeter can sneak to complete a remarkable season having risen from the bottom three...
"Versatile Exeter teenager Ethan Ampadu must be thinking his numbers have come up: in the middle of his GSCEs, the 16-year-old has been called up to train with the Wales senior squad during half-term - straight after this match, in which Tisdale indicates he has a strong chance of playing."
Blackpool 3.02/1 v Exeter 2.68/5; the draw 3.55/2
League Two play-off final, Sunday May 28 15:00
Live on Sky Sports 1

Reaching the play-off final should be a happy moment for any club. But In contrast to when the Tangerines went to taking 30,000 fans to the Championship final against West Ham in 2012 the club have sold fewer than 6,000 tickets.

This is because of a continued boycott by Blackpool fans in objection to the Oyston family's involvement in the club. Sadly for fans who want to watch in a crowded match atmosphere, the local cricket club has had to pull out of a big screening event because of licensing issues.

It must be an awkward feeling for Blackpool's players when they know Exeter quickly sold 10,000 tickets and will be far better supported. Plus, Blackpool's players will be aware that Exeter's Wembley appearance will be the second of a double header, with Exeter Chiefs Rugby Club heading to Twickenham on Saturday for their own final. No pressure to make it a double! Providing the first result comes off.

Promotion comes down to a side, Exeter, who have climbed from the bottom three early in the season (Paul Tisdale said he still believed they were the best bunch he had ever coached) when they could not win at home, and opponents who have been more consistently hovering around the middle to play-off zone.

Gary Bowyer arrived when Blackpool had suffered back-to-back relegations and says he never expected to make progress so quickly as to have the chance of an immediate return to League One.

Match Odds

Given the above, it is not surprising that Tisdale's side are the shorter price to win at 2.68/5. They also finished above Bowyer's men in the League Two table. However, the Grecians have not beaten their counterparts this season and, Opta remind us, have kept just one clean sheet in their past 19 games.

So where does that leave us in the match odds? Neil Danns, the Blackpool winger, is determined that his season's hard work should not be wasted by falling at the final hurdle. Any player can say that of course. This is his first trip to the new Wembley, at the age of 34. More chances might not come. Victory for Blackpool would make them the leading play-offs winners with five successes, say Opta. They currently share record of four with Crystal Palace - for whom Danns played.

Versatile Exeter teenager Ethan Ampadu must be thinking his numbers have come up: in the middle of his GSCEs, the 16-year-old has been called up to train with the Wales senior squad during half-term - straight after this match, in which Tisdale indicates he has a strong chance of playing. His exams have come before football, which is why he has not featured in the past couple of games. At the other end of the scale, Matt Oakley will retire, aged 39, whatever happens at Wembley.

Craig Woodman seems to have recovered after hobbling in the dramatic win over Carlisle and Exeter have no fresh injury worries. They will be hoping David Wheeler is on fire to add to his 17 league goals, or that Ollie Watkins and Reuben Reid, both on 13, can notch one as well - not instead, because both teams seem to be firing on all cylinders.

Blackpool don't have quite so many goals among their top scorers, Kyle Vassell with 11, Brad Potts with 10 and Mark Cullen with nine. That and the fact Exeter had the division's second best away record, 13 wins and three draws, gives them the slight edge. I've said it before, but to stand the best chance of keeping his best players, Tisdale - the longest serving manager at a Football League club - just has to conjure a victory.

Under/Over 3.5 goals
Giving that the two play-off semi-finals reaped 22 goals across four matches, it isn't hard to imagine that the final on a notoriously wide pitch might conjure up plenty of chances and goals.

Blackpool had four different scorers for their six goals and while their top three goalscorers have edged just into double figures they have had 16 players score for them this season. Their away goals tally is slightly on the low side for the top half of the table at 29, but their away goal difference is still a healthy +7 and they scored 40 at home, so won't be afraid to go for the jugular in a one-off match.

Exeter have that lack of recent clean sheets, so seem likely to concede. They have only had 12 difference scorers, with five different ones in their two play-off games. Backing over 3.5 goals at 3.211/5 seems a bit of a no-brainer.

First goalscorer
Given the statistics above, it could be a bit of a fool's errand to try to pick a first goalscorer, especially if you are looking to the Blackpool camp where there have been a variety of opening marksmen, from Mark Cullen 6.05/1, Nathan Delfouneso 7.06/1, and Danns at therefore reasonable priced 14.013/1 - two goals in 13 appearances for a supplier is not a bad return.

The richer pickings are to be had looking at Exeter. I don't think Reuben Reid should be as short at 5.85/1 because he hasn't scored as often as in previous seasons when at Plymouth, while David Wheeler could score at any time. But first? Maybe 5.85/1 is a touch too short for that, too.

Watkins, however, makes the best appeal of the shorter prices at 5.85/1, while Jordan Moore-Taylor could be considered at a decent price of 30.029/1. He has scored only five times in the league, but three of them first on Exeter's scoresheet. What about the fairytale of Oakley netting in his final game at 19.018/1? He hasn't scored in four seasons at St James Park so I shall be giving that a miss, but I have a little feeling that the experienced Danns at 5.39/2 could score at any time on the big occasion.

Recommended Bets
Back Exeter to win @ 2.68/5
Back over 3.5 goals @ 3.211/5
Back Ollie Watkins to be first goalscorer @ 5.85/1
Back Neil Danns to score @ 5.24/1




P/L 2016-17
Match betting League Two
+36.29pt
Play-offs +1.96pt
Discover the latest articles
Read past articles