The Editors' Premier League Betting Battle 2014/15: Round 26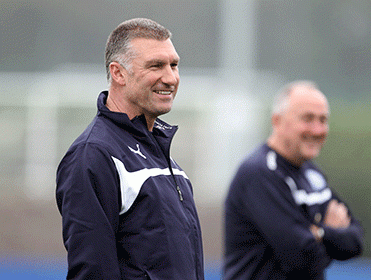 Nigel Pearson's Leicester are still bottom of the table
With competition in the Editors' Betting Battle heating up, the boys welcome the return of Premier League action with four more bets in search of that elusive profit...
"John Stones' return to first team action, and his partnership with Phil Jagielka, has shored up the Toffees' backline with the pair keeping clean sheets against West Brom, Crystal Palace and Liverpool."

Joe Dyer
Back Under 2.5 Goals @ 1.9420/21 in Everton v Leicester 
Sunday 14:05
Live on Sky Sports 1
Late goals have knocked my draw bets in recent weeks and I'm playing odds-on this week, I still consider Unders at Goodison to be a value bet. 
Everton started off the season as the Premier League's entertainers but they look like ending their campaign as dour clean sheet merchants. 
John Stones' return to first team action, and his partnership with Phil Jagielka, has shored up the Toffees' backline with the pair keeping clean sheets against West Brom, Crystal Palace and Liverpool. 
That new found defenseive strength is a good thing as the attack has been struggling for a while now. The following stat spells out in stark terms how low-scoring Everton have been in recent games - just two goals scored in the last six top-flight matches. 
And opponents Leicester don't offer much threat themselves. The Foxes have scored just nine times on the road this season. 
So at just shy of even money I'll make Under 2.5 Goals my bet thank you very much!  
Joe Dyer 2014-15 P/L +£30.50

Dan Thomas
Back Over 2.5 Goals in Aston Villa v Stoke at 2.56/4
Saturday, 15:00
This fixture had Under 2.5 Goals as a gold-plated banker when Paul Lambert and Tony Pulis were in the respective dugouts but with Tim Sherwood now 'rattling cages' in the home dressing room (not sure if this is what creates the 'breath of fresh air' he brings?) and Mark Hughes' Stoke a more progressive outfit these days, I think Overs is worth the risk at the prices.
While the recent league stats are against the bet - just two goals scored in the last ten for Villa - four of their last five games in all competition have gone over 2.5 goals, as have four of Stoke's past five.
In his first game in charge, Sherwood will be desperate to make an impact and we can expect a more attacking approach against a Stoke side who have conceded eight in their past two games and have a number of injury doubts at the back. This will inevitably leave spaces at the back for the Potters to exploit.
The new Villa manager's first league game in charge of Spurs was a kamikaze 3-2 win at Southampton with not a defensive midfielder in sight so here's hoping for something similar at Villa Park.
Dan Thomas 2014-15 P/L: +£13.25

Mike Norman
Back Over 3.5 Goals in Crystal Palace v Arsenal @ 3.412/5
Saturday, 15:00
It was evident from the start of the season that the low-scoring Palace side that we associated with Tony Pulis was a thing of the past, and that under Neil Warnock the Eagles would be involved in some entertaining games.
That was the case for much of Warnock's reign, but as Palace's form dipped so did the goals count in games in which they featured.
Under Alan Pardew it seems Palace are back on track however - their first four wins under the new boss all witnessed at least three goals with 75% of those matches going over the 3.5 goals mark. The Eagles have found the back of the net in seven of their eight games under Pardew.
Arsenal tightened up defensively... for about two weeks, but it seems they also have gone back to their early season ways. They give you a chance at the back but they are always capable of scoring three or four at the other end. All of the Gunners' last 15 games have seen at least two goals scored, 11 of those have witnessed at least three, and five of those matches have even seen at least five goals scored.
Under 2.5 Goals would be a confident selection, but I need more than that to get back into this battle so I'm banking on seeing at least four goals at Selhurst Park on Saturday afternoon.
Mike Norman 2014-15 P/L: -£65.80

Luke Moore
Back Under 1.5 Goals in Sunderland v West Brom at 2.89/5
Saturday, 15:00
In a move that will surprise absolutely no-one, this game hasn't been selected for the TV cameras, and it's likely to be a fairly drab affair. That's fine with me though, as it means there's a chance to hopefully hoover up some cash at a decent price.
Sunderland struggle for goals in a big way, especially at home - Opta tell us they've scored just six times in their last nine home games - and West Brom under Tony Pulis haven't exactly set the world on fire in front of goal.
Given that neither of these teams will want to give up much against a side around them due to relegation fears, it seems a fairly safe call that the game on Saturday afternoon will be a fairly cagey affair. I am temped by the 0-0, but under 1.5 goals gives me a bit of security should someone nick a goal and 2.89/5 seems like a chunky price.
Luke Moore 2014-15 P/L: -£78.70

A £10 bet is placed on each selection on Betfair's Exchange. Profits are calculated before commission.
Editors 2014/15 Season P/L
1. Joe Dyer: +£30.50
2. Dan Thomas: +£13.25
3. Mike Norman: -£65.80
4. Luke Moore: -£78.70
Discover the latest articles
Read past articles