The Editors' Premier League Betting Battle 2014/15: Round 25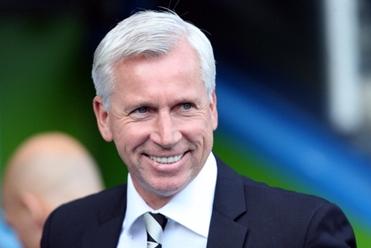 Luke expects Pardew to get one over his former employers
Dan Thomas could overhaul Joe Dyer at the top of the table if results go his way in this midweek round of the Battle, while Mike Norman and Luke Moore are in need of a winner. Find out where their tenners are bound...
"Opta tell us that Sunderland have netted just six goals in their last eight Premier League home games, while the manager-less visitors have scored just six times in their last 14 away matches in the league. That's an incredible stat - enough to make anyone's knees hurt."


Joe Dyer
Back The Draw @ 3.9 in Liverpool v Tottenham
Tuesday, 20:00 
Live on BT Sport 1
I'm a Spurs fan so the only bad thing about Harry Kane's towering header in the 86th minute of the North London Derby was that it kyboshed my draw bet! 
I was sitting on a sweet little profit booster - and boy could I do with one after a run of losing bets - until White Hart Lane's latest poster boy struck home. But I'm going to risk it all over again with another back of the stalemate involving Spurs, this time on Tuesday night at Anfield. 
The price - just shy of 3/1 - really appeals as this has the hallmarks of a close game and I think the draw is a huge runner. 
Brendan Rodgers' developing Liverpool side have certainly found the defensive skills they misplaced in the early months of the season, but they are struggling at the other end and the 0-0 in their derby on Saturday evening was sorely lacking in wow factor. Nevertheless the result just increased the current unbeaten run to 14 matches and they can certainly be filed in the 'hard to beat' category. 
Tottenham are on their own impressive run too of course and are a good away side, with bundles of pace and dangermen in attack. The home side will be expected to go after Spurs but that should offer opportunities to score and it wouldn't surprise were this to finish a goal apiece.
Joe Dyer 2014-15 P/L +£40.50

Dan Thomas
Back Sunderland/Unders v QPR at 27/10 (Sportsbook)
Tuesday, 19:45
The Merseyside derby bore-draw got me back to winning ways at the weekend and I'm looking to increase the pressure on Joe with another winner in this midweek special. 
I was initially drawn to the 0-0 (available at 10.09/1 on the Exchange) in this game given the respective sides' struggles in front of goal this season.
Opta tell us that Sunderland have netted just six goals in their last eight Premier League home games, while the manager-less visitors have scored just six times in their last 14 away matches in the league. That's an incredible stat - enough to make anyone's knees hurt.
QPR are missing talisman Charlie Austin so it's hard to see where their goals are going to come from but I have opted for a low scoring home win instead of the stalemate, because Sunderland do now have a goal threat, in the form of Jermain Defoe.
Gus Poyet's men weren't great at Swansea but the former Spurs man created and scored a goal from virtually nothing earning them a point and he will relish facing the worst away team in the country.
Dan Thomas 2014-15 P/L: +£23.25

Mike Norman
Back Stoke @ 5.79/2 to beat Manchester City
Wednesday 19:45
There are some extremely poor teams in the Premier League but the reason it's so difficult to profit from them on a regular basis is because there are probably even more unreliable teams than there are poor ones.
Take Stoke and Man City for example. The Potters' reversals against Aston Villa, Burnley, Leicester, and Sunderland tell us that they are a dreadful team; their victories over the likes of Arsenal, Man City, and Tottenham tell us they are world beaters. You'll go a long way to find such contrasting form from one club in a six-month period.
But the kings of unreliable teams right now are surely the Citizens. In the last six weeks they've lost to Arsenal and Championship side Middlesbrough, while they've also disappointingly failed to beat the likes of Burnley, Everton, and Hull.
Stoke have been much more predictable in recent weeks, no shock wins, no surprise losses, and their recent form is decent - just one defeat in nine league and cup outings.
Man City meanwhile are in very poor form, they're creating very little, and their results without Yaya Toure have been well documented. Even if the Ivorian returns on Wednesday it will be on the back of 120 minutes of football in the Africa Cup of Nations final, a few wild celebrations no doubt, and a trip halfway around the world.
Everything considered, I simply have to take a chance on the home side at rewarding odds.
Mike Norman 2014-15 P/L: -£65.80

Luke Moore
Back Crystal Palace to beat Newcastle at 2.466/4
Wednesday, 20:00
I'm in a terrible run at the moment and I can't find a winner wherever I turn. I'm in real danger of being cut adrift at the bottom of this battle for a second season in a row and I desperately need to put a bit of a run together.
The best thing to do is to stick at it, keep backing myself and hope it turns around. And, I think I've found a big-price here in the shape of Crystal Palace at home to Newcastle on Wednesday night - the Magpies have only won one game under John Carver who I personally don't think is up to the job.
What's more, Palace have looked great overall under Alan Pardew and have only lost once during his tenure - an unfortunate 0-1 defeat to Everton in which they were sucker-punched early and couldn't find a way through despite having a decent amount of the play.
2.466/4 on the Eagles to beat Carver's men at home seems big to me, and I'm happy to back it. Hope it gets me back to winning ways!
Luke Moore 2014-15 P/L: -£78.70

A £10 bet is placed on each selection on Betfair's Exchange. Profits are calculated before commission.
Editors' Season P&L
1. Joe Dyer: +£40.50
2. Dan Thomas: +£23.25
3. Mike Norman: -£55.80
4. Luke Moore: -£68.70
Discover the latest articles
Read past articles