The Editors' Premier League Betting Battle 2014/15: Round 16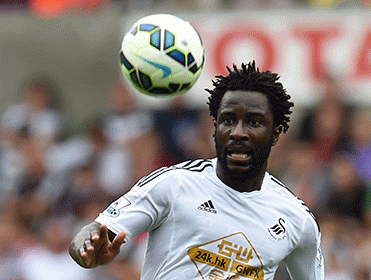 Wilfried Bony is the man in form - can he supply the first goal for Swansea and another winner for Joe?
Joe Dyer has hit form in recent weeks, can he kick on with another winner to keep ahead of the chasing pack or will Mike, Dan or Luke strike back? Here are their bets for Round 16 of the Editors' Betting Battle...

Joe Dyer
Back Wilfried Bony to score first @ 5.59/2
Swansea v Tottenham 
Sunday, 16:00
It's been a good four weeks for me in the Battle with a trio of odds-against shots coming in to edge me back into the green. 
I am keen to continue with the approach that has worked so well recently so it's another 'big' price for me this week. I'm sure the shrewdies won't consider it value but I can't resist a back of in-form Wilfried Bony to open the scoring against Spurs this weekend. Liquidity reasons means I have to take the Sportsbook price but I still think the price is fair.  
As I pointed out in this week's Betting Pointers Swansea are repeatedly faster out of the blocks than their opponents, and their main spearhead Bony is usually the man to get them off the mark. He's achieved the feat three times in the last six games and on five occasions this season. Opta tell us that the Ivorian has scored the most goals of any Premier League striker in the calendar year and after a slow start to the season he's fully into his stride now. 
Sleepy Spurs have been bad starters for some time now, going behind in five of the last six (against Chelsea, Everton, Hull, Stoke and Villa). Only last weekend's draw with Crystal Palace stopped the run. 
If Swansea go ahead as I expect them to it's more than likely that Bony will be the man to put them in the lead. 
Joe Dyer 2014-15 P/L +£16.80

Mike Norman
Back Crystal Palace @ 2.6813/8 to beat Stoke
Saturday, 15:00
My usual strategy of using logic isn't working one jot at the moment, so I'm going a bit left-field this week as my desperation for a winner increases.
The reality is we shouldn't be touching any game involving Stoke with a barge pole. The Potters have already lost to Villa, Burnley, Leicester, and Sunderland this season to prove how poor they can be. But on the flip side, they've already won at Manchester City, at Tottenham, and last week they quite easily (despite the final scoreline) turned over Arsenal.
So what does that tell us? To be honest it screams inconsistency, but looking a bit deeper it suggests that Mark Hughes' men are doing fine against the good sides but really struggling against those towards the bottom of the table.
Crystal Palace are 15th, so that's one box ticked, and they are also in decent form themselves having defeated Liverpool 3-1 two home games ago before earning excellent draws at Swansea and Tottenham. Time for Stoke to mess up again... hopefully.
Mike Norman 2014-15 P/L: -£27.60

Luke Moore
Back Everton-1 against QPR at 2.1511/10 (Sportsbook)
Monday, 20:00
Live on Sky Sports 1
If I fell out of a boat, I wouldn't hit the water. That's how woefully out of form I am at the moment, and I need to sort it out because sooner or later these other editors are going to find a bit of form and leave me behind.
So I turn my attention to Goodison Park and more specifically, Everton. True, the Toffees aren't in mind-blowing form at the moment, but they're way too good for QPR, who, shorn of their best striker, have an utterly dreadful record on the road anyway and aren't likely to get anything out of this game.
I'll take the handicap on Everton to give myself a better price, purely because Rangers' sum total return for all their away games this season is 0 points and just two goals. Roberto Martinez's men should be able to use this game to get back on track. For my P/L's sake, I hope they do. 
Luke Moore 2014-15 P/L: -£54.30

Dan Thomas
Back Aston Villa to beat West Brom at 4.03/1
Saturday, 15:00
It's a straightforward one for me this weekend. Villa's price to beat a woefully out-of-form West Brom on Saturday looks simply wrong so it's where my tenner is headed.
The Baggies have picked up just two points in their last five home games - and have only scored in one of their last five overall - while Paul Lambert's men are unbeaten in five and looking for their third win on the bounce.
The longer term trends are also in Villa's favour, with just two defeats to their west Midlands rivals in the past 16 Premier League meetings.
Alan Irvine's men have been starting far too slowly in games - conceding the highest percentage of first half goals in the top flight this season (60%) - while Villa are the polar opposites, scoring the highest percentage of first half goals (80%), so everything is in our favour. 
Dan Thomas 2014-15 P/L: -£72.70

A £10 bet is placed on each selection on Betfair's Exchange. Profits are calculated before commission.
Editors 2014/15 Season P/L
1. Joe Dyer: +£16.80
2. Mike Norman: -£27.60
3. Luke Moore: -£54.30
4. Dan Thomas: -£72.70
Discover the latest articles
Read past articles