Dimitar Berbatov: A 'painful' defeat for Spurs and United can get a replay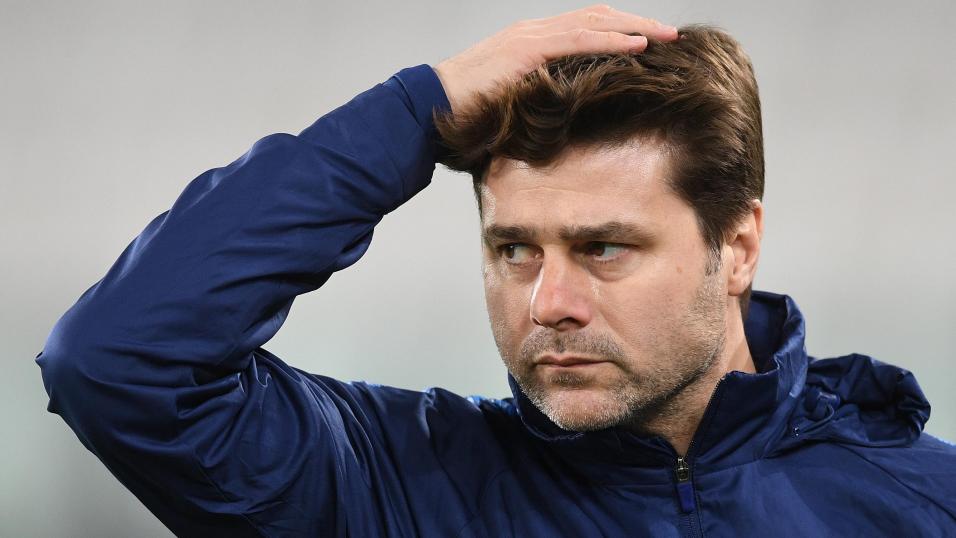 Maurico Pochettino has plenty to ponder right now
Betfair Ambassador reflects on yet more semi-final heartache for Tottenham, ponders whether Spurs need to dip into the transfer market, and looks ahead to the Friday night FA Cup showdown at the Emirates...
"Tottenham need a good player, obviously, but an intelligent player too, as he is going to need time to adapt to what Pochettino wants from him. Add pace and technical skills and whoever that player is he will be f***ing expensive!"
Familiar pain for Spurs faithful
It's another tough day to be a Spurs fan. Any semi-final defeat is hard to take but to do so at your big rivals makes is especially painful and once again lots of people are talking about Spurs' failure to get to a cup final and the chance to end the long wait for a trophy.
I thought it was an even game and there's no shame to have gone out as they did. Spurs did well to come back from 2-0 down and they had their chances to add a second once Fernando Llorente had scored the equaliser, they'd pushed on then and were braver on the ball. Of course Chelsea had the opportunities, too, and it was all about taking your chances. Unfortunately, Llorente had a great chance to score his second in the match when put through by Christian Eriksen but couldn't take it.
Overall, it was closely matched and I don't think either team was significantly better than the other over the two legs. I'll forgive most teams for losing on penalties because any player can miss a spot kick.
Silverware drought goes on
But it was painful for me. Like every Tottenham fan I want to see this Spurs side break through and win some silverware. Mauricio Pochettino is building a great team and he's a great manager but what is this without trophies?

This is the latest 'close shave' for Spurs under Pochettino, and it's a tough one to take. But you know, that's football.
Everybody is talking about Spurs' 'failure' to win a trophy, outside the club but inside it, too, I'm sure, and at some point it is going to get heavy. People will get increasingly angry and irritated the longer it goes on because the media love to talk about it, and rival fans especially love to talk about it.
Football players want to win trophies and I'm sure everyone in the club is doing everything they can to get to finals and do that but at the moment it is not quite happening. That constant pressure will build, believe me.
Strengthening is so tough in this window
Of course, it's a good thing that Tottenham are competitive against the best and have continually come close, but at the same they have players who should be playing in finals.
Without Harry Kane, Dele Alli and Heung-min Son, Spurs' football was more direct last night but they were still able to bring on Lucas Moura as a replacement for Llorente and that changed Tottenham's style significantly. Even without their star players upfront they can play different styles.
8 - Fernando Llorente has scored eight goals in his last five starts for Tottenham in all competitions. Deputy. pic.twitter.com/uDLvRpC8Iz

? OptaJoe (@OptaJoe) January 24, 2019
But as the transfer window is open people will obviously talk about a lack of signings at the club, especially now Kane is out for the next few weeks.
It's so hard though! Tottenham need someone who is going to fit straight into their system and that means they need to be really careful with who they buy. They need a good player, obviously, but an intelligent player too, as he is going to need time to adapt to what Pochettino wants from him. Add pace and technical skills and whoever that player is he will be f***ing expensive!
And when you factor in that any striker they buy will almost certainly be a back-up to Kane and it gets even harder. It's easy to say that they need some new signings, but they need the right one and I honestly don't know who that is!
The papers always have an idea of course, but they've been making mischief with Tottenham transfer targets this week suggesting one of West Ham pair Andy Carroll and Marko Arnautovic would be joining my old club.
Carroll is very similar to Llorente so that doesn't make any sense to me. Arnautovic would be a better fit but it looks very unlikely. The Austrian is good on the ball, quick in the first couple of metres and has a great shot. He is confident, you can see in his body language, but I can't see him settling as Kane's understudy and there are obvious issues regarding his salary not to mention West Ham selling their star player to Spurs.
Malcom has also been mentioned but he is more a winger, similar to Moura, and it's not a move that I see happening.
The other option is for Spurs to go for an older, more experienced talent on loan until the end of the season. Someone who is in good shape but realistic enough to accept a bit-part role behind Kane. It worked for me when I moved from Fulham to Monaco in the January transfer window after Falcao suffered an injury. I enjoyed myself straightaway, scored goals and ended up signing for another season.
Who is the current Berbatov though? Again, I don't know. It just highlights what a tricky time it is to buy a player.
In the end maybe Spurs won't buy anyone. It's not like it hasn't happened before of course.
Palace next up for tired Tottenham
Whether they sign anyone, Tottenham need to get up and dust themselves down because a lot of games are coming their way, starting with Crystal Palace in the FA Cup on Sunday.
This is a really serious situation for Spurs. There's not much room for manoeuvre in the squad and it's about how Pochettino prepares the few players he has fit and healthy as they are going to be tired, physically and mentally.
Starting with the Chelsea match, some of the Spurs team will play three games in seven days. It's a crazy time and you must be mentally strong to get through it. Mistakes can irritate you a little more than usual, your passion can be a bit lower and your smile can disappear. You may not train so much as the games come so fast. It's very intense.
And now Spurs have another London derby to contend with. It's never pleasant playing Palace as they have good players and have shown they can compete with the best.
A lot will depend on team selection here - Palace are still fighting relegation - but if both teams put out strong XIs then I see it ending in a low-scoring draw.
Emirates outing should keep United motivated
United are on an incredible run of games. But now they face a huge test - Arsenal are a very tough team at home as Chelsea learnt last weekend.
I always liked to play at Arsenal - you step out of the bus and it's a great stadium; the dressing room is great; you step out on the pitch, the grass is unbelievably good. So you start telling yourself 'all the things we want as a football player are here, the only thing left is for us to play football and enjoy'.
That set me off mentally and got me ready for a big game.
Will both teams 'respect' the cup and put out their best teams tonight? We don't know for sure although David de Gea sits this one out as he's being rested. I'm not too concerned by that though as I know Sergio Romero from Monaco and he is great goalkeeper.
Managers often rotate for the cups but even if they do this should be a great game, they usually are between Manchester United and Arsenal.
The Gunners are fun to watch and I really like Unai Emery's style of play. They have great pace upfront with Aubameyang and Lacazette which is really dangerous. But the confidence must be so high in the United camp, and this could be explosive.
I'm sure Ole Gunnar Solskjaer has been trying to keep United's feet on the ground despite this great run of wins, however you can see the confidence right through the team, they play and run from the back through to the front.
The biggest difference is Paul Pogba, everyone can see that. He's playing with such enjoyment and confidence right now and it's great to see. It looks now like he relies and trusts those behind him to cover his attacks and those players trust him to deliver when he's going forward.
I have to mention Marcus Rashford, too. He is unleashed! He's taking people on, running everywhere, shooting, scoring. It's a joy.
But there's been a change right across the XI. It's like the team has suddenly realised: 'Hold on, we're Manchester United. When we line up in the tunnel the other team is going to respect us because we are the best.'
It should be a phenomenal match tonight but it wouldn't surprise me if it finished level and we had a replay at Old Trafford.

Win £1,000,000 by picking six correct scores!
Get involved with our free-to-play Football Jackpots this weekend for your chance to win £1,000,000. Here are Dimitar's predictions to hopefully point you in the right direction...
Newcastle 1-1 Watford
Portsmouth 1-2 QPR
Brighton 1-0 WBA
Millwall 2-1 Everton
AC Milan 1-3 Napoli
Crystal Palace 0-0 Spurs