Dimitar Berbatov: Spurs must shrug off fatigue or they will stumble against United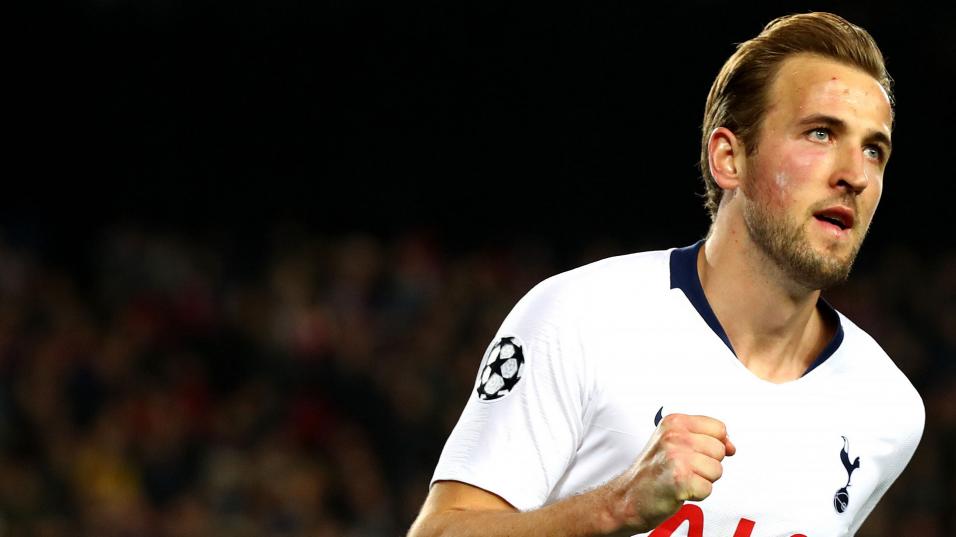 Harry Kane and Spurs need to be fresh for the visit of United
Dimitar will be at Wembley to see two of his old teams go to battle in a huge game for both's Premier League aspirations. Get his thoughts on the game here...
"Both teams need to be clever - Spurs must find a way to be fresh, United have to use any fatigue the opposition shows to their advantage - and that's why this is going to be such an interesting game to watch."
Wembley could serve up something special
I'll be at Wembley for the game on Sunday. I'm going as a fan and I am really looking forward to seeing something special.
Both teams come into this game in strong form and must keep winning as we approach the business end of the season.
But given that form I'm surprised that the Betfair odds are so far apart with Spurs strong favourites - the hosts [2.14] to win on the Betfair Exchange compared to [3.75] on an away victory.
I suppose if we take a season-long view then it's right that Spurs are the favourites, but judging it from the last five games makes it very tough. United have played so well under Ole Gunnar Solskjaer, winning all five games across the league and FA Cup. They have entertained us and look so confident all of a sudden. If we just go on that evidence this should be pretty much even.
Beating Chelsea will have taken its toll
I watched Spurs on Tuesday night in their 1-0 defeat of Chelsea at Wembley. It wasn't a classic performance by any means but sometimes that's what you have to do and it's the result that comes first.
This is Chelsea don't forget, a very good team that is always going to put pressure on you, with good players right across the pitch. They did that but Spurs were the ones who came out with a win that edges them a bit closer to a cup final. That's what big teams do sometimes - win ugly.
United will be fresher
One thing we know for sure is that Spurs will field many of the same players who featured on Tuesday night. There may well be a bit of tiredness in the group and United need to use that to their advantage. If they are clever and keep the ball, speeding up the game when possible and exploiting any space then they have a chance to defeat Tottenham.
United have spent the week in Dubai while Spurs have been playing another tough 90 minutes. Those weeks of warm weather training are great. You are with the boys, joking around, doing what you love to do and training with a smile on your face. At the same time, you're getting ready for the next game. You are with your other family, recharging your batteries. I know they will be prepared for the game and let's see if they can use that freshness to better Spurs.
Both teams need to be clever - Spurs must find a way to be fresh, United have to use any fatigue the opposition shows to their advantage - and that's why this is going to be such an interesting game to watch.
There's a chance that Spurs won't feel tired of course. Big players always want to play and the adrenaline of a top fixture, especially when up against a club like United, may keep them going.
Attacking flair should decide it
It's tough to pick a result but we do know that a draw wouldn't be helpful for anyone here. Spurs need to stay close to the top of the table, and United fighting for that fourth spot. In both cases these clubs trail the opposition.
As a former player for both sides, it's hard for me to pick a side here. I am surprised that the odds put them so far apart and United do have that small advantage in terms of resting and preparing for the game, while Spurs are almost certainly feeling some tiredness in a relatively small squad.
With plenty of pressure on both sides to win there's a chance we may see a bit of a cautious opening to the match, and it could be tactical but that depends on what he coaches say. Sir Alex always wanted us to enjoy ourselves and we usually entertained the fans!
Ultimately, I do think we'll see goals for both sides. There's so much attacking quality in both sides - Harry Kane, Anthony Martial, players who can score from nothing - that it's hard to see a clean sheet for either side.
And given they both need the three points it's hard to see it ending as a stalemate. There could be a late goal or two as both push for the win. If pushed and I had to pick a final score I would plump for a 2-1 Spurs win.
Time to see how good United are
Ole's made a fine start at Old Trafford. You'd expect an ex-player, a club legend, to get the respect and attention of the squad but after that it is about what you tell them, how you communicate it and put it into play and you need to be clever in that sense. For the moment everything looks great under Ole. United are scoring goals and playing well but, with all due respect to the teams they've played before, this is their first serious test
I am really curious about this game and I'm looking forward to it. Spurs are a great barometer of how far United have come under Ole, while a win over United would complete a league double for Spurs and keep them on the coat-tails of Liverpool and Manchester City and ahead of Chelsea.
From time to time I go to Carrington and I hope to drop in at the club again soon, just to check how training is going and see some old teammates. I like to speak to the gaffer who is in charge as it's always good to learn and develop. This is my goal now.
First £200m transfer inevitable
The January Transfer Window is open and the sums I am reading about are incredible. It goes to show that football is business now.
My father was a player and I can remember accompanying him to his various different clubs and believe me they played purely because they loved football. Now we play because we love football but business - and politics too in some places - is involved at all stages and fees have taken off. More than £200m for a player? Woah! For me it's too much for one player but in today's world you never know. Barcelona, Real Madrid, Manchester United - they can all afford to pay that money - but it's not necessary, it's too much money.
As interest grows from Real Madrid, Tottenham chairman Dany Levy has placed a huge £225m price tag on Christian Eriksen...

That is more than the transfer fee's of Cristiano Ronaldo and Paul Pogba combined.#COYS pic.twitter.com/tzo5LDLnEY

? TheSportsman Transfers (@TSMTransfers) January 9, 2019
But I won't be surprised if the £200m barrier was broken soon. Clubs are paying that sort of fee and the competition is intense for the best. And in any deal there are plenty of people looking for a cut throughout the process.
The pressure on a player who was sold for that sort of money would be intense. Everybody would expect that man to perform, and do unbelievable stuff on the pitch but if that player was not mentally strong it will show in his game. If that player has a poor run, if only for a couple of games, then it could really affect him, but someone is going to have to deal with that pressure soon.
Win £100,000 by picking six correct scores!
Get involved with our free-to-play Football Jackpots this weekend for your chance to win £1,000,000. Here are Dimitar's predictions to hopefully point you in the right direction...
Leicester 1-1 Southampton
Palace 1-0
Burnley 2-0 Fulham
Sampdoria 2-1 AC Milan
Everton 3-1 Bournemouth
Spurs 2-1 Man Utd