Dimitar Berbatov: Good signs for Spurs despite Messi masterclass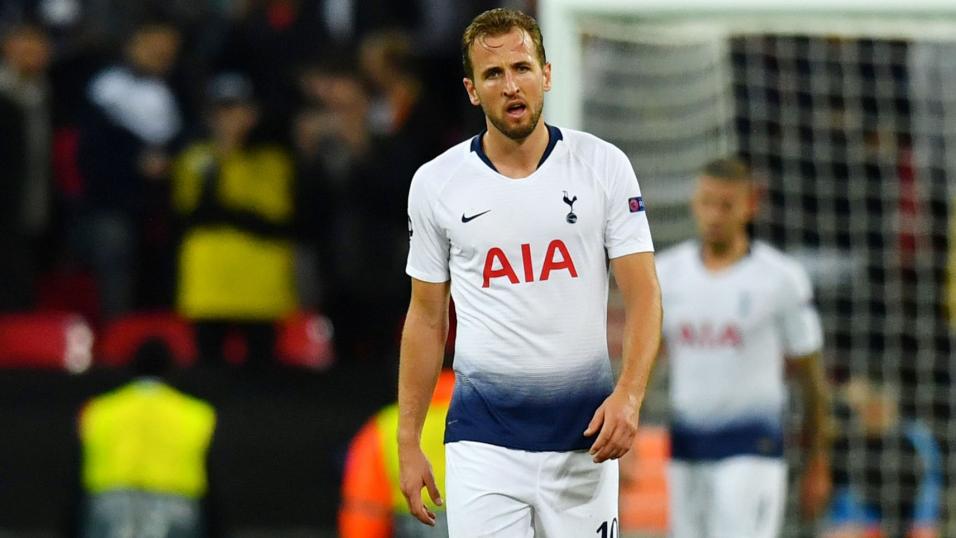 Harry Kane scored a great goal against Barcelona in a game that will have taught Tottenham plenty
It's not been a great week for English clubs in the Champions League and Dimitar Berbatov looks at all four in his weekly column for Betfair...
"Spurs showed us some good signs, and I was happy to see the reaction when they were 2-0 down and scored a goal – a great one by the way from Harry Kane – you could see the belief and the fighting spirit. And we saw it again when they brought it back to 2-3."
Spurs must keep fighting in Champions League
I was hoping Spurs could do something special last night. They fell short in the end but it shouldn't all be doom and gloom. Tottenham must not give up in the Champions League and they have to target qualification even if it looks unlikely right now.
There's no shame in losing to Barca, they will do this and worse to many other good teams this season. You need to test yourself and you need to test yourself against the best - like the saying goes 'If you want to be the man, you've got to beat the man!' Tottenham can learn a lot of lessons from the game.
Spurs showed us some good signs, and I was happy to see the reaction when they were 2-0 down and scored a goal - a great one by the way from Harry Kane - you could see the belief and the fighting spirit. And we saw it again when they brought it back to 2-3.
It's going to be difficult but they have to push on still in Group B. Don't give up, never give up. Spurs are not weaker than Inter or PSV. The six points doesn't matter, football changes in the click of your fingers.

They need to challenge in Europe and I hope they can test themselves in that group and get to the knockout stages again. The Premier League is going to be difficult but I still see them making the top four.
And as for silverware they still have the cups but they might suffer from an overload of fixtures, such as the four games in eight at the end of October and start of November. It's common problem for a big club, but it's tough. Once the FA Cup starts a team can be playing four competitions at once. Do you know how hard that is? Unbelievably hard.
It is going to be a huge test of Mauricio Pochettino's management skills - to know how to prepare his team to be in the best shape to win each of those games. All games are important, and obviously you don't want to lose any. Juggling player fatigue on and off the pitch, how to train, it's so hard.
Spurs have been criticised for their lack of transfer activity and they do look a little thin at the moment without Dele Alli, Christian Eriksen and Jan Vertonghen to name three, but there are problems that come with having a massive squad - dealing with egos when players aren't starting for one. Managers have to be psychologists as well as tacticians.
Sir Alex Ferguson earned the right to tell any player to f**k off but he had mellowed a bit by the time I arrived at Old Trafford, so Giggsy tells me anyway. He used a different approach for every player when he told them who was in or out of the team, how we were supposed to play, and as we know he knew how to do it better than most.
When you're a player you don't appreciate how difficult it is to deal with all the egos on top of everything else - because it's a 24/7 job - but now when you're on the outside you realise what a nightmare you can be. But if that anger comes from an ambition to achieve and win and help your team then it's ok.
Wembley pitch lets Tottenham down
The pitch at Wembley wasn't good enough yesterday. The Anthony Joshua fight looks to have caused some damage, everyone could see that. And Barca benefitted from it, they pressed Spurs and that exposed the home side when they were trying to pass their way around the pitch. Ok, the pitch was the same for Barcelona but maybe they are just a tiny bit more technically gifted than Spurs.
Barca's fourth goal was an example - they pressed high up the pitch and forced Kieran Trippier's pass to Moussa Sissoko, which I can only describe as 'shit', because it was so difficult to control. Barca took the ball, broke on Spurs and it was game over.
The two NFL games in October aren't going to help the pitch's condition especially with Manchester City - the most Barca-esque team in the Premier League - playing the day after the Phliadelphia Eagles v Jacksonville Jaguars.
Do Manchester United want recovery too much?
I am not at Old Trafford any more, I am not at the training ground, I don't speak with the manager or the players, but looking from the outside, it's not good to see how they're performing right now. As a former player it's painful because you want your team to win all the time.
But as I said before it's not easy to be a manager these days dealing with all these players, all these egos, because big players have big power these days.
I'm sure everyone at the club is doing everything they can to resolve this small crisis they are in. I still cannot imagine any Manchester United player not putting his all in to turn it around. Players want to enjoy their football and talk up their performances.
On the pitch I honestly think they want it so bad that they're trying too hard and it's not coming naturally. You could see the way they were running around against Valencia chasing and fighting to show how much they care. But too many players were over-complicating matters, taking too many touches. It will come eventually but until that moment arrives I think United must keep it simple and let it come to them.
Will United sack Mourinho? I don't know but I honestly don't think changing managers all the time is the solution.
It's Newcastle at Old Trafford this weekend and, on paper, that looks like a great chance to snap a four-game streak without a win.
But sometimes playing at home can be even more difficult than playing away. When you're not at your best, the stadium is full and the fans aren't happy, and things aren't happening on the pitch it can be a horrible experience. The other team are away from home, they don't care, anything they get from the game is a bonus. For you, the pitch gets smaller and smaller, the fans get on your back, you put even more pressure on yourself. Every mistake leads to another mistake and self-doubt because we are all humans and we start sabotaging ourselves! It happens to every team in football.
Against Newcastle I hope United can get a goal in the first 15 minutes to give them self-belief, assurance and calmness on the ball. I saw it in the last game that they want to put on a show for each other and the fans.
But Rafa Benitez will tell his players that now is the best time to play Manchester United and he will have spent the last week telling them that.
Maybe I am speaking with a bit of bias but I predict that United will win this, but it won't be easy and it will be close.
Time for Manchester City to snap Liverpool hoodoo
Sometimes you have to trust the statistics and they are pointing strongly to Liverpool defeating Manchester City on Sunday.
Liverpool have the legs to press and they know how to press, Jurgen Klopp has taught them how to do that.
In recent games I've been surprised to see how well Liverpool have pressed City, because Pep Guardiola's side can control the ball so well, like a mini Barcelona.
But Liverpool are so powerful, they run like crazy. They don't press the whole game but for certain periods they do and it can cause chaos. And it has been enough to beat City three times. There must be something there, they have found some weakness and taken advantage of it. And Jurgen Klopp will no doubt be mentioning this to his players!
But I do like how City play football at the moment, this is how the game should be played, and a team as good as City losing four times in a row to any team would be something incredible so I'm leaning towards a draw featuring goals because there have unbelievable players on both sides. A final score of 2-2 looks about right to me.
When you have Sane, Aguero, Sterling on one side and Firmino, Mane and Salah on the other then it's time to get the popcorn out and enjoy!
Messi turns on magic but Barca are a proper team
Another Champions League night and another Lionel Messi masterclass has made Barcelona joint favourites to win the competition alongside Manchester City, but I do like the look of Ronaldo's new club.
Barcelona are right up among the Champions league favourites every year, which is fully deserved. And while they have Messi they will be up there year after year, but as we know they don't win it every year so let's not rush to crown them quite yet.
Barcelona are a well-oiled machine. When Spurs scored their first goal last night to make it 1-2, Barca did not panic at all. They are helped by the genius of Messi but the whole team always believes they can control the game and pass their way to another goal, and that's exactly what they did. Within minutes they had a two-goal lead again.
Of course, Messi is unbelievable but it's not just about him. Both Messi's goals against Spurs were made by Luis Suarez, because he knew where his partner was and was able just to leave the ball. It's hard for a striker not to be selfish but it's a great gift to have.
And even though he scored two great goals, one of the things I most enjoyed about Messi's performance was that pass for the first goal – inch-perfect! Probably only five players in modern football can do a pass as good as this.
This is what makes football special. He sliced the defence open in one go and caused havoc in the Spurs defence.
I don't know if missing out on FIFA Player of the Year has motivated Messi to such high levels. But if he is motivated by winning the individual prizes then that's great for us because we are getting to watch more greatness!
So will Messi power Barca to a Champions League win? Well, Barca fans may not like it, but I have to put Juventus up there, too. Yes, they have Ronaldo now, but Pablo Dybala is seriously talented and their overall performance of the team is great. Ronaldo brings the finishing product but the team is very balanced behind him. If Juve face Barcelona that would be very interesting!
I always like Barca. I love the way they play football, the way they keep the ball, they put the opposition to sleep with pass after pass after pass, and while they are putting you to sleep they are checking where the spaces are on the pitch and all of a sudden – bang! – they are there, Messi exploding onto the ball and they're ahead.
It's simple football they play – one-two passes, moving up the pitch with short interchanges – and because they have Messi on the pitch it is, of course, that makes it that little bit easier for them.
Real can go deeper than Atletico
Real suffered an upset on Tuesday and I was as surprised by the result as much as anyone else. The coach must be so angry about the goal CSKA scored because it was a major individual error to gift the hosts a lead.
It's the first year without Cristiano Ronaldo for Real, but I don't think his absence should affect the team, this is still Real Madrid we are talking about. The main man is not there anymore but it's time for the other players to show they are worth a place in the Real Madrid first XI. Take the chance and show you are worth the place in the team
I like Atletico Madrid. It's a major achievement of Diego Simeone to stay at the club since 2011, he's doing something right to keep his spot for so long. His team is similar to Liverpool, high pressure, running all the time, like bulldogs trying to bite you.
But even though they've been finalists twice in the last five years I think other teams will stay in the competition longer, and that includes Barcelona and Real Madrid.