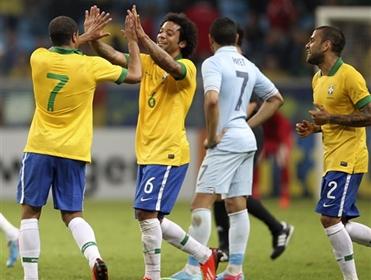 Are Marcelo and Dani Alves proving a weakness for Brazil?
It's not often that a national side with two flamboyant, forward-surging full-backs, is a weakness, but Jonathan Wilson explains why that is exactly the case fur this current Brazil side...
"It's easy to imagine well-structured teams with quick wide men shredding Brazil on the counter-attack."

There is a theory that home advantage may actually turn out to be much of an advantage for Brazil at the World Cup next year. If things go badly, if they start the tournament slowly, there is a very real possibility that the pressure of an expectant home crowd could become inhibitive.
What the Confederations Cup has shown, though, is the other side of the coin: Brazil's win over Mexico on Wednesday night was essentially decided in a 15-minute opening storm that, if not generated by the home crowd and a spine-tingling rendition of the national anthem, was at least sustained by it.
Mexico, their confidence rocky anyway after a run of just one win in their previous ten games, desperately battened down the hatches and probably deserve credit for having come through the storm just a goal down. Dani Alves and Marcelo piled forwards from full-back, Paulinho drive forward through the middle, and Neymar and Oscar combined beguilingly. That is the best of Brazil.
The problem was that after the initial surge had subsided, the worst was also evident. Marcelo essentially lifted Mexico back to their feet by dallying in his box, offering an opportunity to Hiram Mier. Although he missed it, just having a shot seemed to encourage Mexico, to reassure them that they could survive.
A lack of ruthlessness, though, is just part of it. The structure of the team, as it stands at the moment, is desperately flawed. Neymar, clearly, is a prodigiously talented player, but he doesn't track. He scored one goal with a - slightly mishit - volley and set up the other with a brilliant run so perhaps you forgive him but Mier did at times pose a threat down the right. He should have been Neymar's man and the problem was compounded by Marcelo's inadequacy as a defender.
Like Dani Alves on the other side, he is superb at making runs from deep, a good technical football with impressive stamina. But both need to play for teams who will dominate the ball, teams who have a defensive structure that can cover for them charging forwards.
Both, frankly, need to play for teams that have a more conservative full-back on the other flank, or at least have wide forwards who are prepared to fulfil their share of the defensive duties. Hulk and Neymar would leave conservative full-backs exposed; with Marcelo and Dani Alves, they leave space exposed which is even more dangerous. It's easy to imagine well-structured teams with quick wide men shredding Brazil on the counter-attack.
In theory the two holding midfielders could fill the spaces - as they would in a classic Brazilian 4-2-2-2 - but, as yet, the understanding isn't there. This has been a persistent problem for Dani Alves with the national side. He is a perfect fit at Barcelona, where he adds width and depth to the attack - a useful weapon when facing massed defences - but there he has Gerard Pique who is adept at sweeping up behind him as Sergio Busquets drops in to fill the centre-back's position.
The issue was apparent at the Copa America two years ago, particularly in the group game against Paraguay. Then, Marcelo Estigarribia, who was on loan at Newell's Old Boys from Le Mans, tormented Dani Alves to such an extent he earned himself a move to Juventus. Back then, Maicon looked the safer option - a defender who could actually defend; his lack of pitch time at Manchester City, though, means that he isn't really in a position to step in.
Mano Menezes, Luis Felipe Scolari's predecessor, seemed to have found an innovative solution in the friendly against Japan last October, using Neymar as a false nine, allowing him full freedom to be creative without burdening him with defensive responsibilities. Kaka came in on the left - a much more diligent player than either Hulk, who retained his place on the right, or Neymar.
Scolari, though, is essentially old-fashioned in outlook, and has returned to a more traditional centre-forward in Fred. As a result, the flanks remain a major weakness.

Recommended Bet
Lay Brazil to win the Confederations Cup @ [2.72]