Football League: Birmingham still above evens to drop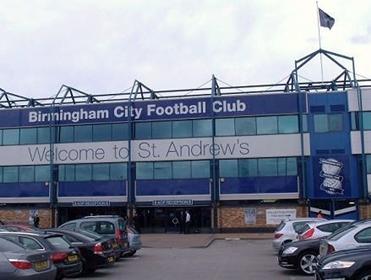 The next St Andrew's league match may be in the third tier
For the last time this season, Michael Lintorn assesses the Football League promotion and relegation permutations...
Championship
Automatic promotion
Leicester are confirmed as champions and will reach 100 points if they at least draw at home to Doncaster. Burnley are certain to finish second, trailing Leicester by seven points, but leading Derby by eight.
The play-offs
Derby, QPR and Wigan are definitely there, with the former two locked into third and fourth. Wigan need a point at Blackburn to secure fifth and face QPR rather than Derby. Reading are sixth and must beat Burnley to ensure a play-off berth at 1.331/3. Brighton, who visit Nottingham Forest, are 3.711/4 and a point back, with Blackburn three points off the pace. Rovers must defeat Wigan, pray that Reading lose with a seven-goal swing, and that Brighton either lose or - if the Seagulls draw - that they gain seven goals on them too.
The survival scrap
Barnsley and Yeovil are down, leaving four teams to squabble over the final League One spot: Blackpool (46), Millwall (45), Doncaster (44) and Birmingham (43). Birmingham are an enticing 2.186/5 despite requiring either a draw at Bolton and a Doncaster loss at Leicester or a victory coupled with Doncaster 2.111/10 or Millwall 15.5 failing to win or Blackpool 60.059/1 losing. The Tangerines will hope for some charity when hosting newly-safe Charlton, while Millwall tackle ninth-placed Bournemouth.

League One
Automatic promotion
The top-two slots have been assigned. Wolves can't be caught on 100 points, while Brentford's 91 points guarantee them second.
The play-offs
Preston, Leyton Orient, Rotherham and Peterborough have snared the play-off positions, but who meets who is undecided. Preston will earn third and a double header with ex-boss Darren Ferguson's Peterborough if they win at incentivised strugglers Crewe - a 2.767/4 prospect - though Leyton Orient and Rotherham are two points back and ready to pounce on any stutter. They visit MK Dons and Swindon respectively.
The survival scrap
Shrewsbury and Stevenage have been relegated, yet Carlisle (45 points) and Tranmere (47 points) fight on, plotting to drag in Crewe (48) or Notts County (49). Colchester have 50 points, but a strong goal difference to keep them clear. Carlisle's only route out is to win by a few goals at champions Wolves and for Tranmere and Crewe to be defeated, so they are judged 1.011/100 miracle-pursuers. Tranmere's prospects are healthier as they welcome mid-table Bradford, whereas Crewe play Preston and Notts County visit in-form Oldham. Rovers are 2.111/10, Crewe are 2.35/4 and County 6.411/2.

League Two
The title race
Chesterfield (81 points), Rochdale (81) and Scunthorpe (80) are all up, yet the destination of the title is unknown. The league-leading Spireites are the form candidates and control their destiny at home to fourth-placed Fleetwood, so are 1.695/7 to top the table. Should they slip, Rochdale 3.953/1 are at Newport and Scunthorpe 6.25/1 - beaten for the first time since mid-November last week - host York.
The play-offs
As in League One, the participants are established - Fleetwood 3.052/1, Burton 4.1, York 3.8514/5 and Southend 4.47/2 - whereas the semi-final fixtures are not. Fleetwood (76 points) are sure of fourth whatever happens, so are playing for momentum at Chesterfield. Burton (72) are vulnerable in fifth though and will be overtaken if they lose at Southend (69), falling to seventh if York (70) triumph at Scunthorpe. A Minstermen win coupled with a Southend v Burton draw will see York fifth, Burton sixth and Southend seventh.
The survival scrap
Torquay (45 points) are gone despite a late rally and will bring 47-point-wielding Wycombe 1.192/11 down with them if they avoid defeat when entertaining them on Saturday. However, if the Chairboys prevail, it is time for 50-point duo Bristol Rovers 10.09/1 and Northampton 8.07/1 to panic. Both can render any Wycombe heroics meaningless by holding Mansfield and Oxford at home respectively. Rover's superior goal difference means it would take a reverse, a Wycombe win and a Northampton draw to doom them.
Discover the latest articles
Read past articles