Bolton and Blackburn lead great Lancastrian boss hunt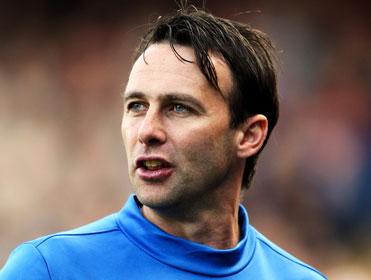 Dougie Freedman is expected to leave Crystal Palace for Bolton
With three of the Championship's four B-initialled Lancashire teams all currently managerless, Christian Crowther looks at the possible candidates...
"Dougie Freedman took over in January 2011 and caught the eye with the Eagle's League Cup run, reaching the semis."
It could be the weather in the north-west or perhaps there is a conspiracy theory in the offing as three of Lancashire's big clubs drift along rudderless in England's second tier. One thing is certain: each club needs a new captain at the helm if any of these clubs want to steer their promotion bids back into safer waters.
Bolton
Bolton parted with Owen Coyle after ten games when relegation was starting to look a more plausible prospect than promotion. Now Phil Gartside is lining up Crystal Palace boss Dougie Freedman to kick-start Bolton's Championship campaign with the London club granting the Scotsman permission to talk to the Trotters on Monday. Freedman is an interesting choice to try and revive Bolton's 6.3 rated chances of an immediate return to the Premier League, especially as Palace was his maiden job in management. The 38-year-old took over in January 2011 and caught the eye with the Eagles' League Cup run, reaching the semis. He has now guided Palace to fourth place in the Championship after 12 games but with such embryonic credentials, it's a massive risk for Bolton - rated at 3.211/5 to make it successive wins at Wolves - to put their faith in him. Similarly, it seems very early for Freedman to put this kind of pressure on his sprouting career when things are going so well at Selhurst Park.
Blackburn
All the talk at Ewood Park since the departure of Steve Kean had centred on attempting to prise club legend Tim Sherwood away from his role at Tottenham. However, it seems Spurs are quite adamant they want to keep their man or be handsomely remunerated for letting him go and attentions have now turned to another backroom target in the form of Fulham coach Billy McKinlay. Early indications show Fulham, like Spurs, want to keep hold of McKinlay, who has a reputation as one of the most promising coaches in the game at 43. Blackburn haven't won a game since Kean's exit and are now rated at 13.5 to claim the Championship crown from their current position in 10th. It makes it seem all the more strange that Rovers would invest a reported £8 million in Jordan Rhodes and then opt to go for low-expense targets for the main role with no managerial experience.
Burnley
Burnley have lost their manager to Bournemouth after Eddie Howe cited personal reasons for leaving the Clarets to return to the south coast. Burnley currently lie in 15th position, though given the concertinaed nature of the Championship, they are still only five points off the play-off places with their chances rated at around 27.026/1 to get back to the Premier League. Portsmouth manager Michael Appleton is the favourite to replace Howe after the club ruled out a return for former boss Owen Coyle. Burnley are currently priced at 2.942/1 to triumph at Bristol City following their win over Blackpool.

Read past articles