Champions League: The digits behind Man City's misery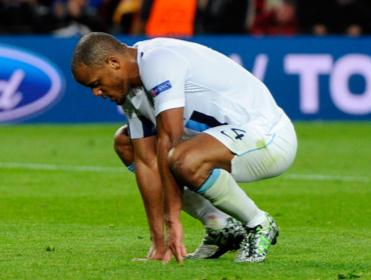 Vincent Kompany has been part of all four of Man City's disappointing Champions League campaigns
Michael Lintorn reflects on how Man City are presently on their worst ever Champions League run...
"Nine of the players who started Man City's first match in the competition at home to Napoli remain regulars: Hart, Kolarov, Kompany, Zabaleta, Toure, Nasri, Silva, Dzeko and Aguero."
Somehow, nothing about Man City's latest night of Champions League calamity felt as shocking as it should have been.
Not the home reverse to a CSKA Moscow team who they beat twice last season - 7-3 on aggregate - nor even the double sending off of Fernandinho and Yaya Toure. Indeed, that was a quite welcome development given that our Opta preview flagged up Man City earning more booking points at 3.2.
Instead, the real surprise was that, despite collecting only two points from their first four Group E fixtures, the Premier League champions are still just about standing. Aided by Bayern Munich being pretty special and winning all their games, the Citizens are within two points of second-placed Roma.
Two victories might see them through. It does require a massive leap of faith though to accept that a side who took one point from six against supposed weak links CSKA Moscow will suddenly conquer Bayern Munich and Roma, hence qualifying odds of 5.24/1, having been backed at 1.2 in far happier times.
They are 65.064/1 to untangle themselves from this elaborate series of knots that they have tied themselves in and recover to win the Champions League, Liverpool 2004/05 style.
One certainty is that the novice card has expired. This is their fourth successive campaign and nine of the players who started their first match in the competition at home to Napoli remain regulars: Joe Hart, Aleksandar Kolarov, Vincent Kompany, Pablo Zabaleta, Yaya Toure, Samir Nasri, David Silva, Edin Dzeko and Sergio Aguero.
In spite of that continuity - or some may soon argue because of it - they are on the brink of a hat-trick of group-stage exits, only going one round further in last term's exception, partially due to a moment of folly in the final tie, not realising that another goal would have won them the group.
Man City have played 24 Champions League encounters, losing ten and drawing six while delivering a mere eight triumphs: a cluster of five in six in the 2013/14 group stage when things finally seemed to be coming together and a double over Villarreal and win over preoccupied Bayern in 2011/12.
That is perhaps the biggest concern: things are getting worse rather than better. They had a 50% win rate in that initial attempt even though they were paired with Bayern and Napoli. In the three seasons since, they have won 28% (five in 18). The current six-game winless run is their joint-longest and the four losses in six represent the most that they have ever incurred in a sequence of that size.
As much as the inexperience excuse no longer washes, there are several valid reasons to partially explain (yet not fully justify) their lack of progress.
They have been scalded by the draw in three of their four campaigns, something that won't happen next year if they claim the Premier League title following a change to the seeding system.
Additionally, as Niall Quinn tried to observe on Sky Sports coverage, being obstructed by Jamie Redknapp, the flawed Financial Fair Play rich-get-richer rules have unfairly hindered Manuel Pellegrini's men in restricting their ability to conduct transfer business this summer.
However, while Bayern Munich, Roma and CSKA Moscow wasn't an easy draw, they have been dealt crueller hands before and ten points shouldn't have proved too problematic a target, so the free pass that they could have been granted for the 2011/12 and 2012/13 failures is no longer applicable.
Discover the latest articles
Read past articles