The Big Match Tactical View: Real Madrid v Manchester United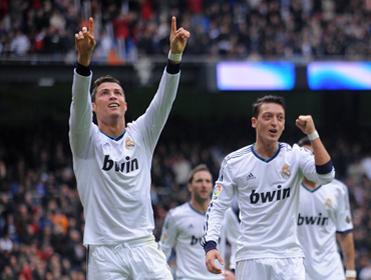 Cristiano Ronaldo and Mesut Ozil are devastating on the break
Michael Cox previews the clash between Jose Mourinho and Sir Alex Ferguson.

Real Madrid v Manchester United, Wednesday 7:45, Sky Sports 2.
Match Odds: Real Madrid 1.635/8, Manchester United 5.79/2, The Draw 4.57/2.
Real Madrid may be struggling in La Liga, with Jose Mourinho widely expected to leave at the end of the campaign, but recent displays against Valencia and Barcelona have demonstrated that Mourinho is still capable of lifting his players for big games. Manchester United face an uphill task to leave the Bernabeu level in the tie.
Mourinho's starting XI in big games is fairly predictable, and the only question marks don't significantly change the balance of the side - Gonzalo Higuain or Karim Benzema upfront, Fabio Coentrao or Marcelo at left-back. The only possible exception would be the introduction of Luka Modric in the centre of midfield - he was seemingly recruited for matches like this, to give Real extra ball-playing ability in the centre of the pitch. However, he's yet to rediscover the form he showed at Tottenham, and is more likely to be a substitute, to provide energy midway through the second half.
Therefore, this tie is all about Ferguson adapting to Real Madrid's threat, and the key features of Real's play are obvious. They counter-attack superbly. They depend on Xabi Alonso to play the first pass into the final third, and Mesut Ozil to drift around and pull opponents out of position. Finally, they're more technical on their left (with Cristiano Ronaldo, Coentrao, Alonso and even Ozil tending to play towards that flank), whereas on the right Sami Khedira, Alvaro Arbeloa and Angel Di Maria are more about mobility and energy.
So how does Ferguson respond? Taking those points in turn, the best way to prevent Real counter-attacking is, put simply, to resist attacking in great numbers. Real score an extraordinary number of goals from opposition corners, using Ozil to prompt counters and Di Maria and Ronaldo to finish the moves. Expect Ferguson to ask Wayne Rooney and Robin van Persie to attack as a duo, with only sporadic support from full-back.
As for Alonso, he'll probably be pressed by Rooney, who will drop into a midfield role when Real have possession, then spring forward when United win the ball. Alonso can be caught out by attackers dribbling at him quickly, and as the most-booked player in each of Mourinho's three seasons at Real, is generally worth backing to be cautioned. However, current odds of 2.35/4 are extremely low, and with Alonso one yellow card away from a suspension, he'll be desperate to avoid a booking here. Therefore, 2.35/4 for Alonso to be shown a card is worth laying.
Ozil will be dealt with predominantly by Michael Carrick, who must be alert to the German's clever movement, but resist being dragged wildly out of position, and let Ozil go free if he wanders too high up the pitch.
Then there's the left-sided threat, where Ronaldo is inevitably the main danger. It seems highly likely Phil Jones will play a right-of-centre defensive midfield role, having previously shackled both Gareth Bale and Marouane Fellaini in recent weeks.
But there's other parts of the equation, too - Rafael da Silva likes to stick closely to opposition left-wingers and might be drawn into central positions, so Antonio Valencia will have a big responsibility for covering that position, and preventing Coentrao overlapping effectively.
United's best chance of success is by defending solidly, then breaking forward quickly with Rooney and Van Persie. It's difficult to see - barring a surprise selection decision - how United can win the midfield battle, or which area of the pitch (other than upfront) have a significant chance of dominating.
Set-pieces, while frequently crucial in tight, tense European matches, should be attacked with caution, because of the danger of leaving spaces at the back.
In all, United would love a draw - although a 0-0 leaves them open to the possibility of an away goals defeat in the return leg at Old Trafford. 2-1 looks a decent back at 9.617/2 - this might be cautious, but with so many attacking talents on the pitch, it surely won't be scoreless.
Recommended bets:
Lay Alonso to be shown a card at 2.35/4
Back a 2-1 Real win at 9.617/2