Champions League Final Tipsheet: Madrid's psychological advantage may tell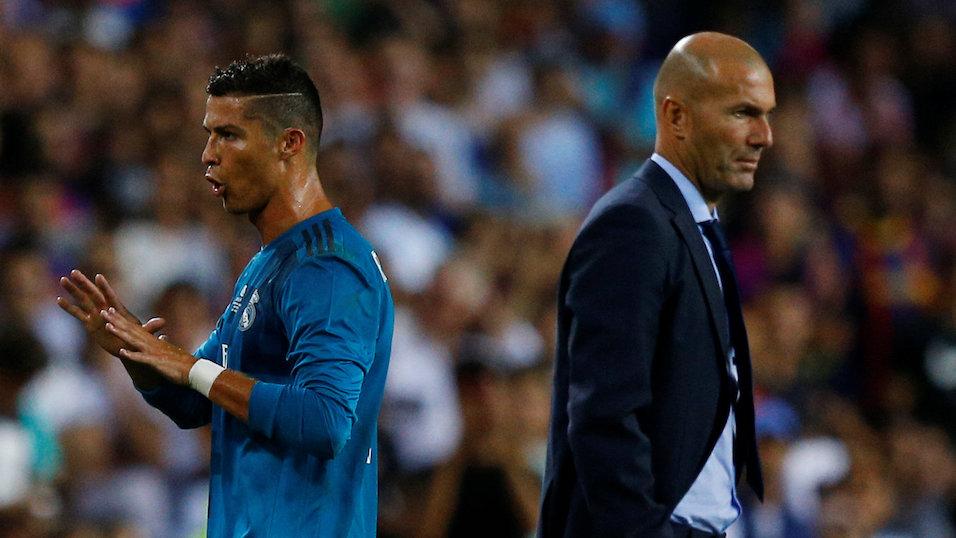 Zidane embodies Madrid's calm aura
Liverpool's whirlwind attack could catch Real Madrid in the eye of a storm, but Zinedine Zidane's team are hard to ruffle, as European football expert James Horncastle discusses...
To reach Kiev, the Merengues have had to eliminate the French, Italian and German champions. Hardly a walk in the park.

Familiarity with this Madrid side is so great we all know its flaws and weaknesses.
Marcelo for example is often highlighted as the weak link. He overcommits going forward and doesn't always bust a gut to get back.
Atletico knew this. Juventus did too. It made no difference. Madrid ran out winners and can become the first team since Bayern in the '70s to defend the title three years in a row.
Everyone thinks they can beat Madrid, few do
But the sensation that Madrid are beatable remains. Believing as much has led teams to take risks that in hindsight seem foolish.
Liverpool can play at a physical intensity opponents have found hard to live with this season. Madrid are able to match it in technical accomplishment.
Snappy first-time passes, precise and clean in delivery and reception, the skill Madrid possess allows them to quicken the game to a frightening speed.
Managing energy is crucial on occasions like this. Juventus succeeded in matching Madrid's tempo in the first half last year. But were spent after the interval.
Liverpool have to be careful that their biggest strength isn't turned into an Achilles heel. The Reds' power surges have blown teams away in a flash this season.
Electrifying 20-minute spells have shocked opponents and enabled Liverpool to establish big leads. It's rewarding but effort intensive and it shows at the end.
City almost came back from the point of no return at Anfield in the league. Options to freshen the team up from the bench are few and far between for Jurgen Klopp.
Mental fatigue a factor
Finals sap mental energy, too. The two week break between the end of the Premier League and Saturday night in Kiev will have allowed Liverpool to recharge their batteries on a physical level.
But it's an awful long time to think about the occasion and opposition, particularly for a group of players preparing for their first Champions League final.
Madrid are old hands at this lark. Historically it's routine for the club and, more recently, for this squad in particular. There is no contest in terms of experience. Madrid are playing their fourth final in five years.
They have an aura about them. A sense of entitlement from which they draw so much belief it makes them unflappable. Madrid have rode their luck at times but they couldn't have had a harder route to the final.
To reach Kiev, the Merengues have had to eliminate the French, Italian and German champions. Hardly a walk in the park.
Liverpool are a different proposition. Fast, direct, Champions League top scorers it's hard not to see them finding the back of the net. Madrid incidentally have kept just four clean sheets in 26 Champions League games. Not that it's mattered.
Ultimately they will back themselves to score too. Liverpool have improved dramatically as a defensive unit, particularly since the arrival of Virgil van Dijk. But still contrived to concede six goals in their semi-final against Roma.
Markets in no doubt that we'll see goals
Is it any wonder the 0-0 is priced as highly as [24.0] on the Exchange while Liverpool winning to Nil is trading at [8.0]. The same market in Madrid's favour is [4.0] for what it's worth.
Madrid are expected to make control a priority. It wouldn't come as too big a surprise to see Zidane field the same team as in Cardiff a year ago with a diamond in midfield and Isco at its tip rather than the BBC.
The question is who will partner Cristiano Ronaldo: Karim Benzema or Gareth Bale? We all know who Ronaldo is more comfortable with. The Portuguese is Benzema's biggest fan. But Bale is in better form and offers more on the counter-attack.
A spectacular final awaits us. While Madrid winning in 90 minutes has an appeal @ [2.22], a more attractive bet is a Madrid win and Both Teams to Score. Why not take that @ [3.65]
Read all our Champions League final coverage here