Real Madrid v Liverpool: The best #OddsOnThat bets for the Champions League final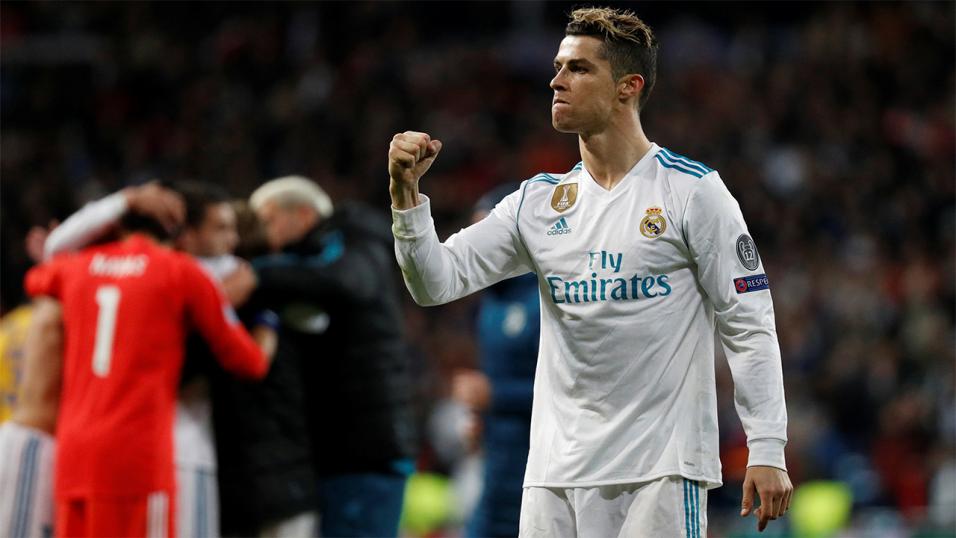 Cristiano Ronaldo scored twice in last year's final.
Jamie Pacheco has had a look at the doubles and trebles requested on @Betfair's #OddsOnThat service ahead of the Champions League final on Saturday. Here are his three top picks...
"But an angel Casemiro is not. His 51 appearances this season resulted in 13 bookings. And that was no one-off; last year he got 15. Bookings both home and away to Bayern Munich in the semis suggest the higher the stakes, the 'dirtier' he is."
Real Madrid v Liverpool
Saturday May 26, 19:45
Live on BT Sports 2
Gone are the days when you had a handful of betting markets to choose from and just had to make do with what there was. Not only are there now literally hundreds of markets to choose from but you can even request your own. Just tweet @Betfair with the bet you want and use #OddsOnThat.
Here are the best ones from those already requested by Betfair customers.
Let's start with a nice and simple bet.
Liverpool's famous front three and a sometimes porous defence at the other end has contributed to 58% of their Premier League home games and 73% of their away games this season going over 2.5 goals. Real's figures for 'overs' were even higher in La Liga with 68% of games at the Bernabeu having at least three goals and a barely believable 84% of away games passing the 2.5 goals barrier.
In the Champions League Jurgen Klopp's boys played 14 times (including the Play-Off tie) with 12 of those matches having at least three goals, including five of their six knock-out games; the odd one out being their 0-0 draw at home to Porto after being 5-0 up from the first leg. Real played 12 Champions League games and barring a 1-1 home draw to Tottenham, they all went over 2.5 goals.
The stats back up the chances of a high corner count, as well. All six of Real's knockout matches went over 9.5 corners whereas for Liverpool it was four from six.
If it's goals and corners you want to see, this might just be the match for you.
If you want to have a bet on a treble involving two different players to score, these two would be towards the top of the list.
For Cristiano Ronaldo, it's 'just' the 50 goals so far this season for club and country, including 15 in the Champions League. For good measure he also scored two in last year's final.
Want to guess who's second on the list of CL topscorers this season? Yes, it's Mohamed Salah with 10. He scored another 35 away from the Champions League, by the way. He's no flat-track bully, either. His six games in the Champions League knock-out stages yielded five goals. So it's not just the Bournemouths and Watfords he's been beating up this season.
We know Ronaldo is always on penalty duty and despite the low number of penalties Liverpool were awarded in the second half of the season, we'd expect the genial Egyptian to step up and take it if there was one going here.
Casemiro is a fine player who is likely to form a formidable partnership with Manchester City's Fernandinho in the heart of Brazil's midfield at the World Cup. Between them they'll run miles, win back seven or eight balls a game and put in a fair few tackles.
But an angel Casemiro is not. His 51 appearances this season resulted in 13 bookings. And that was no one-off; last year he got 15. Bookings both home and away to Bayern Munich in the semis suggest the higher the stakes, the 'dirtier' he is.
Given the pace Liverpool possess throughout the team it doesn't take a particular vivid imagination to think he'll need to trip up/grab the shirt of/scythe down the likes of Salah or Sadio Mane at some stage and incur the wrath of referee Milorad Mazic. We certainly hope so.


It must be a little frustrating to be as good a player as Isco is and not even be one of Real's five biggest names. But the little Spanish playmaker doesn't seem like the type to be fussed about something like that. If anything, it could work to his advantage here where all the talk is of Ronaldo, Gareth Bale and Karim Benzema; Liverpool may just forget about him a bit.
His 15 goals this season pale in comparison to the likes of Ronaldo, Salah and Roberto Firmino but he's likely to start here and could play in a free role where he could get himself into some dangerous positions.
Let's face it: with Real Madrid there isn't a single game where you wouldn't fancy them to score in both halves. They certainly managed it in last year's final where they got one in the first half and three in the second. And that was against Juventus, who boasted a more formidable defence than Liverpool's.
If you need to wonder what the chances are of Sergio Ramos being booked in a football game, you clearly haven't been watching football for the past decade. They're good.
His 45 appearances this season resulted in 15 yellows and two reds...to go along with the other 22 reds he's had in his career. Last season it was also 15 yellows and just the one red. For good measure he's also been booked in each of the three Champions League finals he's played in.
Build your own bet with Same Game Multi
Can't see an #OddsOnThat which takes your fancy? You can now build your own single game acca with our brand new Same Game Multi option - get the lowdown here.