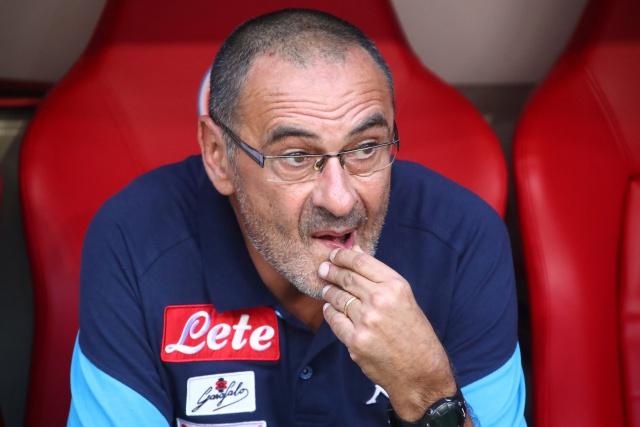 Maurizio Sarri has an exciting season ahead of him at Napoli
Napoli coach Maurizio Sarri is often viewed as eccentric - but surely not enough so to consider the West Ham job, thinks Andy Brassell...

"Many thought that the painful exit of Gonzalo Higuaín at the end of Sarri's first campaign at the helm would be the beginning of the end. Instead the team flourished further."
Even in the early stages of the season, one wonders if there will be a more unusual piece of speculation before May next year than the report linking Maurizio Sarri with the West Ham United head coach's job. Nothing is to be ruled out in the context of the Premier League's riches, of course, but if Sarri were to swap Napoli for a potential season of struggle in east London, half a continent would be left scratching their heads.

The West Ham vacancy doesn't exist yet, of course, but while Slaven Bilic - who was just 3/1 to be the next Premier League coach to go before Frank de Boer's sacking - gets ready for a possibly make-or-break night against Huddersfield at the London Stadium, Sarri is leading his team into the first Champions League group stage fixture of the season with an aim of not just qualifying, but perhaps winning a group also containing Manchester City.

That's the sort of belief that Sarri has instilled in his players since arriving in summer 2015 to succeed Rafael Benítez - another mooted candidate for the West Ham job - as a relative unknown at the top level. Sarri was 56 when Napoli, his hometown club, appointed him, with admirers from an excellent debut season in the top flight with Empoli, but plenty of doubters as to whether his intuitive, attacking style could be commuted to a big club.

He has swept away those questions in some style, and comparing Napoli of now with the dispirited bunch that limped to the tail end of the Benítez era is barely possible. Sarri's side are one of the best to watch in Europe, and the quality of his coaching is clear in what is a true triumph of the collective.

Many thought that the painful exit of Gonzalo Higuaín, for example, at the end of Sarri's first campaign at the helm would be the beginning of the end. Instead the team flourished further, and the loss of their star centre-forward only underlined the majesty of the system. Having hit 80 goals in the league in his last season at San Paolo (36 of which were Higuaín's), they surpassed that by scoring 94 last term, more than anybody else in Serie A.

In summer, Napoli were as quiet in the transfer window as Roma - who beat them to an automatic Champions League qualifying spot last term - were busy, and that stability has really worked for them. Sunday night's 3-0 win at Bologna made it three out of three in Serie A - they are [3.9] to win the title - this season (equalling Juventus and Inter), and their fluid front three of Dries Mertens, José Callejón and Lorenzo Insigne would give most teams nightmares.

Shakhtar Donetsk, who they face on Wednesday night, are strong opposition and likely to be especially tricky in their new home of Kharkiv but must be wary, as will City, who Napoli face in a titanic double-header in matches three and four. Mertens, a wide player converted into a centre-forward after Arek Milik's injury last season, is walking, goalscoring proof of his coach's vision.

Would Sarri be able to work the same magic with West Ham, one wonders? The players that would be at his disposal might be better paid, but they would be a step down in terms of technical level and pace as he sought to implement his gameplan. He would not be walking into an environment full of patience, either.

If Sarri is the visionary that many think he is, little more than a cursory glance will tell him that he's best off staying where he is, to finish off the unique story he's already started.