Champions League: What lessons can Man City glean from previous struggles?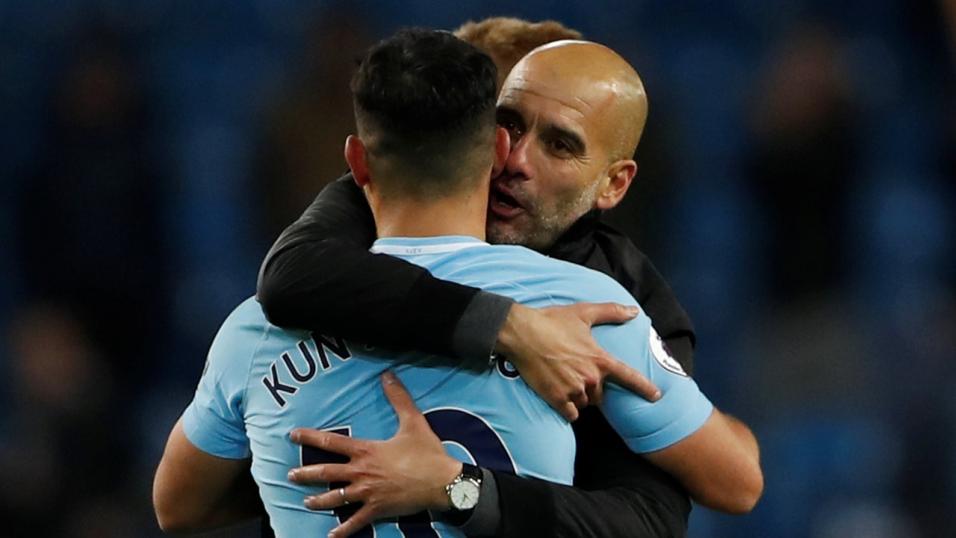 "Brakes? What are brakes?"
This could yet be an unforgettable Champions League campaign for Manchester City but only if they recall their forgettable ones. Ahead of their last 16 game with Basel on Tuesday, Stephen Tudor acts as a prompt...
"For three consecutive years Barcelona and Real Madrid swished City's hopes to ribbons revealing limitations that Premier League fare could not."
"I came here to win the Champions League. Ah. I tried. I tried. And I will try again."

So said Pep Guardiola following last season's last 16 exit at the hands of a brilliant Monaco side that has sadly since been all-but dismantled. Those two breath-taking encounters - that ended with a 6-6 aggregate loss to away goals - will live long in the memory and looking back at Manchester City's previous six Champions League campaigns there is no question that the Blues have provided more than their fair share of entertainment and drama on the biggest stage of them all. That though is no longer enough; not when they're romping away to a third Premier League with a goal difference that virtually mirrors that of their nearest rivals' points tally.

It's difficult to shake the feeling that this year might be City's best opportunity to secure the big-eared trophy that will define their decade of expenditure and growth. Real Madrid are mired in crisis. Barcelona are as effervescent as ever but lack the intimidating stature of yesteryear. Most encouragingly of all, for only the second occasion, City are preparing to take on last 16 opponents as clear favourites.

Their sensational season-long form should be sufficient to comfortably see off Basel but City would be unwise to rely solely on their arsenal of attacking talent and pure footballing template here or once the quarter finals hone into view, even if it has brought them a record-breaking haul of goals and only two defeats across all competitions. The knock-out stages rarely reward all-out adventure. In fact it often takes great delight in sucker-punching it square in the belly.

So as City look ahead to a potentially historic few months it might be prudent to pause and retrace their recent past. There they will find a litany of hard luck tales and failures to draw valuable lessons from.

For the record the Citizens have played 54 Champions League games to this point, winning 24 of them, losing 18, and drawing 12. In 2015/16 they reached the semi-finals but have been unsuccessful in progressing past the last 16 in their other five attempts.

Know when to put the brakes on

After City loosened their stranglehold on Bristol City in their recent League Cup semi-final, Guardiola said: "We lost control. Maybe it will be good for us, for the Champions League against Basel, to learn that you have to play for 90 minutes and anything can happen".

This is undeniably sensible reasoning but in truth City should already be acutely aware of such invaluable life-lessons given what was dished out to them at the Stade Louis II last March.

Against a Monaco side built with the sole intention to destroy, Manchester City became the first ever side to be eliminated after scoring five goals in the opening leg. We might have to wait forever for anyone to match that.

Consequently, the Spanish grandmaster received considerable flak for his refusal to compromise on his attacking ideals across the two legs but, overall, his strategy was sound. Neither team's strengths lay at the back so essentially this was a shoot-out with one trying to out-score the other; a mash-up of the beautiful game meets basketball.

With 20 minutes to go however Leroy Sane swung the fixture the English side's way and there it would surely have remained had City managed to change gears and close the contest out.

Their inability to do so resulted in the costliest of punishments.

Turn up

In 2015/16 City embarked on their most prosperous Champions League campaign to date, beating Dynamo Kiev and PSG in the knock-outs to procure an all-star glittering semi-final clash with Real Madrid.

The first leg at a packed-out Etihad ended in a hard-fought 0-0 with the departing Manuel Pellegrini deserving of credit for getting his tactics on the night spot on. All that was missing was a slice of fortune.

Onto the Bernabeu then and with City in a rich vein of form in the league and Sergio Aguero rampant and back to full fitness there were genuine grounds for optimism that Ronaldo and co could be bettered on their own immaculate turf.

The problem lay in the fact that City didn't send their first team to Madrid that evening. Instead they flew out a bunch of look-a-likes who put in the legwork but other than that were completely ineffectual.

Avoid the Spanish giants

Much has been made of the 'group of deaths' that City were initially subjected to as they acclimatised themselves to the rarefied air of Europe's most prestigious tournament. It should be pointed out too that whenever these mini-leagues were navigated so often one of Spain's duopoly awaited them.

For three consecutive years Barcelona and Real Madrid swished City's hopes to ribbons revealing limitations that Premier League fare could not. The claim that you have to beat the best to be considered the best is a foolhardy boast that only applies in hindsight.

Make home advantage count

It's fair to state that Manchester City have not been given a fair crack of the whip in the Champions League since they first qualified for it in 2011. The aforementioned 'group of deaths'; a raft of highly disputable refereeing decisions; and some baffling UEFA diktats has led to the supporters harbouring such ingrained distrust that the tournament's anthem is still booed to this day.

It hardly helps either that four from their six knock-out games have been scheduled in the least desirable order to be played at home first. Once that misfortune has been factored in however it then falls to the players to make the most of it. And they haven't.

The Monaco victory aside they have drawn with Real and lost on two occasions to Barcelona at the Etihad and these self-inflicted handicaps to progressing are made all the more frustrating by a string of spurned chances by Aguero, Dzeko and others.

Valiant exits on foreign soil are all very commendable but not when they directly result from a failure to maximise previous home advantage.

Curb the ill discipline

The seven red cards brandished to Manchester City players since 2011 equates to one every 7.7 games which is a perfectly respectable number. The considerable downside though is that they always seem to occur at the worst possible moments.

The Blues found themselves reduced to ten men on three occasions in their quartet of last 16 ties against Barcelona in 2013 and 2014 and even if two of them can be viewed to be extremely harsh - adding yet more fuel to the fans' anti-UEFA bonfire - they still made the implausible impossible.

With stating the obvious klaxons going off everywhere Guardiola's men must be made aware that it's difficult enough to create history without doing so minus your full compliment.

Discover the latest articles
Read past articles