Inter Milan v Tottenham: Spurs should be encouraged by England v Italy goal-fests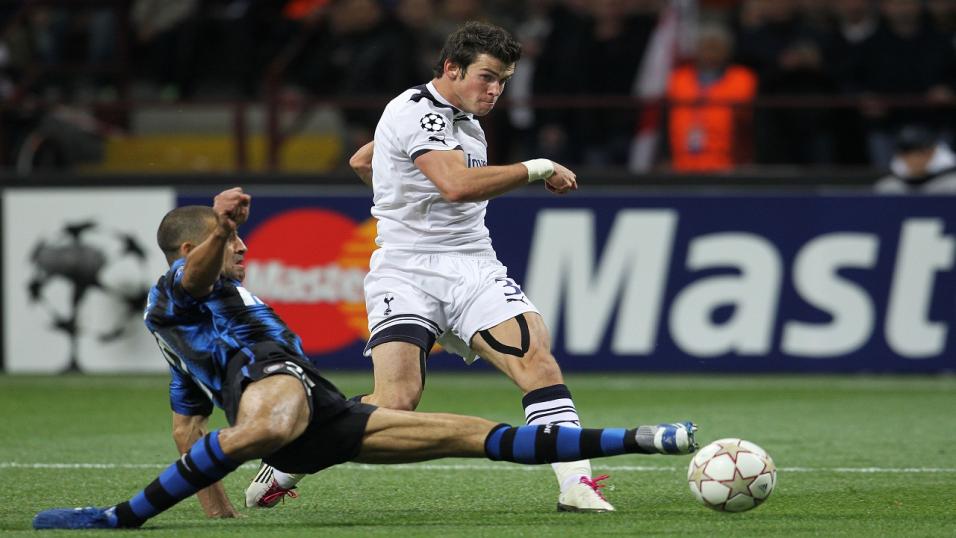 Oh for a time machine and Gareth Bale
With Mauricio Pochettino's men heading to Milan for a tough Champions League start on Tuesday. Stephen Tudor looks back at a goal-laden history of English club sides against their Italian counterparts...
"If the present suggests differing fortunes Tottenham's recent head-to-head with Inter offers up plenty of scope for optimism."
Even 18 years deep into the 21st century it's impossible not to resort to stereotype when a British side takes on Italian opposition. We're aware that the days of catenaccio executed in its most brutal form are long gone and the touch-tight man-marking of Claudio Gentile and company that infamously took no prisoners has now become fables from a bygone age.
Furthermore, the match that first spawned all of the clichés - that championed Jock Stein's all-attacking Celtic in their defeat of an ultra-negative Inter - celebrated its 50th anniversary last year.
Despite this, when Tottenham were grouped with the Nerazzurri in this season's Champions League, and Liverpool and Manchester United were matched up with Napoli and Juventus respectively, our minds drifted to the culture clashes that awaited: of Kane getting short change from a highly organised back-line and a gung-ho Liverpool being pick-pocketed in Naples.
We think this because it's still ingrained in us: this notion that Italian sides are set up to frustrate and exploit the naivety of English adventure, even if the trope is as relevant today as believing spaghetti bolognese to be an exotic meal.
Let go of the stereotypes
That such typecasting is now redundant is hardly news but the extent in which the dynamic of English v Italian games has changed in recent times is well worth noting.
Last season, Premier League sides faced up to Serie A opponents on 12 occasions in European competition and the resulting goal-fests bode well for Spurs' trip to the San Siro on Tuesday evening.
From those 12 encounters a staggering 53 goals rained in equating to 4.4 per game and anyone who witnessed Roma's 3-3 draw at Stamford Bridge or Atalanta ruthlessly putting Everton to the sword over both legs in the Europa League, will know that the chess bouts of yesteryear have now become crazy shoot-em-ups high on excitement with defensive shut-outs a secondary concern.
The peninsula's traditional conservatism has long been abandoned in favour of going for the throat, whether home or away, and so it follows that there is often some shoddy defending to take full advantage of too as seen during the frenetic Champions League semi-final between Roma and Liverpool that eventually ended 7-6 on aggregate. When Manchester City travelled to Napoli meanwhile it was assumed that both sides' attacking instincts would be compromised due to what was at stake. It wasn't, with a thrilling contest ending with a bounty of six goals that could conceivably have been even more.
Better yet, this toe-to-toe approach is only getting more engrossing with every passing year. The most recent 50 England v Italy club affairs prior to 2017/18 produced 150 goals, a perfect three per game that is marginally above the norm. The 50 before that only eked out 2.4 goals per game.
It's a trend it would be remiss to ignore and makes the 12/5 available for over 3.5 goals this Tuesday mighty tempting.
Honours even
The overall record between each nation is remarkably even with English and Italian club sides having won 12 Champions Leagues apiece. The Italians edge it in the Europa League/UEFA Cup with nine to eight but that's really neither here nor there.
More pertinent is the 206 meetings in meaningful competition between the English top flight and Serie A's finest and with 78 wins each and 50 ending in a draw Spurs have no cause for an inferiority complex as they head to the San Siro. Historically it is a battle of equals.
Or perhaps they should be a mite worried after all because of the 101 games that has taken place abroad only 18% were won by the visitors.

This win ratio incidentally almost exactly mirrors that of English side's European record on Spanish soil but with significantly fewer draws. This suggests it could be boom or bust for Pochettino's men with the past informing the north London giants that it pays to be brave.
It's an enticing 4/5 for both teams to score
Ignore the now and focus on the recent
These are good times for Inter with Luciano Spalletti guiding them to a first Champions League spot for six seasons and fresh investment allowing them to retain their best players while being heavily linked to a January bid for Luka Modric.
As for Spurs their ongoing ground issues threaten to undermine a critical campaign for the legacy of Poch-ball while the decline in form of Harry Kane - though still prolific - is as much of a nagging concern as a recent loss to Watford.
Yet if the present suggests differing fortunes Tottenham's recent head-to-head with Inter offers up plenty of scope for optimism.
Granted, on paper it's a straightforward case of two wins apiece with all four meetings being won by the home side but Gareth Bale's incredible hat-trick in a 4-3 defeat had Inter rocking on their heels in 2010 while Spurs' 4-1 reverse three years later actually saw them progress on away goals.
In short, Spurs have little to fear because that fear has been overcome which makes the 17/10 for an away victory a touch generous.

Read past articles