European football: Tottenham collapse highlights second leg syndrome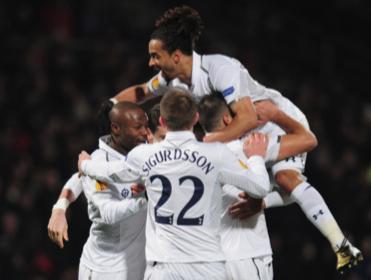 Spurs very nearly let it slip against Inter in the San Siro
European football man James Horncastle looks back over an interesting round of second legs in Europe this week... 
"After winning a first leg by such a convincing margin, it's hard for players not to subconsciously take their foot off the gas, relax a bit and thereby become complacent."
Remarkable, isn't it? A comfortable if not unassailable lead is established by a team in the first leg of a knock-out tie. They're practically through to the next round. But then either go and throw it away or very nearly do so in the second leg. 
This was a defining feature of the last 16 stage in both the Champions League and the Europa League over the past fortnight. There were some thrilling comebacks from the Camp Nou and the Allianz Arena to San Siro. 
What this meant, in short, was that there was quite a lot of value to be found on the exchange. True, it's easy to say that with hindsight. But maybe something can be learned from recent events and applied in the future. 
It would appear that teams going into a second leg either 2-0 up as Milan were and 3-0 up like Tottenham were after first legs at home and 3-1 to the good as Bayern were after theirs away, then encountered difficulty finding the right selection and mentality. 
Milan's case is slightly different from the other two. The market expected Barcelona to win the second leg at the Camp Nou, but was less certain about whether they'd qualify or not. The price for them to do so reflected that at 2.486/4.
The reason for that was perhaps Barcelona's defensive record. The clean sheet they registered against Deportivo La Coruna the weekend beforehand was their first in 13 games. If Milan scored an away goal, Barcelona would need four. 
Incidentally that's exactly how many they'd rifle past goalkeeper Christian Abbiati on the night and without reply too. Had M'baye Niang's strike gone in for Milan rather than hit the post in the 37th minute of the first half, maybe it would have been a different story.  
Milan of course have previous at least in recent history when it comes to not being able to defend a first leg lead. After beating Arsenal 4-0 at San Siro at the same stage last year they then lost the second leg 3-0 and risked a knock out. 
Which brings us back to mentality. After winning a first leg by such a convincing margin, it's hard for players not to subconsciously take their foot off the gas, relax a bit and thereby become complacent. 
Managers are also caught between two stools. 
First, there's a temptation to rest their regular first team players either for fitness issues, the need to grant fringe players some playing time or to protect those on a yellow card from picking up a ban. 
Second, there's striking the right balance. Do you go looking for a goal to kill off your opponent once and for all thus leaving yourself open on the counter? Or do you sit back and seek to preserve the advantage you have thereby inviting the adversary onto you and handing the initiative over to them?
As for the opponent, they're in no uncertain terms as to what they have to do. They absolutely have to win and have nothing to lose. There's added motivation too in the need to save face and restore pride after a heavy beating in the first leg. 
Therefore in some cases, backing them to win the second leg is a risk worth taking. Arsenal, for example, were 9.28/1 to win in 90 minutes away to Bayern on Wednesday night. Inter were 2.4 to win at home against a Tottenham team that was without Hugo Lloris, Michael Dawson, Sandro, Aaron Lennon and Gareth Bale, the following evening. 
Each of those bets came in. Arsenal won 2-0 and Inter 3-0 after 90 minutes, the final score of that particular second leg being 4-1 after extra-time. Not all teams fall into a false sense of security of course. It's enough to think of how Juventus stayed focused in the second leg of their tie against an admittedly quite limited Celtic side, winning 2-0 despite the comfort of a 3-0 advantage gleaned from the first leg at Parkhead.  
Still, it's something to consider should similar scenarios present themselves in the future.  

Discover the latest articles
Read past articles